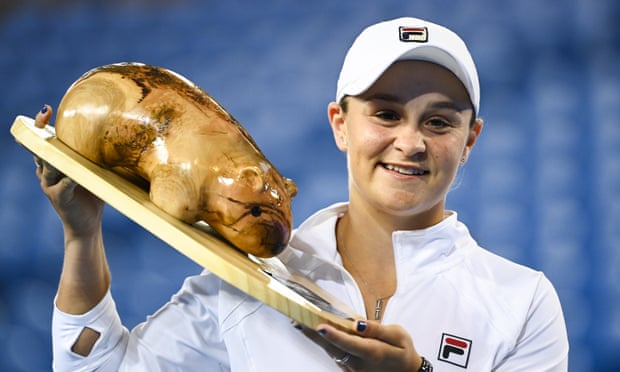 The Australian Open begins admist the continuing spector of the COVID-19 pandemic, different conditions leading into the first major of the year and a country doing its best to showcase the world's best players.
As the players gear up to contest the year's first major, VAVEL takes a look at the 32 seeds, best first-round matchups, darkhorses and predictions on who will lift the trophy in two weeks' time.
The seeds
1. Ashleigh Barty: Warmed up for the Australian Open by winning the Yarra Valley Classic. If it weren't for collapses late in both sets of the semifinals, she'd be going for back-to-back titles in Melbourne. Seeking to become the first Aussie woman to win her home Slam in 43 years, I don't think she'll be denied this time. It's her tournament to lose.
2. Simona Halep: Blown out by Ekaterina Alexandrova a couple of days ago, the Romanian's always a contender. Her last major match was a crushing defeat to eventual champion Iga Swiatek at Roland Garros. Halep could see the Pole again in the Round of 16 and Serena Williams in the quarterfinals. Not an easy road at all.
3. Naomi Osaka: Gave Elise Mertens a walkover in the Gippsland Trophy semifinals, but that was for precautionary reasons. Won the last hard-court major at the US Open, but has a brutal draw starting with Anastasia Pavlyuchenkova, Caroline Garcia and Garbine Muguruza.
4. Sofia Kenin: A terrific young lady and a fine player, her victory last year was one of the biggest surprises in recent Grand Slam history. Benefitted from Barty and Muguruza choking in the latter stages of the semifinals and final, she won't sneak up on anyone this year. Has a manageable draw with only Kaia Kanepi and Jennifer Brady as first-week threats.
5. Elina Svitolina: She's played a lot of close matches already this season with four of her last five encounters going the distance. Got picked off by Mertens in a third-set super tiebreaker at the Gippsland Trophy. Still searching for that elusive first major, a draw that features Victoria Azarenka, Maria Sakkari and Cori Gauff means she'll likely have to wait a little longer to take home that trophy.
6. Karolina Pliskova It's the same old story with the hard-hitting Czech: she has the weapons, but can't close the deal at a Slam. Another change in coaches with Sascha Bajin now on board, Pliskova is hoping he can make the difference. Lost to Danielle Collins this past week and could see her again in the second round.
7. Aryna Sabalenka Began the year with a title in Abu Dhabi and had her 15-match winning streak stopped by Kanepi. You get the sense she's playing with more control in her ultra-aggressive game, which could pay major (no pun intended) dividends. If she can get past Serena, watch out.
8. Bianca Andreescu: Tennis' great mystery. If she's healthy (a HUGE if), she's as good as anyone. Alas, there's the issue: she hasn't played a tour match in 15 months and withdrew from the Grampians Trophy before it started. There's really no expectations for her here, so let's hope she can just get through the tournament healthy.
9. Petra Kvitova: Not much preparation for here with just two matches under her belt, a second-round loss to Nadia Podoroska the last of those. Perhaps she'll benefit not being one of the favorites, but no one would be surprised if the two-time major champion added to her collection.
10. Serena Williams: Withdrew before her semifinal against Barty with a shoulder injury, which is a bit of a worry. Still looking to equal Margaret Court's all-time record with 24 Slams, but you sense time is running out for her. Still a serious title contender no matter what the circumstances are.
11. Belinda Bencic: On a three-match losing streak dating back to Doha last year, the Swiss is not in a good section of the draw. Svetlana Kuznetsova beat her in the second round of that Doha event and could await her in that same round here. If she gets by that, Mertens and Pliskova could be looming.
12. Victoria Azarenka: Came within a set of winning the US Open last year. Gave the now-popular "precautionary" walkover this week in preparation for Melbourne. I said if she made a long run in Flushing Meadows, she was back. She did and she is and she could make another very long run here.
13. Johanna Konta: Not much to say about the Brit at the moment. A former semifinalist, Brady and Kenin will ensure that she won't come anywhere close to that round this year.
14. Garbine Muguruza: She's playing well and was competitive against Barty in the Yarra Valley Classic final. It's nice to see the Spaniard playing well and after a trip to the championship match last year, it's not out of the question she could make a return trip this year.
15. Iga Swiatek: Shocked everyone with her historically dominant first Slam at Roland Garros, barely losing games, let alone sets on her way to the title. The key now is to see how long it takes her to adjust to being a Slam champion. She probably won't go back-to-back, but more major titles are most definitely in her future.
16. Petra Martic: In a slump, having dropped five of her last eight matches, the Croat has never really been at home in Melbourne and doesn't figure to go a long way here, especially with Anett Kontaveit and Barty in her section.
17. Elena Rybakina: Started the year with a semifinal showing in Abu Dhabi, losing to Sabalenka. Hasn't been quite the same since tennis returned post-shutdown, but her form before that would admittedly be hard to keep up. You get the sense she's still settling into being among the world's elite, but when she does, expect to see her deep in these major events.
18. Elise Mertens: Picked up where she left off last year as the tour's leading match-winner and took home the title at the Gippsland Trophy. Steady as ever from the baseline, she may not have the weapons of other players, but if she brings her form from this week, she could be in the conversation late in the tournament.
19. Marketa Vondrousova: Still getting settled in after her injury from 2019 as 2020's situation only added to the list of challenges she faced. I still contend her runner-up finish at Roland Garros two years ago wasn't a fluke, but with Kvitova and Andreescu in her section here, she's probably not going to get through the first week.
20. Maria Sakkari: Started the year well with consecutive semifinals and lost by a whisker to Kontaveit. With more beef in her game to compliment her already steady foundation, a big breakthrough may not be far behind for the Greek.
21. Anett Kontaveit: It's impressive she fought so hard to beat Sakkari in the Grampians Trophy semifinals because the tournament announced the final would be canceled before the match began. Made her first Slam quarterfinal here last year, but was embarrassed against Halep. It's unfortunate she landed in the same section as Barty.
22. Jennifer Brady: The latest in a long line of surprise Slam semifinalists after reaching the last four at the US Open. With a very kind draw and Kenin not in nearly in the same form as a year ago, it's possible the hard-hitting American could challenge for a spot in the final weekend.
23. Angelique Kerber: Former major winners can never be counted out, but it would be a big surprise if the 2016 champion was around for the latter stages of the tournament. Heck, she could get picked off by Bernarda Pera in the first round.
24. Alison Riske: Hasn't played a hard-court match since losing to Ann Li in the second round of the US Open last year. Has Serena in the third round, so maybe she can conjur up another performance as she did when she nearly beat her compatriot at Wimbledon a couple of years back.
25. Karolina Muchova: A delight to watch, especially with her net game, like many players she withdrew last week to get ready for the Australian Open. Has a BRUTAL first-round draw against Jelena Ostapenko.
26. Yulia Putintseva: Made more headlines for her hotel conditions once in Melbourne than for anything that's happened on the court this season. An emotionally drained Sloane Stephens is her first round opponent.
27. Ons Jabeur: Made history as the first Arab player to reach a Slam quarterfinal when she pulled that off here in 2020. Her very pleasant game and affable personality make it very easy to root for the Tunisian, who could get a crack at Osaka in the third round.
28. Donna Vekic: This is probably about where she should be seeded and is one of the easier sections of the draw. Will see where her game is at when she faces Kenin in the third round.
29. Ekaterina Alexandrova: It's unfortunate she's in Barty's section of the draw. Otherwise, she could be poised for her breakout major after a thorough beating of Halep earlier this week. Watch out for the hard-hitting Russian in the future.
30. Qiang Wang: She beat Serena here last year and is always looking to be aggressive. That'll suit her well as she looks to dictate play against someone who plays completely opposite to that in the first round in Sara Errani.
31. Shuai Zhang: Former quarterfinalist has an intriguing battle against Grampians Trophy finalist Ann Li in the first round. Another hard-hitter, she's fond of these courts with her past success here.
32. Veronika Kudermetova: Quietly moving up the rankings, the Russian made the final in Abu Dhabi, beating Svitolina along the way, before getting overwhelmed by Sabalenka in the championship match. Faces Marta Kostyuk, who she beat in the first round in the UAE, in the first round.
Unseeded players to watch
Francesca Jones: You might be wondering: who? Well, this qualifier from Great Britain was born with Ectrodactyly Ectodermal Dysplasia, which affects the fingers and toes. She has three fingers and a thumb on each hand, three toes on her right foot and four toes on her left. She also started life with webbed fingers. The 20-year old has overcome all of this and persevered to reach her first Slam main draw. Regardless of how far she goes, she's already a champion.
Tsvetana Pironkova: She made the quarterfinals at the US Open after four years away from tennis and followed that up with a Round of 16 showing at Roland Garros. In a very manageable section of the draw, the Bulgarian could cause a few more shocks in Melbourne.
Kaia Kanepi: She certainly has momentum after reaching the Gippsland Trophy final. A six-time major quarterfinalist, the Estonian has had big wins in her career at the Slams. If she can pick off Kenin in the second round, with her weapons, another deep run is possible.
First round matches to watch
Muchova vs Ostapenko: All-court brilliance against raw power. Ostapenko is playing better as of late and if the serve is even average, an upset is not out of the question.
Jones vs Shelby Rogers: See above.
Pavlyuchenkova vs Osaka: I wouldn't be too concerned about the three-time major champion not looking her best recently. I would be concerned about playing the talented Russian this early in the tournament.
Barty def. Azarenka, Muguruza def. S. Williams
Barty def. Muguruza