The bottles thrown by the West Ham United fans at the Manchester United team bus served as an unexpected omen for the visitors as the square pegs on Louis van Gaal's round hole team sheet wasted a brilliant performance from Anthony Martial and put perhaps the final nail in the coffin of finishing the season in the top four.
West Ham United were not at their best, but they did not have to be with the performance put up against them in the final game to be played at Upton Park.
Defenders dreadful
David de Gea (6 out of 10) - The Spainaird didn't recieve a ton of help from his defenders, but he did not cover himself in glory either as he let three goals past him. Could have done a lot more on the Hammer's second goal. A rare off game for the normally superb goalkeeper, although he did stop Andy Caroll on a breakaway on what should have been a sure goal.
Antonio Valencia (5 out of 10) - Invisible for most of the game, and showed why he's a make-shift full back when called into action. Left Manuel Lanzini and then Michail Antonio in acres of space leading to their goals.
Chris Smalling (6 out of 10) - Was forced to deal with more than his share as his centreback partner was absolutely dreadful. Struggled to deal with Andy Carroll all night, but otherwise had an average game.
Daley Blind (3 out of 10) - The Dutchman was absolutely dreadful as perhaps the experiment of playing as a centre-back has mercifully reached its end. Played Andy Caroll onsides by over 25 yards and was saved by an absolutely heroic effort from de Gea. Almost solely responsible for West Ham's winning goal.
Marcos Rojo (5 out of 10) - Is he a centre-back? Is he a left-back? Nobody knows at this point because he doesn't look fit to be a starter in either.
Midfield not much better
Morgan Schneiderlin (3 out of 10) - Possibly the worst game he has played for United, as he only lasted the first 45 before being subbed off. Looked absolutely lost while attempting to be United watercooler.
Ander Herrera (5 out of 10) - Did Herrera even play? Was barely involved at all in the play and looked lost whenever he found himself with the ball.
Wayne Rooney (5 out of 10) - Proved to be a liability against teams that employ pace in the midfield as the skipper looked a step behind the entire game. Spent too much time hounding officials, and not enough hounding the ball as he was particularly wasteful with his passing.
Michael Carrick (6 out of 10) - Played the entire second half after coming on for Schneiderlin and the calmness he brought the team showed a massive difference.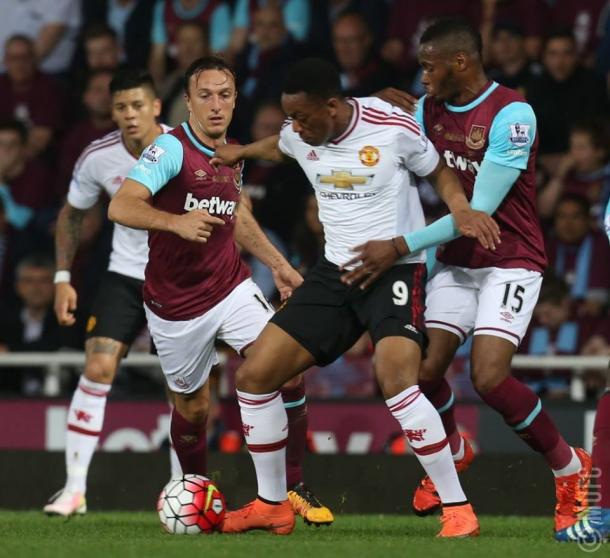 Attack offers only bright spots
Anthony Martial (8 out of 10) - "Tony Martial came from France, The English press said he had no chance, 50 million down the drain, As Tony Martial scores again." Once again had an absolutely heroic night.
Juan Mata (6 out of 10) - Was more often than not acting as an impromptu sweeper, and was directly responsible in setting up Martial's first goal.
Marcus Rashford (5 out of 10) - Was effectively marked out of the game, which a better United team would have exploited more. Did play a role in setting up Martial's second.