 When Jose Mourinho was announced as Manchester United manager, you knew the winds of change would be blowing. He has never been someone who is prudent with cash, so it hasn't been that much of a surprise to see United going big in the transfer market. The signings have been high profile and have involved huge sums of money and should the protracted Paul Pogba deal go through then it will have been an eye-watering outlay.
Yet it is not his signings that will define his summer, but more so who departs. Until now it was a bit of a guessing game, but yesterday we got the first clues as to who may be facing an Old Trafford exit. The Daily Mail reported that nine first team players were invited to train with the U-21's rather than the main group, and there were one or two surprises.
Schweinsteiger exit seems likely
Bastian Schweinsteiger was the most high profile member of the group and it is a huge indication that he is surplus to requirements. The majority of the others were younger fringe players, and it remains to be seen what the demotion means. There are some promising names such as Timothy Fosu-Mensah, Andreas Perreira and Cameron Borthwick-Jackson, and it would be a major shock if they were allowed to leave permanently.
Mourinho has made no secret of the fact he wants to cap his squad to 24 players, and considering the mediocre performance of most of the squad last season, he had to make some decisions regarding the players he inherited. And so it begins. Schweinsteiger has not had the best of years it has to be said, and it will be interesting to see how his career pans out from here. He has suffered with injuries for the past few years, and in his inaugural season with United he struggled onces more.
At times he brought an enormous amount of class and control to United, but he hardly completed 90 minutes. He missed the back end of the season, but managed to prove his fitness to captain Germany in the Euro 2016 tournament. He didn't look fit though, and gave away a penalty in the semi final defeat against France. Yesterday he announced his retirement from International football.
It could be a co-incidence in terms of timing, but it is unlikely to earn him a stay of execution. That decision was the only decision he could make in all honesty, but Mourinho cannot afford to take passengers, and his United career looks all but over. Considering Louis van Gaal had to fight to convince the United board to sign him, it appears that the gamble will ultimately not pay off.
Keane and Wilson futures in doubt
Another injury plagued player is Will Keane, and he was also part of the group. Despite scoring the first goal of the Mourinho era in the Wigan friendly, he has now been told he can leave the club. It is a shame, but no surprise. A former youth cup winner alongside Pogba and Jesse Lingard, injuries have ruined his chances at United.
When van Gaal recalled him from a loan spell last year for cover, he did so over James Wilson. A groin injury once again sidelined him, and up stepped Marcus Rashford. Rashford's meteoric rise should have been the path that Keane trod, but luck hasn't been with him and it is only a matter of time before he makes the move elsewhere.
And what of Wilson? A brace on debut as a 17-year-old, it should have been a springboard for a Rashford type emergence, but van Gaal has ultimately put paid to that. Although Wilson had plenty of chances, he doesn't seem to relish the lone front man role and he has struggled to make any impact. He did well on loan at Brighton and Hove Albion last year, but it is in the balance whether he leaves in just a temporary capacity.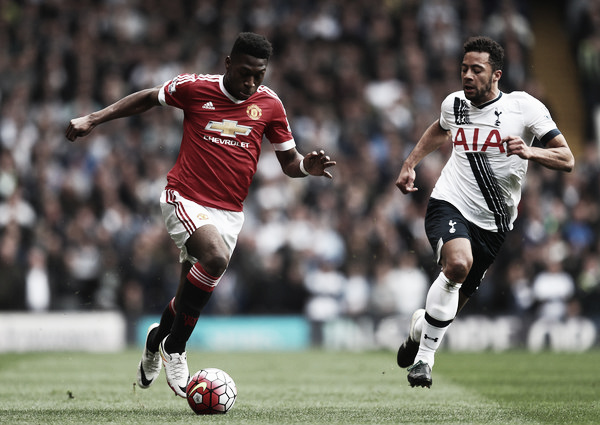 Januzaj still in limbo
The same could be said for Adnan Januzaj. He apparently impressed Mourinho in the early training sessions, but if he did then it hasn't left a lasting impression. There was far too much hype over Januzaj when he broke into the first team under David Moyes, and he has struggled to live up to that. All may not be lost, he is still young enough, but if any permanent bids came in for him it wouldn't be a surprise if they were accepted.
Tyler Blackett and Paddy McNair both did well under van Gaal in is first season in charge, but neither had a happy time of things last year. For Blackett, a nightmare at Leicester City after a bright opening, saw him out of the first team picture. He was on a season long loan at Celtic, but he only managed a handful of appearances. It is likely he will be allowed to leave.
McNair didn't seem to do anything wrong, but just naturally fell down the pecking order. He has continued to flourish at International level with Northern Ireland, and even appears in midfield on occasions. As Mourinho has admitted to wanting specialists, McNair's versatility may just count against him. A loan move would make sense for him to get more playing time in his natural position.
That leaves Fosu-Mensah, Borthwick-Jackson and Perreira. If any of these were to leave the club it would be a huge shock. Mourinho talked in glowing terms about Pereira and the club have reportedly reassured Fosu-Mensah of his long term future and are wanting to sort out a new contract. Borthwick-Jackson is currently injured so has not had a chance to impress Mourinho, but he put in some impressive displays and he has to be one for the future.
Mourinho has given his commitment to youth
It would fly in the face of Mourinho's commitment to youth in his opening press conference, if the young talent were allowed to leave. With his priority to ensure the first team are successful, it is understandable that he is focusing and prioritising his chosen ones. Yet banishing the other's to the U-21's does seem a little bit cold.
Still, it suggests he has seen enough and the ones who remain now have to banish the memories of recent seasons and show why they were signed in the first place. The Mourinho era is well and truly taking shape, and it appears he is not taking passengers.