Manchester United midfielder Andreas Pereira has revealed that he remains a part of manager Jose Mourinho's future plans, despite having been loaned out to Spanish outfit Granada for this season.
Pereira, a Belgian-born Brazilian, was one of several youngsters who were introduced to the first team during Louis van Gaal's reign as United boss but featured even more sporadically than expected, with the midfielder making just 11 appearances during the last two seasons.
Pereira to fight for place next year
However, after being allowed the opportunity to get some more match action at La Liga side Granada, Pereira has said that Mourinho is expecting him to return to Old Trafford next summer.
Speaking to Spanish outlet Globo Esporte, Pereira claimed that Mourinho "likes my style of play a lot" and also added that the Portuguese "liked what I did in pre-season."
The Brazilian scored an excellent goal during United's 2-0 pre-season victory against Wigan Athletic in July this year.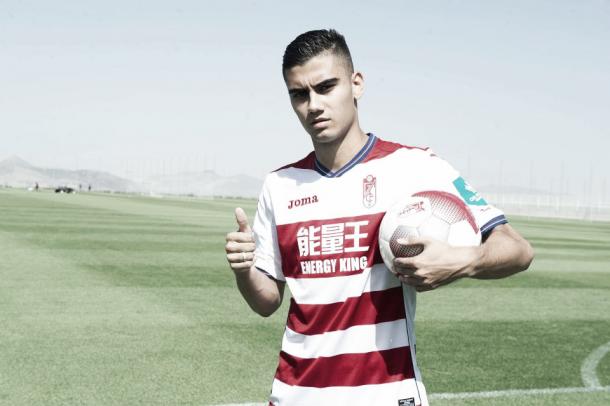 The United youngster also said that Mourinho "wants to see how I play in Spain" and then "go back and play for him next season."
Current squad too congested for Pereira?
Pereira signed for United's academy from PSV Eindhoven as a 16-year-old in January 2012, and whilst there is no doubting the midfielder's ability, it will be difficult for him to break into the United first team given the size of the current squad.
Mourinho was widely reported to have wanted just 23 outfield players for this season, and that is perhaps why Pereira was subsequently sent out on loan. Even if the Brazilian does return next summer, though, he will have to displace much more experienced players such as Wayne Rooney, Juan Mata, and Henrikh Mkhitaryan to earn a place in the side.
The Brazilian made his United debut in a humiliating 4-0 defeat against MK Dons in an August 2014 EFL Cup tie. He made nine appearances last season and scored a stunning free-kick against Ipswich Town at Old Trafford in the same competition – with that perhaps being the highlight of his Red Devils career so far.