Manchester United manager Jose Mourinho was unhappy that his side were denied two penalty decisions in the second half of their 2-1 derby loss against Manchester City at Old Trafford by referee Mark Clattenburg.
Mourinho feels Bravo should have seen red for his tackle on Rooney
The first penalty decision happened when goalkeeper Claudio Bravo got himself into trouble in the box with a heavy touch and he launched himself into a tackle studs first and caught Wayne Rooney.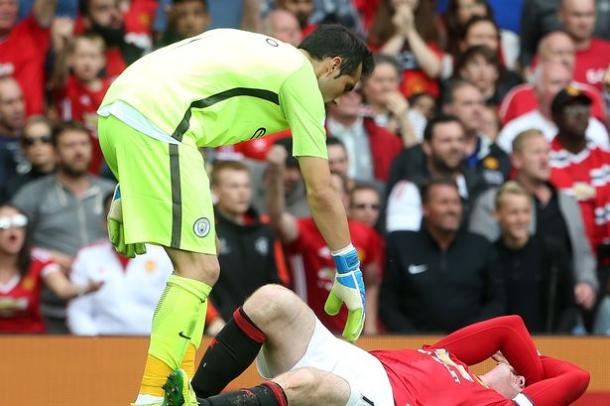 All of the United players and fans went crazy appealing for a penalty but Clattenburg turned it down much to Mourinho's annoyance.
On the Bravo penalty decision, Mourinho said "it is a penalty and a red card for Bravo" and for it not to be given he said he was "very disappointed." The Portuguese boss went on to say that "if you tell me it is not a penalty and red card" then that is wrong as he said that if it was "outside the box it would have been a free kick and red card."
Mourinho continued on to say that if the same tackle happens "inside the box it has to be same" punishment as that kind of tackle is not allowed. The United boss says that "even the best referees make mistakes" and for him this time round Clattenburg "made a big one."
Mourinho is in no doubt Otamendi knew what he was doing with the handball
The second penalty call that Mourinho was unhappy with in the second half happened only 60 seconds after the first as Antonio Valencia's cross struck defender Nicolas Otamendi's elbow in the box. Despite the appeals from the players once again, it was turned down once again which just wasn't sitting right with Mourinho.
Mourinho says that the Otamendi's handball was "also a penalty" as the boss feels that he has "intention" to stop the ball from coming into the box. The United boss feels that even though Otamendi's arm is behind his back he knows what he is doing "because he is looking at the ball" and for that reason, it should have been given.
With all that being said then Mourinho went on to say "so that is two penalties against us" so even though Clattenburg is one of the best referees in the Premier League "they can have not one of the best days."
They key now is for the team to move on from this defeat as they face a tough challenge on Thursday evening in the Europa League away to Feyenoord.