Benfica officials reportedly flew into Manchester this week to discuss a proposed move from Manchester United to sign their talented Swedish defender, Victor Lindelof. The transfer could be as high as £38m as Benfica are still in the Champions League and reluctant to let him go. The fact that they are prepared to discuss the deal means they are probably resigned to losing him.
Zlatan Ibrahimovic recently talked up the defender and said he was ready to play for a big club, and Jesper Blomqvist also said that Lindelof would be a great fit for United and compared him to Rio Ferdinand and Ronny Johnsen. The ex-United 'treble' winner said he is not at their level yet, but could get there. High praise.
Lindelof looks an exciting prospect
He does look an excellent player, with all the attributes that you want in a defender. Quick and strong, he likes a challenge and seems positionally astute. He can pass and play football, so at 22 years of age, it is not surprising United are seemingly pushing for a deal.
With Eric Bailly due to be away in January at the African Cup of Nations, assuming he recovers from injury, United would still have plenty of cover with Marcus Rojo, Phil Jones, Chris Smalling and Daley Blind, not to mention two or three talented youngsters such as Timothy Fosu-Mensah knocking at the door.
So if United do go all out to capture Lindelof, then the chances are somebody will be surplus to requirements. A couple of months back, the most likely candidates would have been Rojo or Jones, but given that they have been outstanding since being recalled by Jose Mourinho, then Smalling and Blind look the most under threat.
Those two formed a solid partnership last year, so it may seem surprising, but a move for Lindelof would have to be offset by a sale at some point. The Manchester Evening News report that Blind would be the most likely casualty, and given his lack of playing time recently, it would make sense.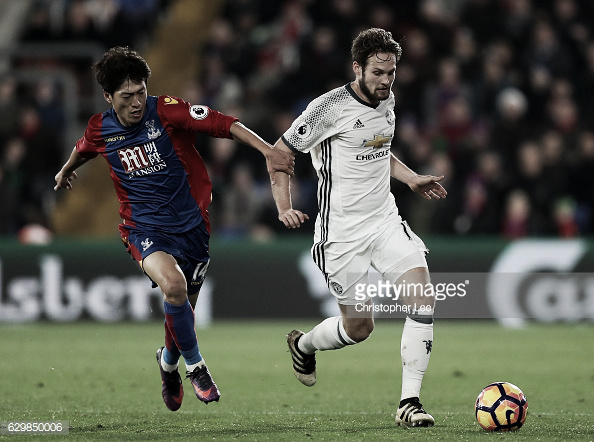 Yet Blind continued where he left off last year when he began the season alongside Bailly at the heart of the defence. They quickly established a very effective looking partnership. A right and left foot combination, and a good cop / bad cop pairing, with Blind's intelligence and positioning offsetting Bailly's pace and robust style.
Derby performance hindered Blind
The Manchester derby was a bad day at the office for the pair of them, though. Understandably Blind would always bear the brunt of the criticism, but in truth he was awful. The first goal set the tone, when Bailly misjudged a long ball and got underneath it. Blind, for once, did not read the situation and dithered allowing Kevin De Bruyne a clear run to score.
Blind never recovered his composure throughout the game, which is something of a rarity. He was immediately dropped. He has made several appearances since the City game but mainly at left back, and even there he is now third choice. When Luke Shaw got injured, Matteo Darmian took over as full back.
He played in the recent victory against Crystal Palace only because Darmian switched flanks to cover the suspended Antonio Valencia. All in all, his chances of being a permanent fixture under Mourinho do not look good. Indeed, the same could be said for Smalling, and it is not out of the question that both players may end up leaving.
Blind is popular with the fans. He is not a typical centre-back, as he lacks strength and pace, but he makes up for that with his intelligence. However, Lindelof looks to have a bit of everything, and a good big 'un generally wins over a good little 'un.
Mourinho likes a robust defender, and given his signings so far all look like being resounding successes then he has to be trusted on this call. It would be sad to see Blind go, he is a likeable character, but Mourinho is shaping his team now and with Blind being a "van Gaal" man it could well be he will be moved on soon enough.