 Idiocy from Marouane Fellaini endangered Manchester United's unbeaten run that now stretches to 24 games, but Manchester City could not take three points at home despite a dominating performance. The Belgian's afro collided with Sergio Agüero immediately in front of Martin Atkinson. The red card was out within seconds.
Both Manchester clubs have failed to fulfil their targets this season. The pre-August aim was the title. José and Pep alike will be frustrated that their side couldn't take the top four race by the scruff of the neck with a Manchester derby win.
Fellaini sent off, Jesus nets offside goal
Guardiola, in particular, will be disappointed his side couldn't breach a 10-man Man United side who offered little all game. Gabriel Jesus made his comeback to a standing ovation. Within minutes, the ball had rocketed past David de Gea. He celebrated with the City fans. Guardiola had already noticed the linesman's flag.
Agüero, meanwhile, flew to meet an exquisite Kevin de Bruyne cross, but his shot was well off-target.
With Paul Pogba and David Silva missing for their respective sides, creativity was lacking, though City dominated in this area, as in the majority of the game.
Mourinho admitted pre-game that he expected the home side to enjoy most of the ball, and that was certainly the case. The counter-attack that Anthony Martial finished against Burnley and Marcus Rashford netted against Chelsea wasn't on show, despite the young pair of strikers both starting.
Manchester United were fortunate that their local rivals lacked the fluency often demonstrated this season at the Etihad. The Reds were poor. The Blues? Just slightly off-colour.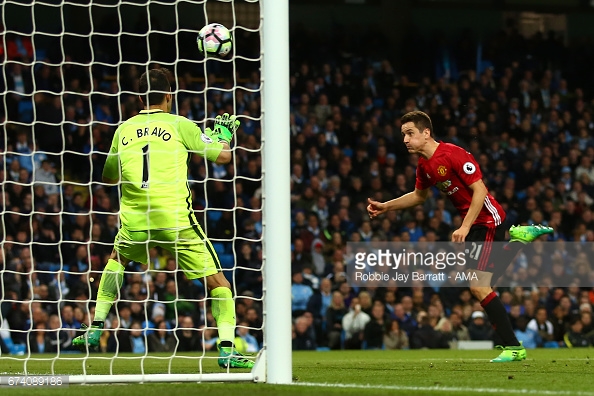 Tight first half
Sergio Agüero was a threat, as was Kevin de Bruyne, whipping precise crosses in throughout the 90 minutes. But, like Raheem Sterling too, shots were skied over David de Gea's crossbar, generally from long range.
Eric Bailly was responsible for much of that, the Ivorian calm, not flustered. His tackles were clean and powerful. Nicolas Otamendi, at the other end, was less composed. Rashford tore into Martin Demichelis weeks after his breakthrough at the Etihad last season, and a wonderful flick over Otamendi's head opened up a similar opportunity. City recovered.
But chances were few for United. Nevertheless, while Guardiola's side dominated, it was Mourinho's who should have been in front come half-time. Herrera cleverly found space from a Rashford free-kick, on the far post. Yet he headed straight; straight into the advertising boarding, rather than across Claudio Bravo's goal.
The second-half was all City. Even the energetic Rashford wasn't pressurising Claudio Bravo whose weekly error didn't translate into a United winner. Henrikh Mkhitaryan hit a shot straight into his chest after he Chilean had flapped at a cross. He was later stretchered off to be replaced by Willy Caballero. You could be forgiven for not noticing, however, because Caballero didn't have to make a save.
There was little second half action until Fellaini's moment of ill-discipline. Everyone in the country knows the Belgian can boil over. He has been reliable and consistent in recent weeks and months, the manner in which he has carried out Mourinho's instructions has been impressive. But Agüero knew of his short-fuse which hasn't been obvious this season.
Fellaini had first prevented a City counter-attack for an obvious first booking. United fans feared a second just 15 seconds later, but the foul was minimal. Three or four words, though, from Agüero and he felt Fellaini's blonde-dipped afro in his face. Two or three moments later and Martin Atkinson's red card was out.
City threatened and threatened and threatened but substantial chances were few and far between. Agüero had three times as many shots as United, but most were off target.
United fans will have a sick feeling in their stomach after a tense second 45 minutes. City fans, meanwhille, will have something similar, but for regret that Gabriel Jesus wasn't two inches further away from United's goal and onside for his winner.