 In a year where Chelsea were up for the BBC Sports Personality of the Year 'Team of the Year' award despite at time of writing being 14 points off the top of the Premier League table, giving out the same old awards seems a little pointless.
Goal of the year? You've seen it looped a thousand times on Twitter already. Manager of the year? Just saw it in half and give a piece each to Pep and Antonio. Game of the year? We're not even sure who you would present that to. The fans? Just leave it at the stadium?
With that in mind, we've chosen to take this opportunity to relive some of the moments from the last year that might have gotten lost at the back of the memory banks, and we'll be sending a basket of imaginary muffins to all of our worthy winners.
We've had special guests Louis Van Gaal and Rod Stewart flown in to present the awards, so best of luck to all those nominated, and away we go...
'Can we not just call it the League Cup?' award for being the next random company to put their name on the tournament nobody wants to win that much - Carabao
Forget about the various debacles to accompany the draw at each level of the competition so far.
Forget about the best coach in the world telling everybody that he basically doesn't care about it, but getting at least as far as the semi-finals with a team of kids anyway.
Forget that you stopped paying attention as soon as it became the Capital One Cup, and that you're still not exactly sure what Capital One is anyway.
Didn't Tottenham's 1-0 home win over Barnsley in September just make you really want to enjoy the cool, refreshing taste of Thailand's second most popular energy drink?
No?
Just us then.
'No, if I can't have that one, I don't want anything' award for refusing to buy any player other than Virgil Van Dijk – Liverpool
"They've said they're totally unprepared to sell us Van Dijk, Herr Klopp."
"Have you tried repeatedly trying to unsettle the player in an attempt to wear them down?"
"Yes, sir. It just seemed to annoy them. I have to recommend we move on to other transfer targets."
"Pah! Other transfer targets? Who would you suggest? Just because Manchester United, Chelsea, Tottenham Hotspur, and Everton have all managed to find viable centre-back options that haven't cost them £70 million, doesn't mean we should be capable of doing the same, especially when you think how long it has been clear that it is a problem position in our team that will likely continue to hold us back this season despite all the money we have invested in assembling one of the best attacks in world football."
And that, children, is the story of how Dejan Lovren and Ragnar Klavan started a Champions League match together in 2017.
'At least try and make your player look realistic' award for clearly being a FIFA Pro Clubs creation – Hamza Choudhury
When highly rated midfielder Hamza Choudhury was summoned from the bench in Leicester City's Carabao Cup victory over Liverpool, double-takes were witnessed in pubs around the country.
Simply put, no player in the history of football has ever looked more like a creation from FIFA game mode Pro Clubs. The mode is infamous for consisting largely of 5'5" playmakers with brightly coloured afros zipping around the pitch as quickly as possible, not passing to anybody and while Choudhury did not quite have this impact on the game, he certainly had the look.
The moustache, the afro, the fact that nobody outside of Leicester had a blind clue who he was. It was magnificent. Drink it in.
'Pressure off, feet up' award for living up to a famous surname – Benjamin Suarez
Living up to a famous dad can be difficult, particularly with the entire footballing world watching. Just ask Tom Ince or Kasper Schmeichel – they've achieved a lot, but never quite managed to live up to the achievements of their parents.
Luis Suarez' son Benjamin, however, seems to be setting expectations a little lower in the event of a career as a professional footballer. He wants to play for Middlesbrough.
Presumably a present from Uruguayan uncle Gaston Ramirez or Cristhian Stuani, Suarez Jr. caused a stir when his dad uploaded a backyard football video to Instagram with the youngster clad in a full Boro kit.
While it may not quite be Anfield or the Camp Nou, the Riverside Stadium does have its charms – and the youngster won't have half as much trouble finding a parmo after a game.
'Case closed' award for bringing years of uncertainty to an end – Cesc Fabregas
Hastings. Agincourt. Waterloo. Stalingrad. The world has seen some truly epic battles in the few thousand years it has played host to the human race, but perhaps none have been surrounded with as much mystery and rumour as the Battle of the Buffet.
Everybody knows Sir Alex Ferguson was struck with an errant pizza slice, but the man who took the shot has never been nailed down for sure. Gavrilo Princip may have been identified by historians as the man who fired the shot that started the First World War, but it took James Corden to finally drag a confession out of Cesc Fabregas.
"Were you the culprit who threw the pizza?", Corden enquires. The light dims, Fabregas' bright white teeth and sun-kissed skin twinkling as a grin spreads across his face. Seconds pass, perhaps minutes, perhaps an eternity – the pressure is unbearable.
His hands raise into the air. Whether he seeks the forgiveness of the gods or the adulation of his followers is unclear. The universe stops, spinning around this spot, this moment, this entry in the index of the history books.
"YEEESSSSSS!"
Sheer, remorseless joy. Superb.
'Whatever you say mate' award for unsolicited weirdness – Keith Curle
After back-to-back defeats in League Two, Carlisle United and Keith Curle were feeling the pinch, 19th in the table with an important clash against Barnet to come.
Curle took a leaf from Jose Mourinho's book of man management, making sure all of the pre-match talk was about him, rather than his players.
Except, instead of viciously attacking a referee, member of the backroom staff, or abstract concept, Curle decided to just weird everybody out. Asked by Radio Cumbria about his arm-round-the-shoulder management style, he replied:
"It's Saturday, and you've planned to go out with your missus. You know what she's gonna wear, what fragrance she'll be wearing, you know where you're going, and know what your night's gonna be like.
"You're walking down the road, hand in hand, and across the road a group of lads start shouting and abusing your missus, saying she's not very nice, quite ugly, 'What are you doing with her on your arm? She's a minger'.
"What would you do? What you want to do is cross the road, confront them, take them all on. But you've got your missus with you. You turn round, look at her, and what do you see? Sad eyes. So do you confront them, have a go at them, or do you make sure you look after the person that's closest to you?
"I've got a football team that's getting criticised by lots of people. What do I do? Do I turn around and start barracking them, or do I look after my team? I'm making sure those sad eyes believe in me.
"If your missus turns around and sees any doubt in your mind - sees you thinking, 'oh, you're not the best, are you' - what does she think? I can't afford to cross the road and take [those people] on. It would be like me taking on the Paddock with my trousers down.
"I've got to make sure that changing room feels loved, wanted, cared for and - hey - a little bit sexy at times as well."
It worked, as well. Carlisle stopped the rot with a draw and are now up to a much sexier 14th place.
'Neville Southall' award for being Neville Southall - Neville Southall
If you don't know, we can't explain.
'Maybe it isn't that great after all' award for failing to provide any form of drama - The Premier League, 2016/17
Obviously Leicester '16 was going to be a hard act to follow, but 2016/17 did seem to be the season that the Premier League just stopped trying.
The title race? There wasn't one. The race for the top four? That shouldn't be a real thing to begin with, with Arsenal potentially dropping out of the Champions League spots left as the only chance for potential excitement on the final day.
By the time Middlesbrough beat Sunderland in April, both had basically given up on survival anyway, and Hull's relegation only served to give credence to Paul Merson's claim that people who aren't English don't understand football.
D-, must do better.
'Please, please put it over the bar' award for potentially career-ending levels of cockiness - Ross Barkley
The game, a genuine Premier League classic, finally seemed to be drawing to a conclusion. Everton had hit five, Bournemouth three, and everyone - bar the travelling fans - was satisfied. Surely we couldn't ask for more?
What followed could have been one of the most perfectly excruciating moments in English football history. Ross Barkley was put through on goal, with only goalkeeper Artur Boruc standing in his way. The defenders let him go, their race already run.
Boruc was easily beaten, Barkley skipping around his tired challenge, and then he did it. He put his arms up in the air and celebrated, the ball still at his feet.
"Go on," thought the entire world. "Miss it."
To everybody's disappointment, Barkley kept his cool and tapped it into the open goal. But there, in that moment, was revealed the worst of us all. For all any of us wanted was for that talented young player to suffer the most embarrassing moment of his career, in a game which was sure to be up first on Match of the Day.
Don't even try and deny it.
'Haha, look at what happened to Piers Morgan' award for making Piers Morgan look silly – Hector Bellerin and Jeremy Corbyn
If there is one thing that unites the people of Twitter, it is making fun of Piers Morgan. The candidate for Britain's Most Unpopular Man was likely delighted when, upon arrival at a GQ event, he was seated at a table with Hector Bellerin – Morgan famously being an Arsenal fan.
He was probably less ecstatic when the pair were approached by Labour leader Jeremy Corbyn, himself also a Gunner.
Keen to showcase his famous interpersonal skills, Morgan steered the conversation towards manager Arsene Wenger, labelling the Frenchman and Corbyn 'losers', before taking offence as Corbyn took the opportunity to, well, basically mug him off.
Fluent in Spanish due to his wife hailing from Mexico, Corbyn switched the conversation into his second language, with Bellerin happy to engage. Morgan was excluded from the conversation, to the sound of the world's smallest violin being played in the background.
The assault didn't stop there – when Morgan took to Twitter to complain, Bellerin and Corbyn continued their conversation in Spanish, making sure to link him into the exchange. Lovely stuff.
'Is somebody cutting onions in here?' award for making us all cry - Tom Ince and Kasper Schmeichel
Huddersfield Town against Leicester City wasn't an obvious source of life-affirming moments of beauty, but football is full of surprises.
Ahead of their first ever match-up in the Premier League, Tom Ince and Kasper Schmeichel became the centre of attention after a video emerged from the early 90's, when their fathers played together for Manchester United.
The pair of them playing hallway football together as children - the older Schmeichel presumably letting toddler Ince put one past him, or else just being caught out by the latter's decision to dribble straight into the doorway goal - went viral, and deservedly so. Seek it out if you haven't already.
'Yeah, that's pretty good' award for understated Twitter excellence - @ManCity
There has been a lot of exceptional social media work this year - Football Manager gifs, Bristol City, "Come to Besiktas" etc, and to try and pick out the best would be an impossible task.
Instead, we've picked out one underrated gem which might have passed you by, from Manchester City's social media team.
"Somebody photoshop Delph riding on a dragon please," was the request.
"Ee are mate," was the nicely Mancunian reply, and below was the result. Nice.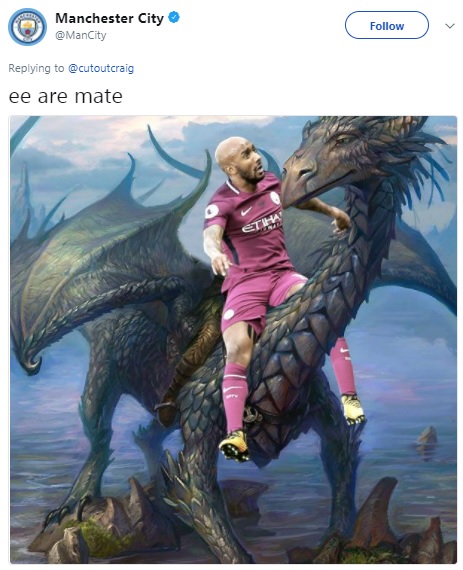 'Game's gone' award for sounding the final death knells of our once beautiful sport - Ronald McDonald
Ronald McDonald led out Manchester United and Real Madrid ahead of a pre-season clash in San Francisco, because of course he did.
'From the flames' award for saving a potentially disastrous situation - Ryan Bertrand
When Ryan Bertrand lost control of the ball while taking a regulation throw-in during stoppage time of Southampton's South Coast draw with Bournemouth, it could have been a moment of immense embarrassment.
Instead, he salvaged it with a spark of devilish genius. Noticing the TV camera off to his side, he flashed a cheeky wink and tapped his wrist, claiming time-wasting deviousness.
Most of us bought it, too - until we rewatched, and saw the look of genuine horror on his face as he sees the ball sailing up into the air, nowhere near where he was trying to throw it.
-
So there you have it. That was the year that was - one full of disappointing title races, dragon-riding makeshift left-backs, and a total lack of Virgin Van Dijks on Merseyside.
Who knows what 2018 will bring us? A 37-win season for Manchester City, perhaps, or Russia providing the biggest World Cup shock of all time with a series of fortunate, scrappy wins decided by freak own goals and questionable penalty calls.
Whatever it holds, like Yoann Barbet peering over the top of Samuel Saiz, we'll keep looking forward. From all of us here at VAVEL UK, have a lovely holiday season.