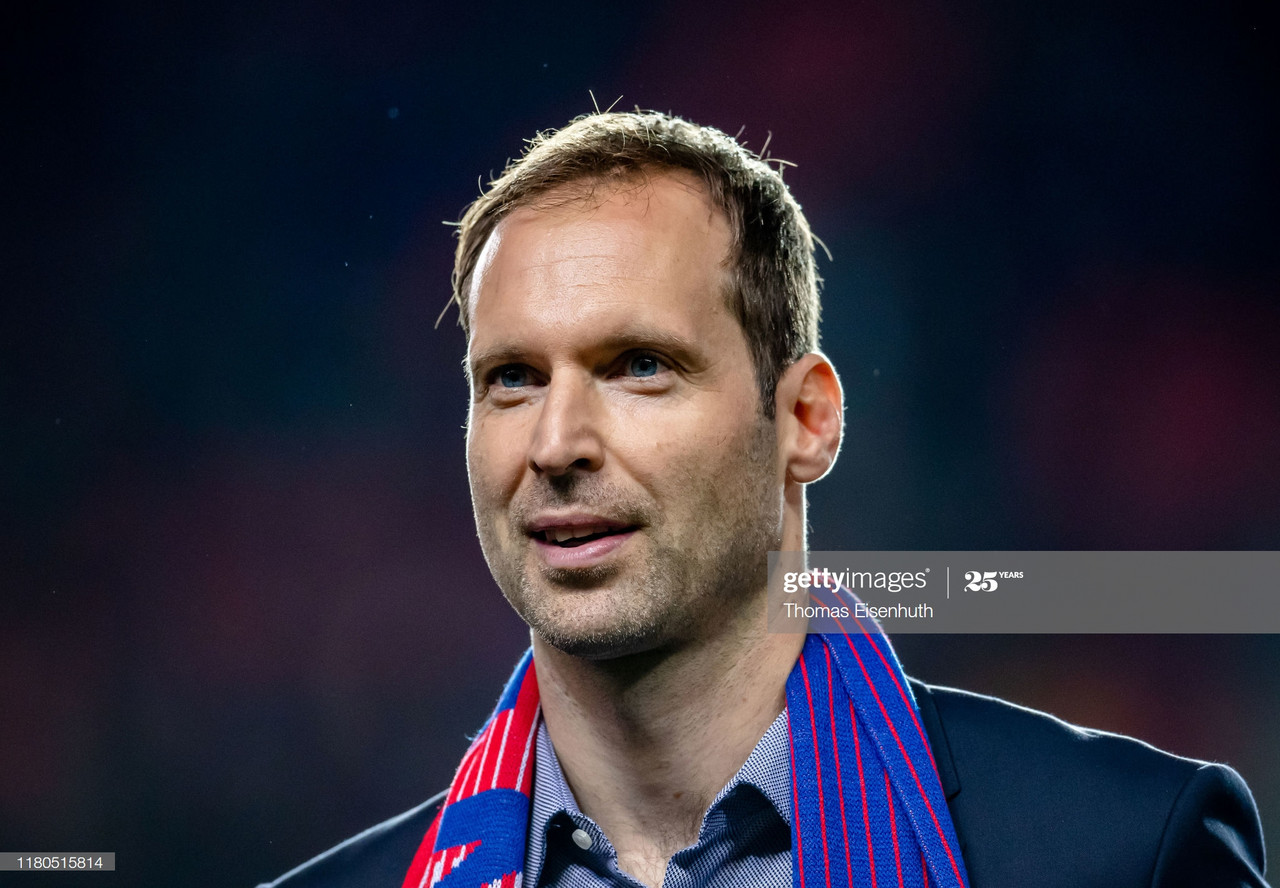 After winning league titles in 2005 and 2006, it was a fairy tale at Stamford Bridge for Jose Mourinho who won two in his first two years.
Cech confirmed "It was a weird moment" when Mourinho parted ways with Chelsea in the 2007/2008 season.
The sacking was even more unexpected after the coaching staff and players went to Fulham Broadway to watch a new documentary, Mourinho was in attendance.
End of an era
"What?! He was with us!", Cech said. "It felt like an end of an era, the coaching staff made us winners." Despite the sacking, Chelsea had a good season.
"We pretty much lost the title on goal difference and in the Champions League, we lost the final in a penalty shootout."
The following season proved to be shaky but Cech gave praise to caretaker manager Guus Hiddink after winning the F.A. Cup. The goalkeeper stated It was this period that rebuilt the team, adding strength to the mindset after achieving silverware at Wembley.
"Losing in the Champions League semi-final against Barcelona was hard", Cech later admitted. In other words, the referee had a bad performance. "It was unbelievable to be part of that game, yes it was hard to take but it shown we can compete with the best teams in the world. When Carlo Ancelotti arrived, we were in a good position."
A new era
After Cech previously stated he thought the club was rebuilding under the period of Hiddink, in preparation for Ancelotti, this proved right.
The 2009/10 season delivered major success for Chelsea. Ten years ago, to the day, the Blues hammered Wigan Athletic 8-0 at Stamford Bridge to secure a third Premier League title.
One week later, further memories were made at Wembley. Cech became the only goalkeeper to save a penalty in an F.A. Cup final after denying Kevin Prince Boateng. To top it off, Chelsea lifted the famous old trophy after Didier Drogba scored the only goal of the game.
"Carlo was excellent, his positivity and experience made us compete again. That season was enjoyable, we had a good mix of youth and experience. From a personal point of view, I kept many clean sheets too.
The build-up to winning the title was good. We had to win the last eight games to win the title, we had games at Old Trafford and Anfield."
A year later and Cech made history himself after he was made player of the year for the first time. At the end of season awards, the Czech announced his intentions.
"I love this club and I feel at home. There are players still here when I joined the club and they have made me feel at home. You always want to win everything, the only thing we are missing is the Champions League."
Little did the goalkeeper know what was in store 12 months later...
"There was huge heartache in Moscow after losing to Manchester United on penalties [Champions League final]. All these bad experiences give you the strength for the future but bouncing back after obstacles is what shapes you as a player.
That season didn't go right from the start, we started bad. I said to my wife in December that we would win the Champions League and we both agreed. We had luck in the league in previous years but never in Europe."
Chelsea had finished sixth in the league, but things were starting to go right in the Champions League. "Every time we played during the knockout stage, different things were happening that wasn't usually, it felt different."
After Chelsea was 2-0 down, and a man down, in the semi-final against Barcelona in the Nou Camp, it seemed like all hope was lost.
"Not so", said Cech.
"We had injuries, problems too, but it felt like it could be another one of those moments. We said at half time that if we lose 6-1, so be it, but we must not make it easy.
Ramires' goal gave us a lift and we proved it wouldn't be easy for them, even after reshuffling the side with ten men. Overcoming Napoli 3-1 in the previous round shown we had the experience to do it again. We made it a nightmare for them and in the end, they couldn't beat us."
That second half performance from Chelsea in the Nou Camp was special. Cech made some outstanding saves and Lionel Messi blazed a penalty over the crossbar.
"It was the longest half of my career!", Cech laughed. "It felt like we were playing three games at once, we cleared the ball out and before you knew it, the ball was back in our box.
"You looked at the clock, it seemed like time had stopped. We couldn't control any of the ball but the more the time went by, they missed chances and the more belief we had."
After knocking out Barcelona, eventually, Cech admitted: "[The] satisfaction after the game was amazing, we probably knocked out the best team in the competition."
Leading up to the famous final in Munich, Cech argued that this set team up for the heroics that was later portrayed in the final.
"They were playing in their stadium, their dressing room, it was written in the stars for them. Nobody expected anything from us, we had injuries too to rub salt into the wound.
Even when we conceded that goal with minutes to go, it seemed like we may have one more chance. When we got that corner, that was our moment because we had height in the box."
After Drogba equalised with that bullet header from a Juan Mata corner, Cech saved a penalty from his former teammate, Arjen Robben in extra time. So, just like Moscow, it was decided by a penalty shootout.
Best save for Chelsea
After a good season on a personal level, Cech admitted that he made his 'best ever' save a few weeks earlier. Referring to when he kept Andy Carroll out in the F.A. Cup final.
"We had belief in the shootout because of what had previously happened against Napoli and Barcelona in previous rounds."
After finally winning the big European trophy, Cech remained Chelsea's number one for two more years, earning a Europa League winners medal and breaking the clean sheet record.
"My biggest achievement is playing for one of the best teams in the world for 10 years and not losing my spot. This is so hard to do. You have to prove you are better than everyone else, under many different managers."
After losing his spot to Thibaut Courtois, due to his performances on loan at Atletico Madrid for three years, Cech stated: "I was not happy, I was working hard in pre-season.
Leaving Chelsea was a hard moment, I thought I was going to retire there. At this point I didn't feel like retiring so I had to try somewhere else."
Cech signed for Arsenal in the summer of 2015, staying in London was important for the goalkeeper.
After hanging his boots up on a 20-year career, Cech admitted the league became "harder".
"Probably the top 12 teams had good squads, for the other eight it would really depend on the era they were in. In around 2007, it all changed in England.
"You would start to see international players. The league became a bigger attraction and the squads got tougher."
After stating that goalkeepers get more protection in today's game, he admitted the biggest adaption on coming to England was the decision-making on coming for crosses.
When asked on which opposition player caused the most issues for Cech, he stated: "Wayne Rooney.
Every time we played, I had to be wary because he was so unpredictable and very clever. He is a guy who can chase, he can fight and clever."
After returning to Chelsea in 2019 as a director, Cech looked back on his playing days at the Bridge and stated: "I wouldn't change a thing, there were good times and bad times I'm not happy with but that's just how it goes."
"It was an amazing journey, one that I wish I could do all over again."