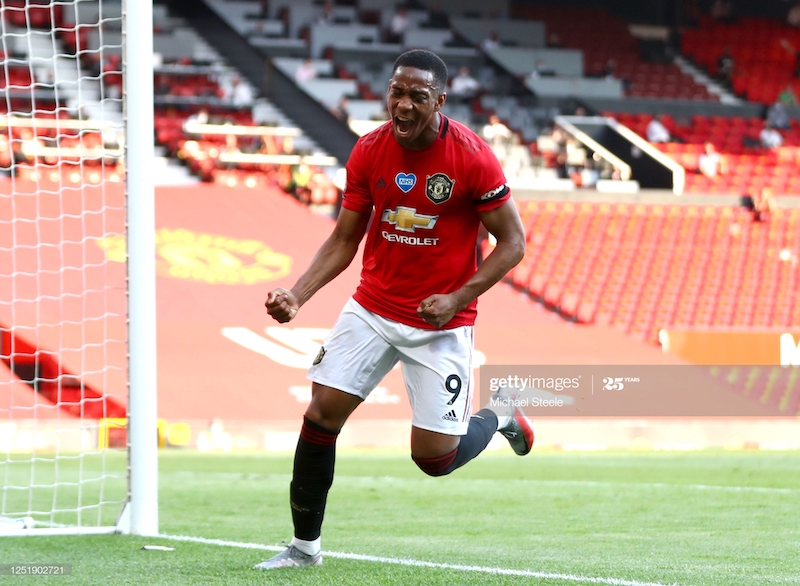 With the eerie echoes of players' shouts bouncing off the Old Trafford stands on a blazingly hot Wednesday evening, Anthony Martial sat grinning on the substitutes' bench.
The French striker had been given a well-deserved rest for the final 15 minutes of a game which Manchester United completely dominated. Without giving Sheffield United so much as a single chance of note, United strolled to an important victory and Martial scored all three goals. It was the first hat-trick from a United player in the Premier League since April 2013.
Ole Gunnar Solskjaer's side have moved within two points of Chelsea and their race to secure a top-four finish remains a realistic one. A win for Wolves against AFC Bournemouth on the same evening means United must still glance over their shoulders from time to time.
Sheffield United's display was a meek one. They never threatened and, unlike in the majority of their matches in this fine campaign of theirs, failed to ever suffocate the home side of the oxygen or space which they required to flourish. Another poor result means Chris Wilder's team, the great overachievers of the 2019/20 Premier League season, now sit in eighth. It would be a shame if their brilliant work was to be undone by an end-of-season collapse, but they've only one point from their first two games since the league's return.
Story of the game
Solskjaer has spent much of the last year imploring Martial to spend more of his time closer to the opposition goal. It was this kind of forward play that earned Martial his first hat-trick, made up of excellent movement supplemented by good finishes rather than the other way round.
He's scored six goals in the seven games in which he's played with United's January signing Bruno Fernandes, a creative midfielder who is yet to lose a game as a Red. On Wednesday, he started alongside Paul Pogba for the first time with the Frenchman playing a deeper role alongside Nemanja Matic. The set-up worked and despite Pogba's less obvious forward role, he created more chances than anyone else on the pitch (4).
Martial's first came very quickly. Rashford moved past Phil Jagielka, in for Wilder's team due to Jonny Egan's suspension, and fired a cross to where Martial waited at the near post. He stuck a side-foot out and achieved the right balance between accuracy and power, curtailing the force of Rashford's assist and touching it past Moore.
"I know the manager will be happy with this one," Martial said afterwards.
An early lead is a rarity for Manchester United. Rashford had chances to double it soon after. Martial was set free on the counter-attack after a well-timed run but elected to draw the 'keeper in towards him, poke it to Rashford on his right. The process was all conducted at just a slight delay and Rashford stumbled over the late pass.
It was a lovely move, but not quite as easy-on-the-eye as his second big chance minutes later. Fernandes flicked a strong pass into Rashford's feet, he gave it to Pogba who chipped it over the defence into Rashford once more. Rashford couldn't quite get his foot over the ball at the final moment and once more fluffed in his lines.
Once again the 'drinks break' altered the game. Wilder spoke to his Sheffield United players and they temporarily took a hold on the match. A cross from Aaron Wan-Bissaka, delivered after a nice cut-back, was finished off by Martial. Near post. Again. Solskjaer looked pleased. That moved him onto 18 goals for the season, with one more to come later in the game. It's his best goalscoring tally since his joined the club in 2015 and three more than Romelu Lukaku last year.
The second half was a dominant affair. United passed their way through Sheffield United on a couple of occasions but threatened little until a Martial-Rashford one-two ended with the French striker chipping Moore and completing his hat-trick. He grinned. United's last hat-trick was through Memphis Depay in a Champions League qualifier. Even that was in 2015. The last in the league was in April 2013; Robin van Persie's stunning first-half treble to wrap up the club's last title.
Soon Solskjaer made English football's first quintuple substitution and the game all-but died.