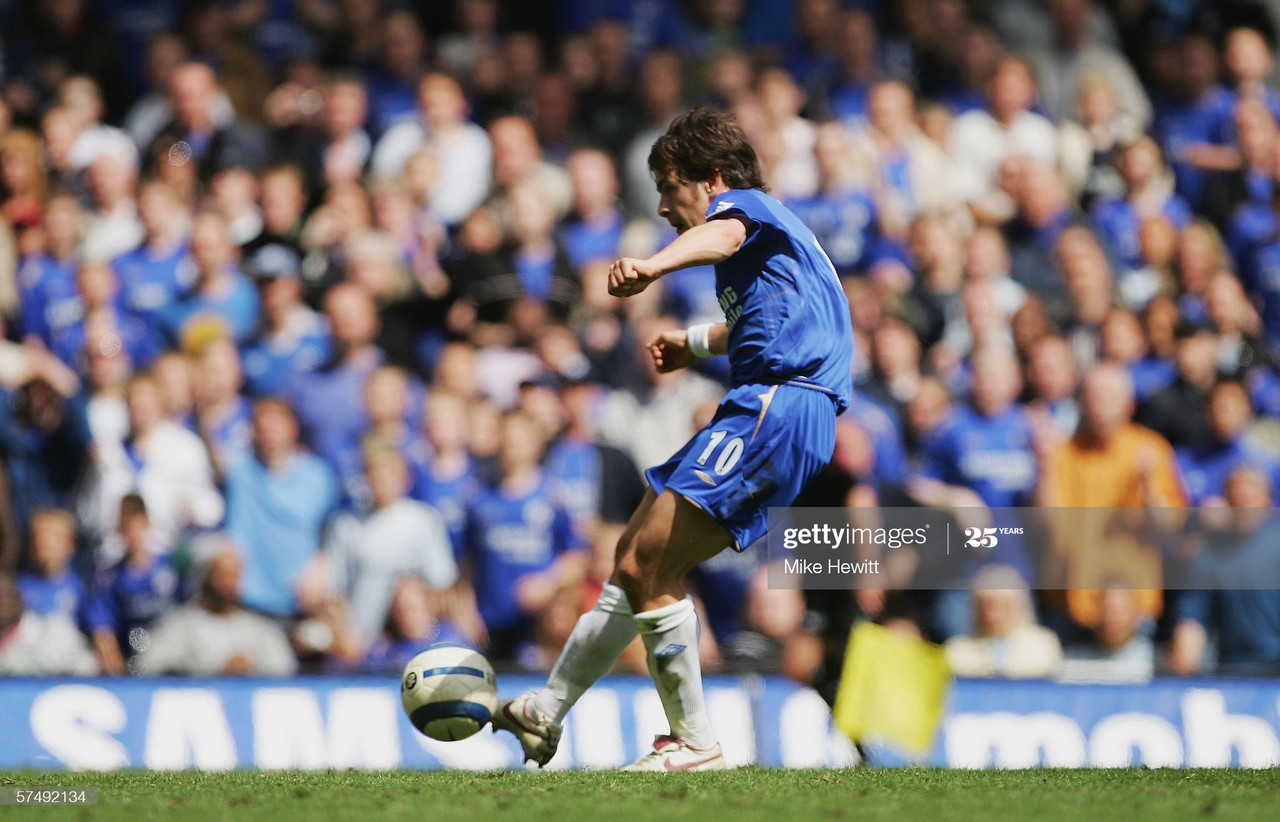 Before what would become a stellar seven-year spell at Chelsea, Joe Cole first signed for the club for a fee of just £6.6 million from local London club West Ham on August 6th, 2003.
After signing from the Hammers, Cole was touted by then-manager Claudio Ranieri as 'the perfect replacement for Gianfranco Zola', something that certainly excited both fans and his fellow teammates alike.
However, following in Zola's footsteps wouldn't be easy for the young Englishman. Zola, an already-established club legend, was adored by fans all across the world but just a week after his signing, Cole showed the Blues that he was a star for the future.
Cole made his Chelsea debut in a UEFA Champions League qualifier away to MŠK Žilina. He came on as a substitute with 21 minutes left and caused Michal Drahno to score an own goal to conclude a 2–0 victory.
Cole also made his Premier League debut against Liverpool at Anfield, coming on for other new signing Damien Duff in a 2-1 win. The youngster netted his first Chelsea goal in October of that year when Chelsea won 4-2 in the League Cup against Notts County.
However, it was his second season at Chelsea that really managed to lift him to another level. Injuries to fellow midfielders Arjen Robben and Damien Duff meant Cole was given the starting nod by new manager Jose Mourinho.
Cole finished the season with 10 goals, as well as a win in both the League Cup and the club's first League title in 50 years.
Cole quickly became a headline grabber at Chelsea, and it was no sooner than April 29th, 2006 when he scored an incredible solo goal against title contenders Manchester United, taking out Rio Ferdinand, Nemanja Vidic and Mikael Silvestre with a single turn before firing it high past Edwin Van der Sar, to successfully defend the Premier League trophy.
Following another great personal season, he was named in the PFA Team of the Season for the first time in a Chelsea shirt.
Unfortunately for Cole, surgery for a stress fracture in his foot would slow his form at the beginning of the 2006/07 season, but he would return for Chelsea's quarter-final tie against Spanish side Valencia in the Champions League.
Cole would add an FA Cup win to his resume at the new Wembley Stadium against Man United.
His European woes continued in 2008 when he was subbed off in extra-time in the Champions League final for Nicolas Anelka, who missed Chelsea's crucial penalty in the shootout that followed, losing to Man United 5-6 on penalties.
The following season, more injuries plagued Cole's career when surgery on a knee injury wouldn't heal in time and he missed the entirety of the 2008/09 season.
It'd be more injury woes for Cole as he didn't make the pre-season for the following campaign, having suffered cruciate ligament damage to his knee. He finally made his comeback against Queens Park Rangers in a League Cup match in September 2009, where he was given the captain's armband.
On 8 November 2009, he played his 250th game for Chelsea, coming on as a substitute, on his 28th birthday.
On 3 April 2010, Cole scored the first goal in a 2–1 win at Old Trafford against Man United in a potential title deciding game. The goal helped Chelsea win and overtake United at the top of the league, where they'd both eventually finish.
He came on as a substitute as Chelsea won the 2010 FA Cup Final against Portsmouth, his second appearance in an FA Cup Final for Chelsea. Cole ended his career at Chelsea having won three Premier League titles, two FA Cups and a League Cup.
Coaching role and return to Stamford Bridge
Having retired in November 2018, Cole then made his way back to Fulham Road to help at Chelsea's Academy, tasked with developing young players as technical Academy coach, working with a selection of age groups, including the Under-18s and development squad.