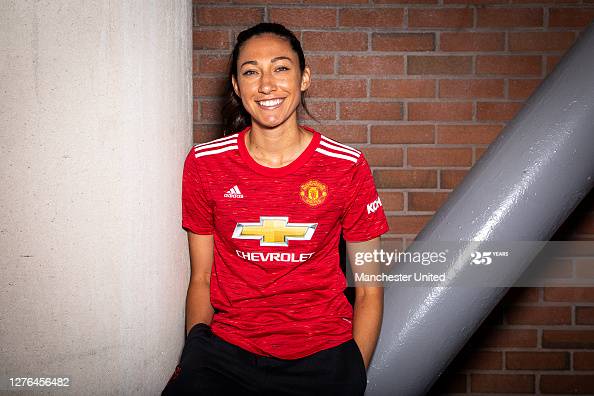 Six months off the pitch and finally she's back. Christen Press got stuck in lockdown in Portland, USA, opted out of the NWSL Challenge Cup and now the two-time World Cup winner has landed in England after signing a one year deal with Manchester United.
Alongside Tobin Heath, the USWNT pair have come to Manchester to challenge for silverware and show Casey Stoney's players a way of winning that until now, only American and Lyon players have.
"I think some of the best players in the world are flying here [WSL]. The league is getting more attention and more investment, there's great competition between clubs and I think all those things make an ideal environment to grow and to learn, but to also enjoy," said Press.
"Manchester United specifically gave me the right combination. It will be challenging, it will be hard, but it will also be fun and be possible to win and to come home with some silverware.
"That's what I'm here to do. I'm here to compete for titles. And in England, we have more opportunities to win more types of titles and obviously qualify for Champions League and that played a huge role in it.
"Manchester United has a great opportunity to compete for all of those. And that's a very special and desirable environment to be in."
In light of the pandemic, Press and Heath were presented with an opportunity that they weren't expecting: to come back to play in Europe. The pair opted out of playing the two week NWSL Challenge Cup centred in Utah.
With uncertainty around the rest of the football season in the States, Europe was the best option to get regular competive football leading up to the rescheduled Olympic Games.
"I decided to play for Manchester United, because they offered an amazing chance for me to get back to football, after having been away for six months, which is the longest stretch of time of my life that I haven't played," said Press.
"When I found out that Manchester United was interested in signing myself and Tobin, I jumped at the opportunity to play for a great club, a massive club with such history, to play for a team that's going to have an opportunity to fight for titles, and to play for a manager that's really well respected."
European football isn't new to the striker, Press had two spells in Sweden where she played for Göteborg FC and Tyresö FF. She played in the 2014 UWCL Final and finished the Damallsvenskan top scorer. Press knows what it takes to go up against the best and come the end of the season she's set to leave Manchester United in the UWCL.
Weight of the Man United badge
The current NWSL was only established in 2013. Americans don't have the same rich footballing history as Europe and South America. Don't have the same rivals as Manchester Derbies, El Clasicos, the North London Derbies and Boca vs River. This environment will all be new for the 31 year old forward.
"The history that goes into putting on this crest is something that I've never experienced. It's something that no club has in the United States and even the other international teams, I play for don't have this type of rich history of football. So it's a huge honour, and a lot of ways it feels surreal," said Press.
"I came to Manchester when I was 13 years old. When I was playing for like a local team, we came over and played Manchester United development girls team. It was the first time I experienced the EPL and English football and I was blown away.
"To be back here some decades later, and to be playing [for the club], it's an amazing opportunity. I hope that I can absorb as much of the football culture and the football magic that's here as possible."
Brining a winning mentality
Christen Press is used to winning. Two World Cups with the USWNT and that mentality is addicting. Success is what drives her and her team forward in all of the footballing endeavours, something not a lot of players in Manchester United have experienced before.
"We're here to fight for titles. I think what we'll be able to bring is a relentless mindset towards that, and to never question or doubt if that's why we're here and if that's the team's purpose. That's a big thing.
"Just being a professional for a really long time, you get really smart with what you need to do to be successful individually and I do think that younger players have to learn that, so hopefully we can be helpful in in that.
"The mixing of cultures is super interesting on both sides. There'll be a lot that we get to learn from coming over here and experiencing a different brand of football, and a different culture of people, and vice versa.
"Americans' reputation always exceeds us and it's not always a good thing, but what I what I hope to bring a competitive nature, drive, hard work ethic, striving for excellence, in all that I do."
After if was announced that Press wasn't wearing her iconic 23 jersey, a lot of fans had to figure out what to do with their already bought Chris Press 23 United jerseys. The number went to fellow new signing, Alessia Russo, but Press' new number still has significance to it.
"Kobe.
"I'm not someone that like holds too much luck or significance to a number. But I think when I wasn't able to wear my normal number, I definitely chose this with a little nod to Kobe, because I'm an LA Girl and growing up, everyone, and everywhere we went, were crazy for Kobe.
"The amount of inspiration and joy that he gave people by the way he played with his passion is amazing. And you know, it's something that as athletes we're all striving to do."
Playing in the greatest WSL season yet
Every club in the league has strengthed their squad. The best players in the world have landed in England. Pernille Harder, Lucy Bronze, Alex Morgan, Jess Fishlock, Steph Cately, Noelle Maritz, Valerie Gauvin to name a few.
But after a 1-1 against Chelsea in the opening weekend, Stoney's squad is looking like favourites to sneak into the top three.
The second weekend saw Manchester City drop points to Brighton after being held to a 0-0 draw. Any team can take points off the 'top three' at any given chance. Press is here to compete against the best and leave United on top.
"From the vantage point of the global game, it's a league that is starting to invest on the women's side. At this point, you have a lot of the best players in the world already here. That makes competition great.
"I think it's going to be a league where there's not as many easy games as a lot of other European leagues. Players want to play in leagues where it's hard to win."
This year there will be three UWCL spots up for grabs. No one outside of Arsenal, Manchester City and Chelsea have repsented the WSL on the European stage since 2014.
"There's several top teams fighting for the Champions League spots, fighting for the cup titles, fighting for the league, it's going to be challenging every step of the way and that's exactly what you want as a player, you want the opportunity to win, you want to fight you want to play for top clubs, but you also want fierce competition and you want to be playing with and against the best."
America has a great emphasis on physicality in their football, their technical abilities are far less of those learned and experienced in Europe. In North America you always running and you're always pressing, where as in England and the rest of Europe there is a focus on tactics and being smarter in managing your game.
"Just from a few training sessions, watching the games, and obviously, my past experience in Sweden, I think that it's a totally different approach.
"Tactically teams are more organised and create more of a fortress and in the NWSL, it's a very transitional, very high paced game and it's very direct. I expect, which I also experienced in Sweden, just more tactical sophistication and build up play. I'm looking forward to see if I'm right."
Working with Casey Stoney
"Casey has an amazing reputation, everyone spoke incredibly highly of her. Coming into this environment and meeting the staff and my teammates, I think it would be hard to find a group that speaks more highly of a manager."
"It's very challenging as a manager to be both liked and respected and she's certainly that. That just makes me incredibly excited to grow and to learn from her because I think she's going to be something special.
"It's been made very obvious to me that Casey has a very strong culture around the team that she's developed, a great attitude of working hard, being disciplined, being humble. I think that's really rare.
"She also has great training sessions and great loads and coming from the United States where we have a very high emphasis on physicality, it's great to be in an environment and know that I'm going to be challenged."
Due to restrcitions of Americans coming into the UK, Press missed the first two fixtures of the season due to the two week quartine obligation that she, alongside Heath, Sam Mewis and Rose Lavelle all had to go through.
Despite missing United's good start and delaying her come back onto the pitch, it was a blessing in disguise.
"In an ideal world you would get to come and jump right in. But there were a ton of advantages for having this period of time to be able to emotionally adjust and prepare; to be able to eat English food and get used to it, to sleep on the timezone.
"I actually felt like going into my first training session, which was a few days ago, that I was much more prepared than I would have been if I had got off a flight the day before. It was a blessing in disguise, and I was able to talk to a lot of staff, a lot of players during quarantine virtually.
"It's been a great and slow transition and I think just for my personality, it's actually been really helpful and not as overwhelming as a traditional move would be."
Already integrated into training, Press and Heath are available to feature in their first league game on October 4 against Brighton and Hove Albion at Leigh Sports Village.