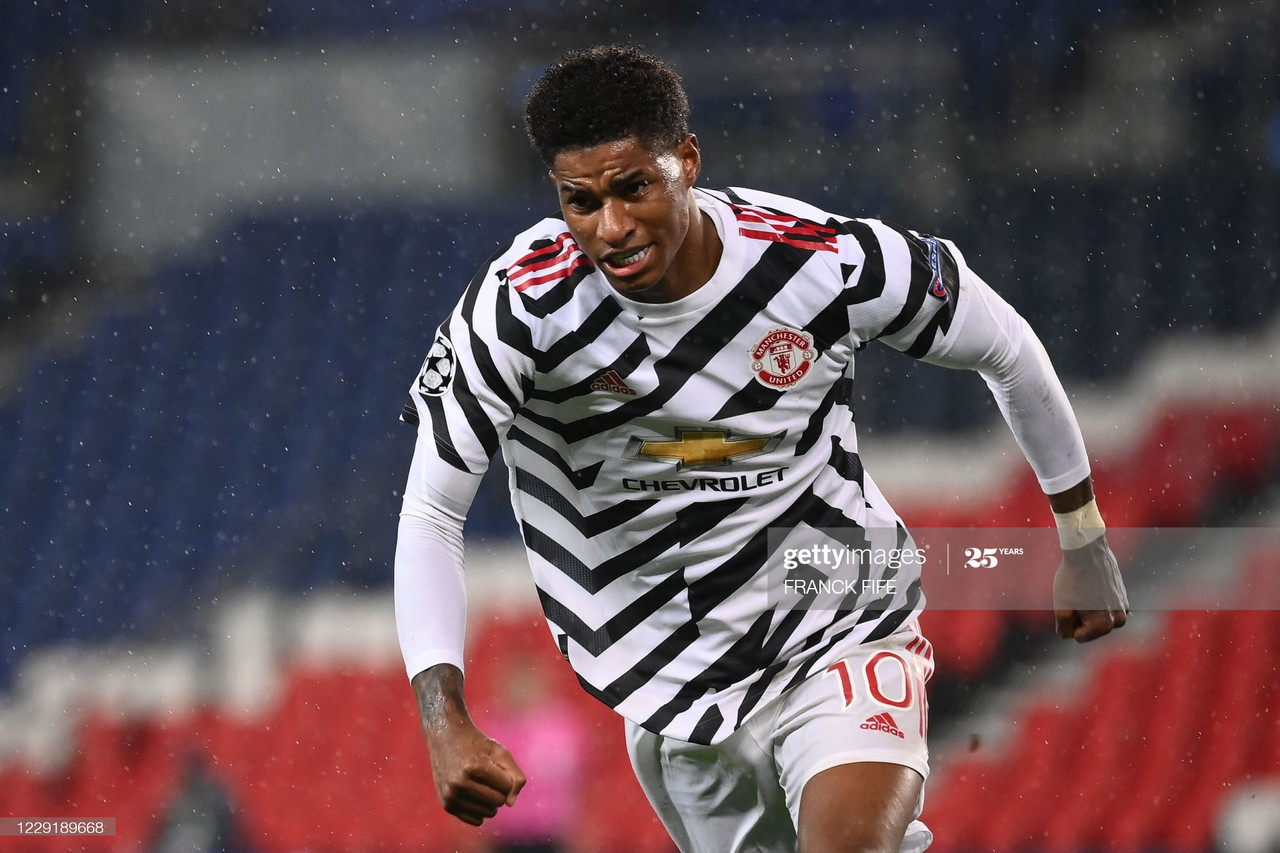 Manchester United became the first team to defeat Paris Saint-Germain in a Champions League group-stage match in Paris in over 16 years, to get their return to the competition off to a winning start. Whereas 19 months ago, United beat PSG with attacking flair to progress into the quarter-finals, here they put in a better tactical display according to manager Ole Gunnar Solskjaer.
There was an element of drama attached to Marcus Rashford's 87th-minute winner which struck the base of the goalpost and went in. United had gone ahead through Bruno Fernandes's second attempt at a penalty before being pegged back by a headed goal of misfortune, scored by United player Anthony Martial.
This was a team effort…
This was a victory by the masses. United had to wait until the very last to score the crucial goal that gave Solskjaer's team a precious win as they embark on their Champions League campaign after a season's hiatus. Just when Solskjaer needed it, his team delivered a solid performance featuring defensive steel and guts in the Parisian drizzle.
When PSG attacked in numbers, United held their position in a low block and when they recovered the ball, Solskjaer's players hit on the break. Wherever Kylian Mbappe went, Axel Tuanzebe or Aaron Wan-Bissaka were there to stop him. Angel Di Maria, who endured many a frustrating night in United red, had no luck in getting past Luke Shaw and Alex Telles. Scott McTominay and Fred protected the back four with consummate displays whilst David De Gea saved well from Di Maria and Layvin Kurzawa.
Solskjaer also deserved credit for how he set his team up to contain United's illustrious opponents, who were the beaten finalists of last season's competition. It was a tall order for the likes of Tuanzebe, whose last appearance came ten months ago against Colchester United in the Carabao Cup, but United pulled it together as a collective unit.
Rashford arrived in hour of need
Still it was Rashford who crucially arrived in United's hour of need. There was an element of misfortune in the way in which the visitors drew level: Martial flicked on Neymar's corner with the hope of heading clear but instead sending the ball past De Gea.
In truth, Rashford had a diminishing impact on the game, until his telling strike. He had fluffed his lines on a few counters but showed with his clean finish that he is focused on delivery for United where and when it matters; it was he, of course, who scored the 94th-minute winner against PSG in March 2019. This was his fifth goal of the season for club and country.
PSG out of sorts
This was not a display befitting of PSG. They were slow out the blocks and arguably only began their Champions League campaign in the 45th minute. United did a good job in quelling the threat of PSG's attack but in some ways the home side did that themselves.
Injuries and illness had depleted Thomas Tuchel's squad, particularly in midfield where Ander Herrera was the only member of the starting midfield from the Champions League final to play, and the lack of dynamism was clear early on. There was a lack of adventure and ambition in the way the home side set up. Neymar should have seen that he was lining up against Shaw and Tuanzebe and gone for them, rather he was contained all too easily.
That is not to do a disservice to United, who held their positions and managed the space well; Wan-Bissaka was particularly impressive when putting in a brilliant block on Mbappe as he approached goal. But there was a sense that this PSG side are used to not turning up and still getting the points. Here it cost them an opening night defeat whilst it allowed United to start their campaign promisingly.