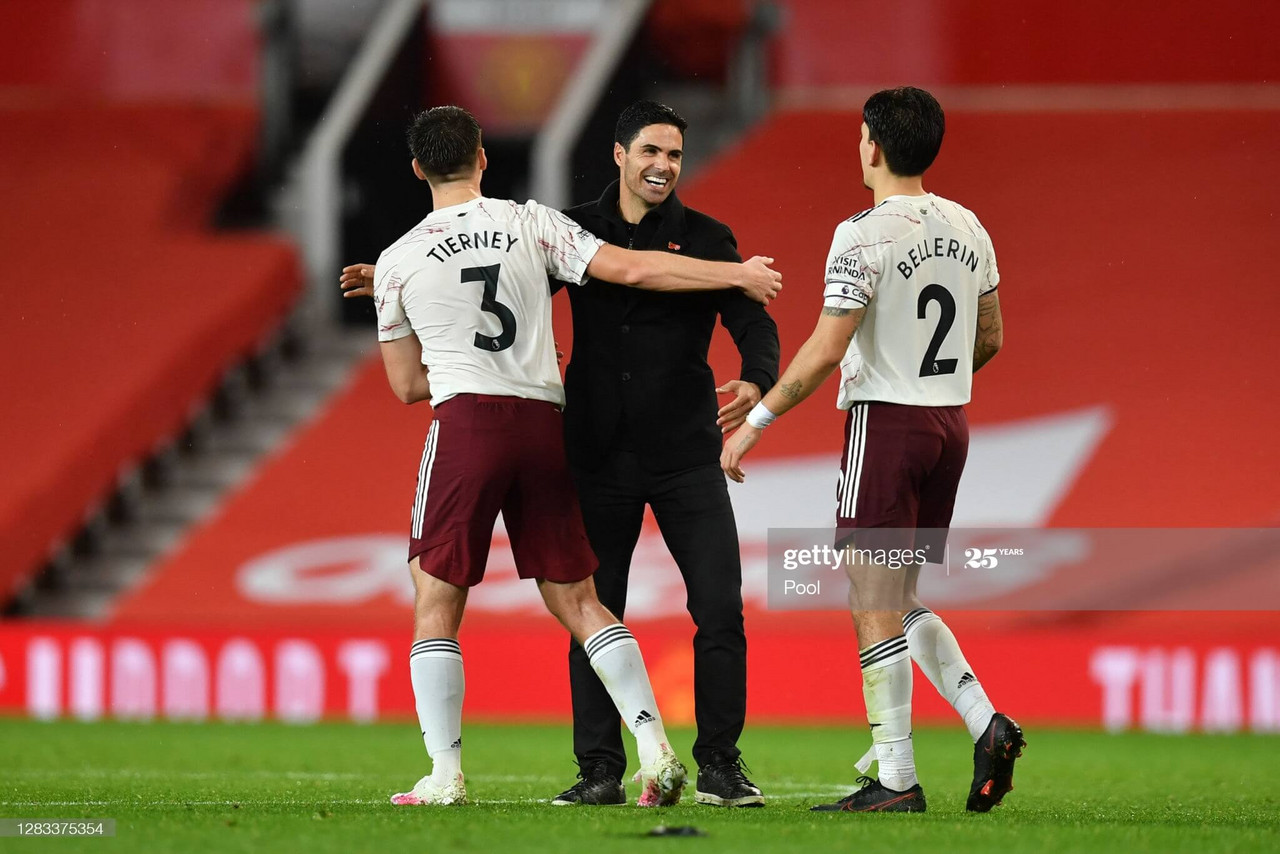 A Pierre-Emerick Aubameyang penalty ensured that Arsenal got their first win at Old Trafford since 2006. In fact this victory was Arsenal's first away to a 'big six' team in the Premier League in almost six years. If further evidence was needed that Arsenal are progressing under Mikel Arteta, then this was it.
The visitors were professional with their work and stuck to their plan of allowing Manchester United to get hot and bothered trying to cut them open before capitalising on a mistake borne out of frustration. Whilst Arsenal dominated the midfield and harboured at least a little ambition, United were sluggish and dishevelled and the diamond system was caught short.
Arteta's plan of absorb and capitalise worked
This victory was thoroughly deserved for Arsenal. What they had lacked in previous attempts to beat more affluent opponents, they possessed here; a midfield enforcer in Thomas Partey who was comfortable on the ball and acted as a strong barrier in front of the back three alongside Mohamed Elneny. The experienced Willian on the right brought an attacking outlet whilst Gabriel again impressed at the heart of the defence next to Rob Holding.
Having lost successive league games against Leicester City and Manchester City, this was a welcome three points for Arteta. The intense press led by Alexandre Lacazette and Aubameyang meant United could not play out from the back and yet still decided against going a little longer. The rather strict set-up that Arteta deploys means that creativity is not all that easy to come by, however, Willian's runs, Hector Bellerin's crosses and Bukayo Saka's dynamism were enough to off-set United.
Pogba's mistake caps off poor day
The one moment that ended up costing United more than any other was in the 68th minute when Paul Pogba tapped at Bellerin's heels, giving away a penalty. The United midfielder was caught the wrong side of Bellerin as he entered the area and the clumsy nature of the clipping exacerbated Pogba's poor showing in the hour prior.
Sometimes there is too much expectation on Pogba but, then again, he is classified as one of the best players in the world, a World Cup winner. Naturally, there is going to be more spoken of a player who is the biggest at his club. But when United needed him to show more of his worth he did the opposite and made a rash mistake that cost his side the game.
Diamond set-up looked weak
To hand all the blame to Pogba, however, would not be correct. This was a malfunctioning team display. Whereas the midfield diamond worked to good effect against RB Leipzig in the Champions League only a few days earlier, here, with a couple of personnel changes, it didn't function as expected. Scott McTominay, who was on the right side, never looked comfortable and was unable to offer the support to Aaron Wan-Bissaka behind him.
Ole Gunnar Solskjaer did change it a half time - he had had enough of seeing what was essentially a midfield of four central midfielders being dominated by the duo of Partey and Elneny - but it was not enough to dramatically change the tide of the game. The home side applied more pressure on the Arsenal defence, whereas earlier their few chances had arrived via set-pieces.
This was United's fourth league game at home this season and their fourth without a win, signalling their worst start to their home league campaign in 48 years. This performance was better than succumbing to a 6-1 defeat like against Tottenham, there was more intent than the drab 0-0 draw against Chelsea but this was still a way short from what United fans are hoping for.
It was also Solskjaer's 100th game in charge of the club and it is fair to say that there has been ups and downs. At the moment, United's home league form is on the down and the manager seems unsure of how to stop it.