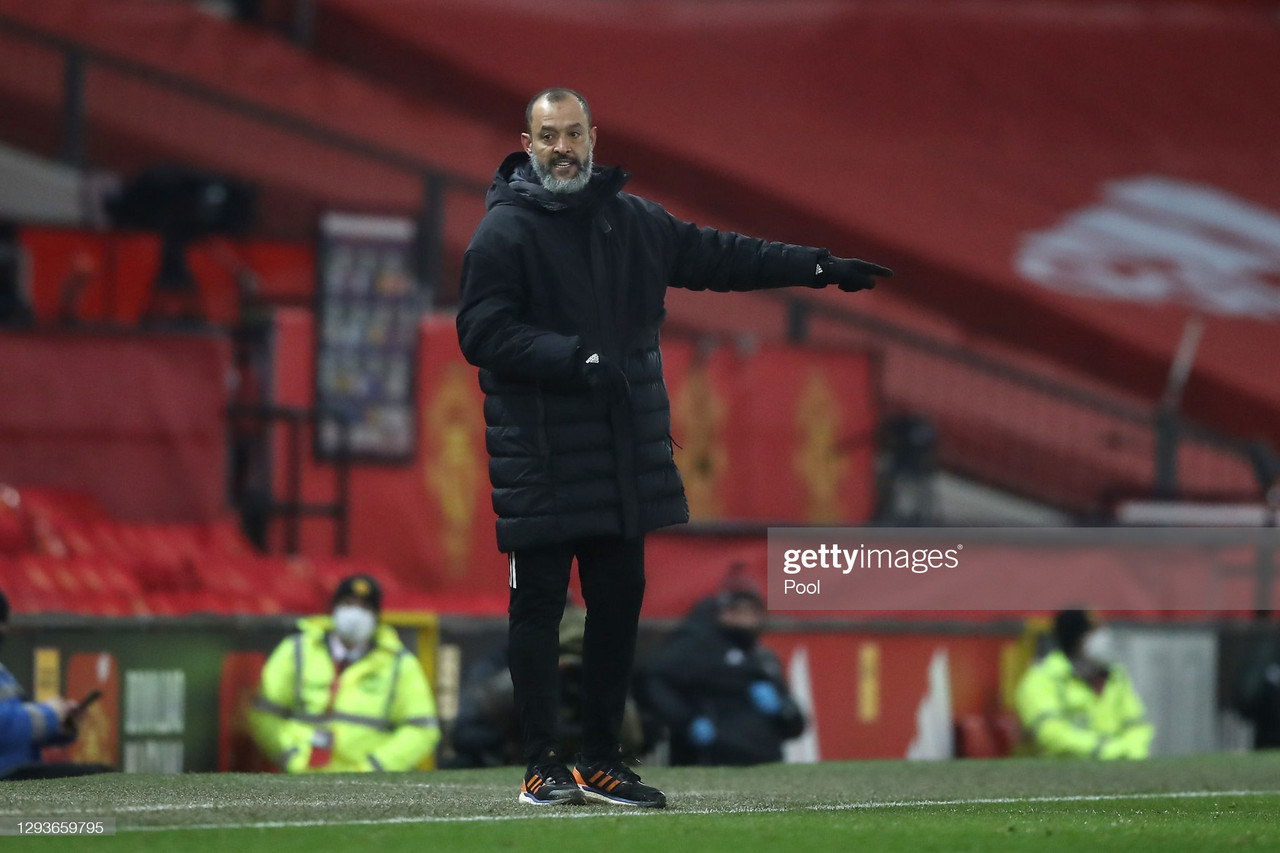 Wolverhampton Wanderers are back in Premier League action tomorrow against Chelsea, who have just recently sacked Frank Lampard.
Nuno Espirito Santo's men are struggling without a win in the league in their last six matches, having conceded 12 goals in that time. The last win that Wolves had in the league, was over Chelsea with a late comeback and a Pedro Neto winner.
The Wolves boss spoke to the media in a press conference ahead of the tie.
On preparations for Chelsea
Having recently sacked Lampard, the Blues are coming into this game without a head coach in place, which could play into Wolves' favour.
However this could pose some problems for the Midlands side, as there may be some changes in the Chelsea ranks and therefore the system they play and the players that they go with.
"We don't know exactly how Chelsea are going to present themselves. We don't know the manager. What we know is the quality and talent of the Chelsea players. We expect a tough match and whatever the manager is, he won't have much time to impose his own ideas, so we think it'll be close to what Frank [Lampard] was doing before.
"We are talking about a very good team, a squad full of talented players, so we are aware tomorrow is going to be very demanding and tough for us."
Over the past few weeks, Wolverhampton Wanderers have been below par. Only winning one game in the last nine has seen Wolves drop to 14th in the table, and needing a lift in confidence.
"I've reached all the conclusions I needed to reach. We are playing good, we are not being as compact as we should, we are making mistakes that are costing us and making games harder for us. But we are scoring goals, we are creating chances.
"The players are not OK; they are not happy. Every time a game finishes and we didn't get what we wanted from the game; nobody is happy. Everybody has the experience to know the only solution is to improve, to improve individually, as a team, to get things better."
Nuno has highlighted that his side are making mistakes that are avoidable, and they have been working to eliminate these mistakes.
He said: "We work hard when things don't go well. What we do, we work more, we try to do things better, this is our spirit. It's not that we're playing bad, we're making mistakes that we have to try and not make to improve our game. We have to get back important players, and this is what we're trying, working very hard for things to go better."
On new signing Willian José
Wolves recently bolstered their attacking options by bringing in Brazilian Willian José.
Nuno shed some light on the situation that the club are in with the signing. He explained that the club are "still waiting on the work permit to be solved." Before adding, "things are going and it's just a matter of time for everything to be OK. Having a work permit has an exception on the quarantine, as long as Willian has tested negative back in Spain. We are waiting also on that result. I believe after everything is solved, he'll join the group."
"Talent, quality, experience. He's a very good player that can be a big help for the team now. First, we have to see how he is, but he's been competing since the beginning of the season.
"One week ago he played the full game, so in terms of fitness, he's ready and it's a matter of integrating him into the philosophy of the team, the ideas, being available is a moment for us to decided when is the appropriate situation."
How José will fit in at Wolves
Ever since the injury to Raúl Jimenez earlier this season against Arsenal, Wolves have really struggled in the attacking third, as they haven't had an experienced goalscorer in the box.
They will be hoping that the addition will provide that and offer help to the wingers, Pedro Neto and Adama Traore.
"He's a different player to what we already have. He has experience, he links well, he's a finisher, a goalscorer, so inside the options we have, I think he can really help the team, especially with the absence of Raul [Jimenez].
"The situation of Patrick [Cutrone] coming with not so many minutes, Fabio [Silva] trying really hard, but we need to be aware of how he's doing things, his age, so Willian can be another solution for us.
"In the FA Cup we played with Patrick and Fabio together, we expected more, but we didn't have too much time to work as a two, they are knowing each other, so having Willian gives us another option if we want to integrate a front two. Having more options gives you more solutions and this is how we work.
"Our philosophy has always been a balance of experience and youth, but circumstances made up have to react and I think it was a good reaction to try and bring open more option for us for the rest of the season."
Another man that has proved to be a huge miss for the Midlands club has been Spanish full back Jonny Castro Otto. He suffered an ACL injury last season, which has seen him miss a lot of football.
However, Nuno revealed some good news in his conference about the 26 year old.
He said: "He's closer. He's been working with us. Not on all the situations, but it's according to the plan. He's travelling to have an opinion on the surgery and after that I'm positive that a couple of weeks more he'll be ready to go."