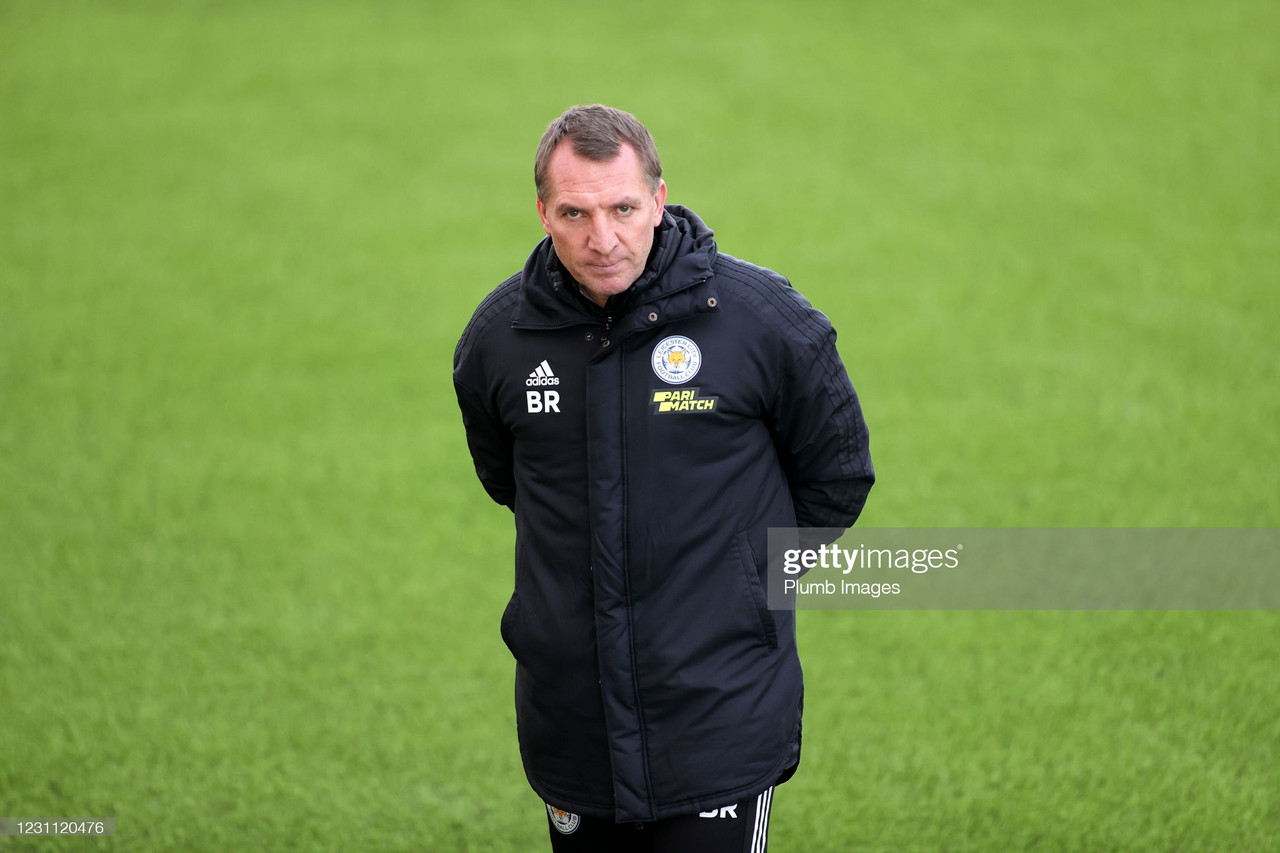 Leicester City return to Premier League action this Sunday afternoon, just three days after they drew 0-0 away at Slavia Prague in the Europa League.
The Foxes travel to Villa Park to challenge Aston Villa, who are enjoying a fruitful spell in the Premier League, much the opposite of last season.
With a win, Brendan Rodgers' side can leap into second place ahead of close rivals Manchester United.
Rodgers spoke to BBC Radio Leicester on Friday afternoon ahead of the trip on Sunday.
Ricardo and Castagne fitness update
After Ricardo Pereira returned to action last month after 10 months out with a horrible injury, he's played a lot of football since coming back - most recently at left back in the fascinating victory against Liverpool last weekend.
Rodgers gave an update on the pair as Ricardo was rested midweek so didn't travel to the Czech Republic. Timothy Castagne has also missed a few weeks after being out with a hamstring problem.
The boss said on the pair:
"Both of those boys will be available we think. They trained really well today. We're just having to manage Ricardo, in particular, because of the length of time he was out before.
"He's come back, he's played a few games, we gave him the rest and a recovery period in midweek and he should come into the reckoning for the weekend."
The Northern Irishman also gave an update on the James Justin situation, after Justin underwent an operation on Thursday following his recent ACL injury.
He said: "It's gone very well, so he begins his recovery process now, speaking to the medical team last night after the game and today, it's all gone well and we wish JJ a speedy recovery."
Aston Villa have had an up and down season, however still sit in eighth place, with just a four point gap between them and Liverpool who sit in sixth.
The Villans beat Leicester in the reverse fixture thanks to a Ross Barkley stunner. They've also had unforgettable victories such as a 7-2 win against Liverpool the gameweek before they beat the Foxes.
Rodgers acknowledged their great season and said: "They've been fantastic this season. There was a lot that Dean had to deal with last season, and they've established everything. Jack Grealish is one of the top players at this level and that makes everyone better.
"With one game a week, they can prepare and get ready and play well. Earlier this season we had a really tight game against them. They've shown they're a real team of quality."
Leicester have had great success on the roads this season, beating Man City, Spurs and Leeds along the way, where typically other sides find it tough to win there.
Rodgers said: "Whether the stadium is empty or full, it's about winning the game. We've shown a real toughness in our team and that gets you through games. We have to, fundamentally, defend well."