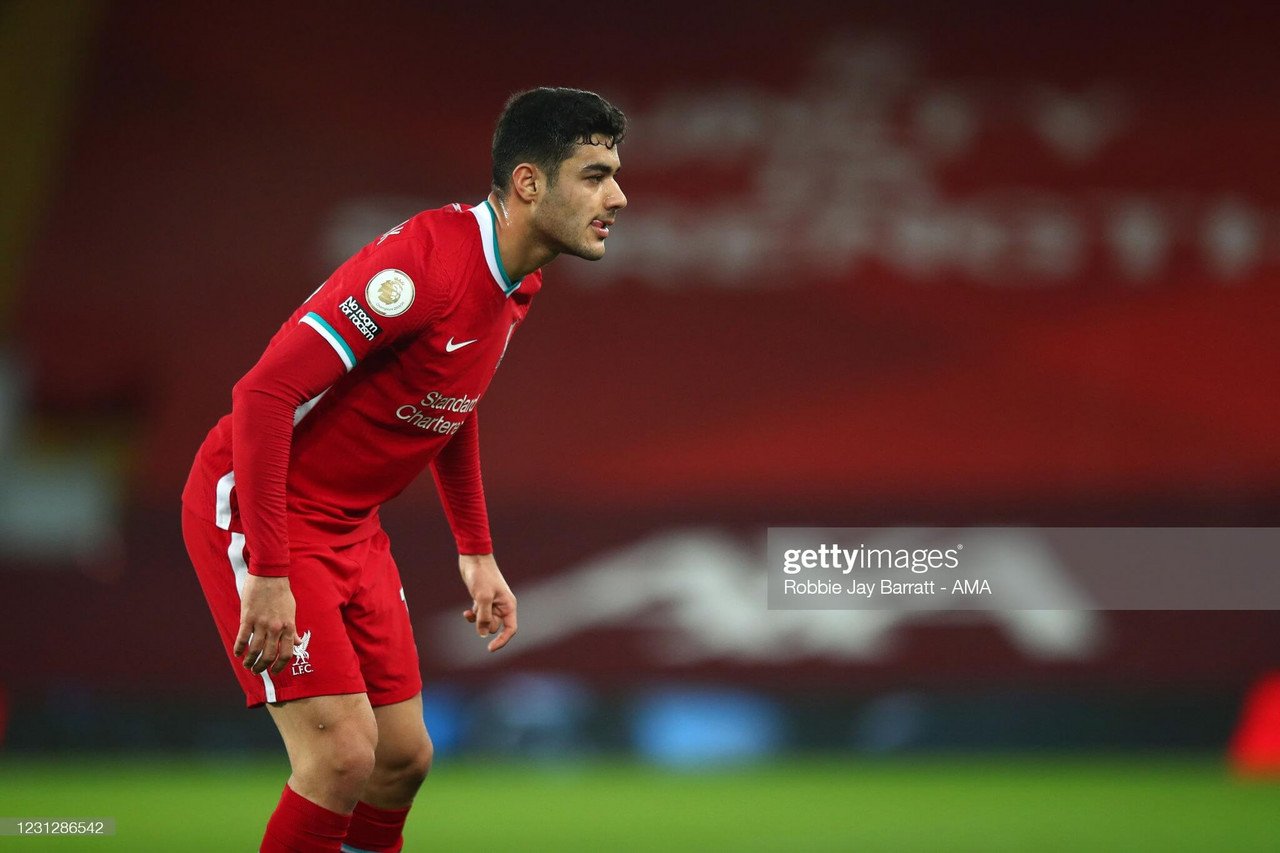 Virgil van Dijk sat in Anfield's Main stand and watched on as Liverpool turned to their 18th central defensive partnership of the season. The Dutchman, who suffered knee ligament damage at Goodison Park in October, was helpless.
Liverpool's defensive injuries are mounting up and, in truth, so unfortunate that it beggars belief. Here, Jordan Henderson limped off on 30 minutes with troubles with his thigh adductor, in doing so he became Liverpool's fifth senior centre-back to be currently laid low through injury. Van Dijk, Joe Gomez, Joel Matip, Fabinho and now the captain.
Jurgen Klopp sent on Nat Phillips to play alongside Ozan Kabak in Liverpool's latest central pairing. Phillips has shown he is solid when required in the past few months and the chances are that he will now start when Liverpool next play, away to Sheffield United next Sunday.
Nervy start for Kabak
It was the performance of Kabak that failed to convince, however. The Turk is young and has only played three games since joining the club on loan last month from Schalke. Nevertheless, the early signs have not been great.
One could point to the fact that Kabak is trying to settle into a role in a different league with a big club while they are going through a tough period. But that would go against the reason why Liverpool chose to bring in the promising defender; they need him to be a reliable centre-back, doing the simple things without fuss.
Against Everton he was clumsy and naive. Carlo Ancelotti's side demonstrated greater nouse and a streetwise nature, Liverpool meanwhile were vulnerable and Kabak was at the heart of that. He was targeted and bullied.
It started from kick-off. It was a windy day on Merseyside and its swirling nature inside Anfield made it difficult to judge an airborne ball. Everton hoisted a ball over the top in the direction of the 20-year-old and he misjudged it, conceding a corner which the visitors could have gone ahead. It was a nervy start from the centre-back.
Then three minutes later, he was too slow. Too slow to anticipate the cute ball that James Rodriguez played along the floor and too slow to track the run of Richarlison, who collected the pass and shot beyond Alisson. What made matters worse was that it was Kabak's poor headed clearance that allowed Abdoulaye Doucoure a second chance to initiate the attack that led to Everton's opening goal.
Fouls given away too cheaply
It is worth remembering that this was only Kabak's third game as a Liverpool player when dishing out the defensive critique but it is also worth noting that he received his third yellow card in as many games. Ill-discipline can prove costly.
It was the way in which Everton's attackers used Kabak that was striking too. James fell to the ground when the Turkish defender came bundling into him heavy-footed and leaden-bodied. The foul presented Everton with a free-kick in a dangerous position.
Klopp's side had more of the ball during the game and as it wore on the focus shifted to the home side's misfiring attack who cannot muster a clear chance let alone goal at the moment. Yet, the early defensive stumbles had set the tone and paved the way for Everton's first win against Liverpool in over a decade and their first at Anfield since September 1999.
Time to prove he's worthy of contract
It is still early days in Kabak's Liverpool career and Klopp will have no choice but to persevere with his new signing as there are few other options. Ben Davies arrived from Preston as yet more centre-back cover in January but is still finding his feet at the club while Rhys Williams has not been seen since his torturing in the FA Cup loss to Manchester United.
On the first three showings, Liverpool will be reluctant to action the right to buy Kabak when his loan ends in the summer. At present, he is more of a liability than a reassuring presence. It is not his fault that Van Dijk leaves such huge boots to fill and that Liverpool's defensive injury problems are so exhaustive that they could be made into a three-series boxset.
But still, Kabak has been brought in to do a job and currently he does not appear to be up to the challenge of being a Liverpool centre-back. Time will tell if he is capable.