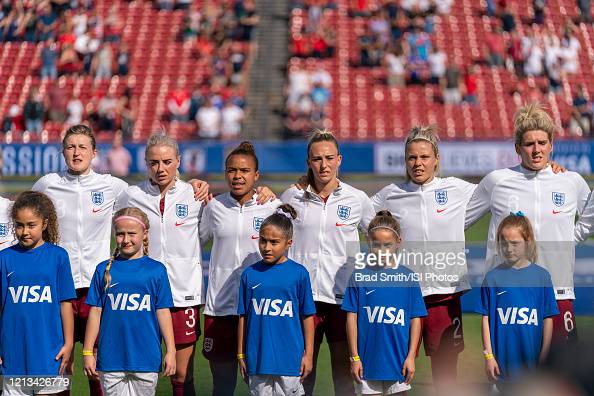 The Lionesses will play their first fixture in nearly a year at St. George's Park against Northern Ireland and Hege Riise named her first England squad as interim coach.
The 20 player squad was smaller than previous camps omitting several players like Beth Mead, Toni Duggan, Millie Turner, Karen Bardsley, Niamh Charles and Carly Telford among some.
The ex-Norwegian international will stay as England manager until Sarina Wiegmann takes over after going to the the Olympics with the Netherlands.
With the Olympics and Euro 2022 coming up, it's no secret that England's focus is winning a major tournament, especially after their World Cup disappointment.
"I am looking forward to leading my first international camp with England. I have watched a lot of England and club matches and believe this is a group of players who are capable of winning at a major tournament," said Riise.
"I've been leaning on the staff and the player reports. I've seen many games in the league and the national team games that have been played previously. So, I feel comfortable with this squad.
"The haven't played national team games but thankfully the league is running and they've played quality games every weekend so I feel like the players are ready to go in and are also excited to be part of the England team."
Jill Scott has been unable to get her 150th England appearance after a year of no fixtures, but the midfielder is set to get her milestone at the end of the month.
"It's a major achievement so of course if everything goes as planned she will get the cap against Northern Ireland," said Riise.
Nikita Parris is the only omission to Riise's squad due to COVID-19 protocols. Lyon would not release the England striker due to both travel restrictions and club protocols. Though, Parris' exclusion to the the squad is only temporary according to Riise; "She will of course be in the squad [in the future].
"She plays regularly for Lyon, the best team in the world, but I trust her quality and she has been and will be a key player."
Beth Mead has been a regular on Phil Neville's squad since making her debut in 2018, but her late performances just weren't enough for Riise. The likes of Lauren Hemp, Georgia Stanway, Chloe Kelly and Rachel Daly were called up ahead of the Arsenal winger.
"The player report hasn't been that great and for me to narrow the squad, it kept her out. If she performs every weekend then we'll see," said Riise.
The three keepers chosen have just five international caps between them, a young group which focuses on the future of the squad. Ellie Roebuck (21, 5 caps), Hannah Hampton (20, 0 caps) and Sandy MacIver (22, 0 caps) have replaced the experience of Karen Bardsley (36, 81 caps) and Carly Telford (33, 23 caps).
"The player report, they play in and out every weekend for their club so they have games every weekends and that matters when you go into n Olympic tournament. Of course the experience they don't have, but getting a young group coming in, I hope they develop in their roles together," said Riise.
The exclusion of Toni Duggan was down to performance and not travel restrictions.
Though her time as coach will be short, she has an important role with the Lionesses who are still searching for a successful style of play to be able to lift a trophy.
Wiegmann has lead the Netherlands to win the Euros and to a World Cup final, Riise's job now is to provide a foundation within the squad to get them from where they were to where they can be with their new Dutch coach.
"My work from now until Sarina Wiegman's arrival is to develop their ability, playing style and physical conditioning to contribute to future success – this summer and beyond," Riise mentioned.
Though there has been a widespread confusion as to Neville's playing style, Riise insists there's only details to be changed:
"It's a small change. The job that has been going on for a long time is good, I see their game as an attack in possession game. [I just have to] add a few things; how we can score goals, how we can create chances and we'll [work on] the out of possession work and the key objective to that."