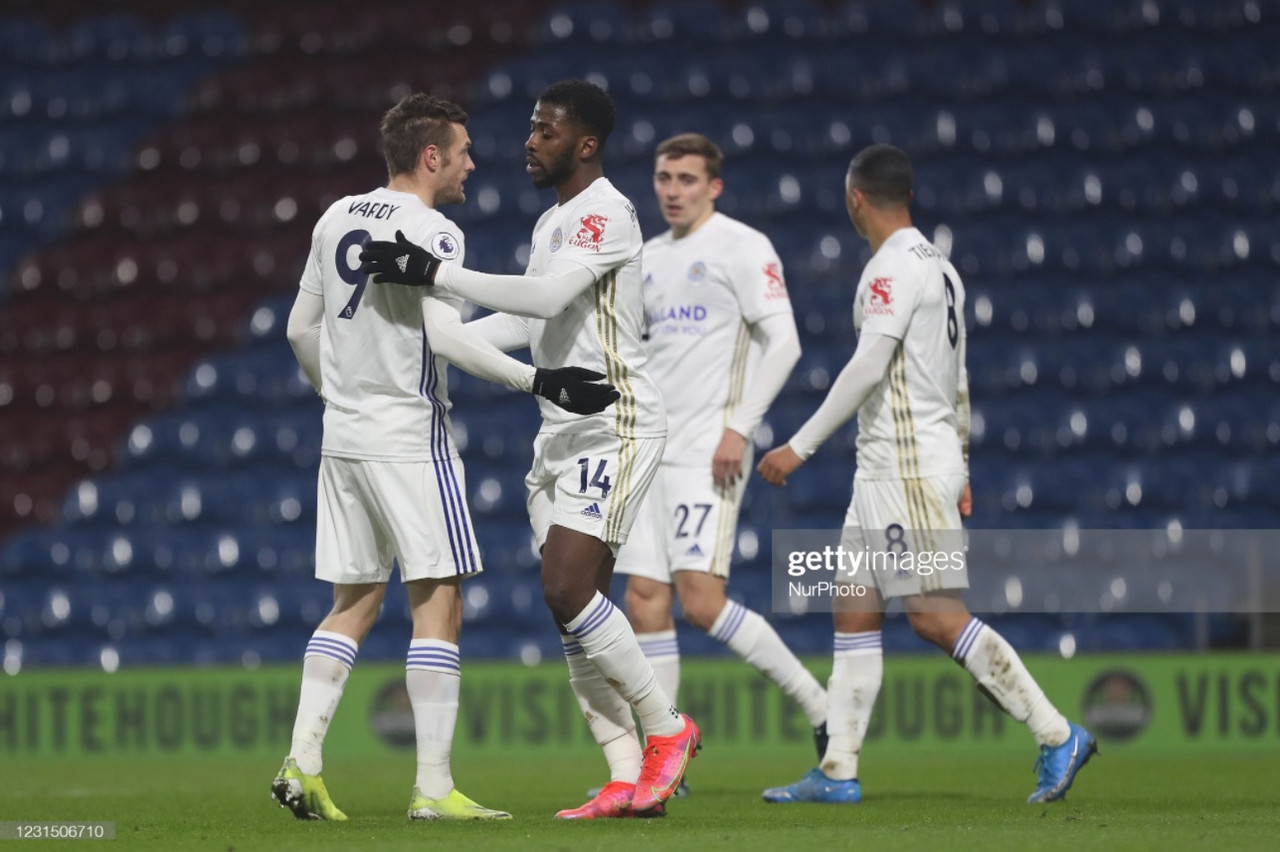 Fans and pundits alike were left marvelling two commendable goalkeeping performances as Burnley averted Leicester City in an arduous Premier League encounter.
The match – a draw with one goal apiece – was an accurate representation of proceedings, and both managers will have likely been contented at the culmination.
In the absence of a plethora of injured players at Leicester, Kelechi Iheanacho galvanised his team after rifling a spectacular volley into the back of the net to level the game after Matej Vydra superbly struck his first league goal in 13 months for the Clarets.
Both teams return to action on Saturday as they look to end the week positively for their respective and contrasting seasons.
Bright response a positive for Rodgers
After Vydra exploited Hamza Choudhury's misplaced pass less than five minutes in, skipping gracefully past his opponent and unleashing a thunderous effort into the roof of the net, the Foxes failed to offer a meaningful response, lacklustre in their efforts for the majority of the first half.
Fortunes changed, however, when Wilfred Ndidi directed a chipped pass over the Burnley back-line, allowing Iheanacho to volley a wonderous strike past Nick Pope, impressive in his efforts to repel City for the majority of the match.
Opposing central midfielders Ashley Westwood and Youri Tielemans both hit the post during the second half, as the pursuit for a victory was evidently the focus for both teams, but ultimately neither could break the deadlock.
City's manager Brendan Rodgers will have hoped for a victory to boost his sides chances of prevailing in the battle for a return to the Champions League next season, but with Manchester United and West Ham United dropping points this week, rueing the missed opportunity will have no benefits.
Leicester must show resolve and desire to maintain their excellent season, and the crux of the matter is that there is an extensive period of gruelling encounters yet to ensue for a side without a number of key players.
Rodgers will need to call upon his acclaimed man-management and innovative tactical intellect to further flourish as one of the games most prominent managers, and to crucially steer Leicester towards European football once again.
A shot-stopping sensation
Kasper Schmeichel has done exceedingly well in forging a formidable career, emulating the iconic metier of his father, Peter.
The commanding Dane is the epitome of a dynamic, athletic and assertive modern shot-stopper, with 236 appearances and an unprecedented title triumph to his name in England's coveted top division.
Against Burnley, Schmeichel once again exhibited the skills that have served him so well across his tenure as Leicester's established goalkeeper.
As the Clarets strived to capitalise on a side ravaged by a stringent of medical setbacks, they were parried on multiple occasions, notably seeing headed efforts from James Tarkowski and Chris Wood repelled in picturesque fashion.
Leicester owe a great deal of success to Schmeichel, a loyal and devoted member of the club who has guided the team from second division mediocrity to the pinnacle of English football, and as the closing stages of the campaign draws near, his experience and ability will be pivotal.
Plagued by injuries but Iheanacho steps up
With Harvey Barnes recently joining the likes of James Maddison and James Justin on Leicester's injury list, the timing for Iheanacho to rise to the occasion could not have been timed better.
His equalising goal prevented a rare defeat away from home for City and means his side have now reached 50 points in the division with 11 games to spare.
The Nigerian forward has now scored six goals across all competitions during this campaign and has emerged as a reliable option for Rodgers in a crucial period.
Iheanacho has scored two goals in his past three Leicester starts away from home in the Premier League, just one fewer than he managed in his first 15 away starts for the club in the competition.
A valuable point as Burnley fight against relegation
Burnley have now accumulated 29 points in the Premier League this season, with the draw at Turf Moor now establishing a six-point gap from 18th placed Fulham.
The job that manager Sean Dyche has done with the club is nothing short of remarkable, orchestrating a rise from the Championship, achieving European qualification and cementing the club as an established side in England's top division.
Dyche will undoubtedly be impressed with the shift his players put in to gain a point against a side whose away record is only bettered by the runaway league leaders Manchester and could easily have taken away all three points if not for the excellence of Schmeichel.
After being devastated by Tottenham Hotspur in the previous outing – shipping four goals – the response will leave plenty of positives as Burnley look to effectively complete a fifth consecutive season in the Premier League.