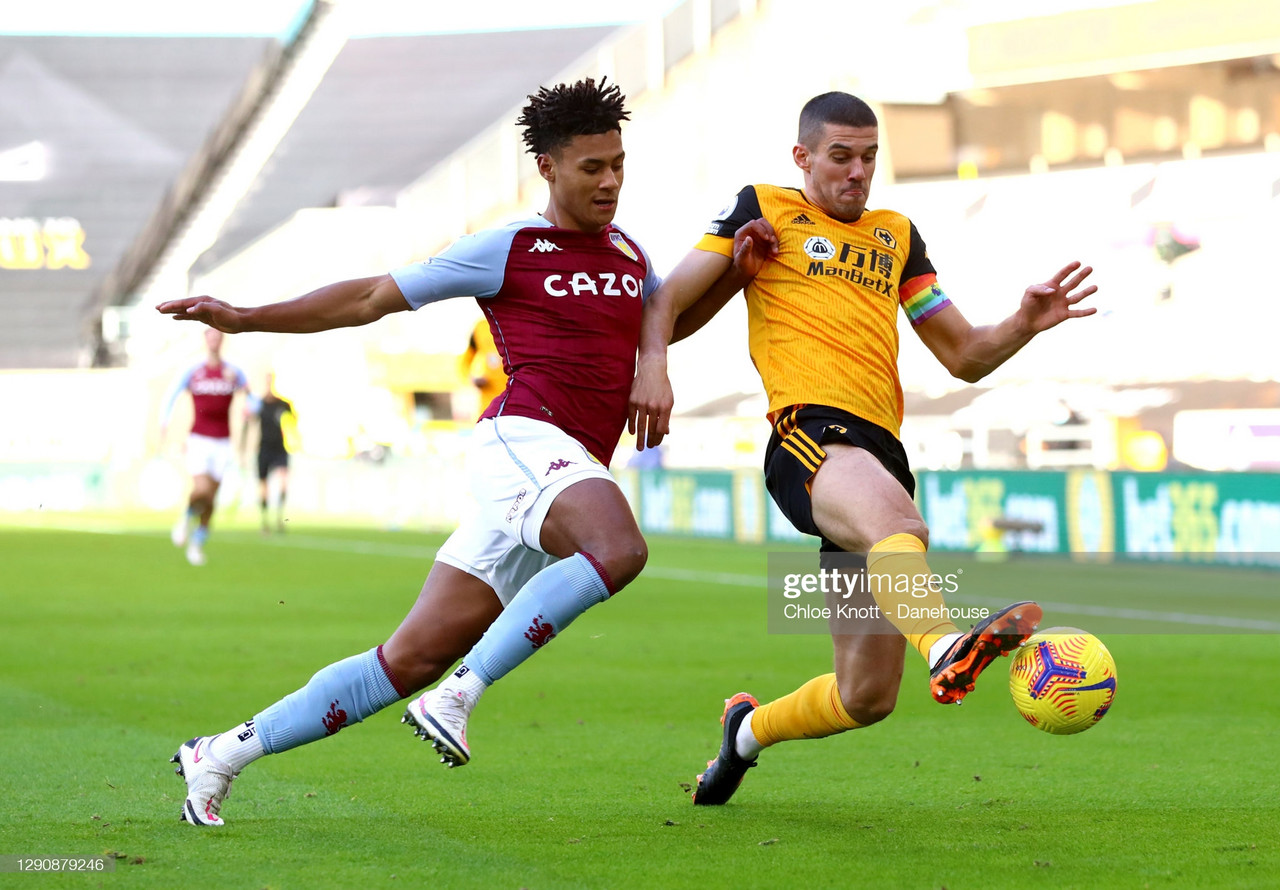 After respective defeats in their last outings in the Premier League, Aston Villa and Wolverhampton Wanderers will be fervorous in their attempts to triumph in a pivotal west midland's derby on Saturday.
Wolves will relish the news that the talismanic Jack Grealish is ruled out of contention for the fourth successive fixture after suffering a shin injury last month.
In recent weeks, The Wanderers have been exhibiting promising signs of reigniting the fire behind the form that has served them so well since their return to the Premier League in 2019.
Despite suffering a heavy and deserved defeat against Manchester City earlier in the week, there were plenty of positives for boss Nuno Espirito Santo to ponder as the grit and determination that has escaped them at times this season was on display once again.
Both teams will be desperate to leave Villa Park with all three points on Saturday, and with the two sides only five points and three places apart in the table the match comes as a great opportunity respectively.
Villa face a testing battle to secure continental football next season, and after an apparent drop in form since the turn of the year the completion of a first league double over Wolves in 2003/04 might be the key to return to the best of their abilities.
The fact that Grealish will not be in the squad for the fixture could prove detrimental as Wolves look to achieve consecutive victories at Villa Park for the first time since 1960.
Villa do not possess the same offensive drive and swagger when their instrumental captain is not in the side, evidenced by a lowly total of five goals scored across their last seven games.
Wolves have not displayed a fluid and clinical edge to their game this season themselves, but with Grealish out the side, confidence of overcoming their rivals will inevitably have raised.
With Raul Jimenez still side-lined, Espirito Santo will have hoped that other members of the squad would have stepped up in the Mexican's absence.
Notably, Adama Traore – who made 10 Premier League appearances for Villa in 2015/16 – succeeded in captivating fans across the globe last season, combining blistering pace and physical prowess to culminate as an unstoppable force for his team at times.
However, the soaring career trajectory has hit something of a snag, and Traore has failed to register a single goal or assist in the Premier League this campaign.
In fact, Traore has gone 45 league fixtures without scoring, and the decline in performances has hampered his side when he has been most needed.
Willian Jose was signed in January from Real Sociedad in an attempt to emulate the qualities bereft without Jimenez at the helm, but efforts have proved futile to date.
The Brazilian has failed to inspire in his seven league appearances at the club – Jose has failed to register a single goal or assist – and although a newfound offensive presence has provided benefits to the team's collective play, a reliable goal scorer is paramount for a team of Wolves' stature.
A season plagued by setbacks
Injuries play a prominent role in every passing footballing campaign; this has always been the case and it will likely remain so for centuries to come.
But the inception of the global coronavirus pandemic has seemingly had a heightened effect on injuries - in particular muscular setbacks - with a lack of pre-season and a condensed fixture list leading to a clear rise in such instances since the start of the campaign.
For Villa, this is a reality they are presently left facing, with Kortney Hause and Matty Cash both side-lined, causing a disruption to the usually distinguished back-line.
Wolves will be wise to look to exploit the apparent frailties from the right side of their opposition's defensive setup, with Neto likely to combine with Jonny Otto in creating overlaps and inversion techniques to bypass a commendable defence.
Predicting the outcome of Aston Villa's fixtures this season has proved an intriguing proposition indeed, highlighted by the recent victory over Leeds United – showing guile and class to prevail – and then the bewildering loss to Sheffield United the following match.
Wolves have started to rediscover elements of the form of seasons past, with the defeat to Manchester City snapping a six-game unbeaten run in the division.
Regardless, Wolves have found greater stability and understanding collectively, and are in a better position to earn a victory than they have been since the harrowing injury inflicted upon Jimenez disrupted the club's campaign back in November.
Both sides will be confident of securing a result, and a close encounter will likely result in a draw between the two sides.