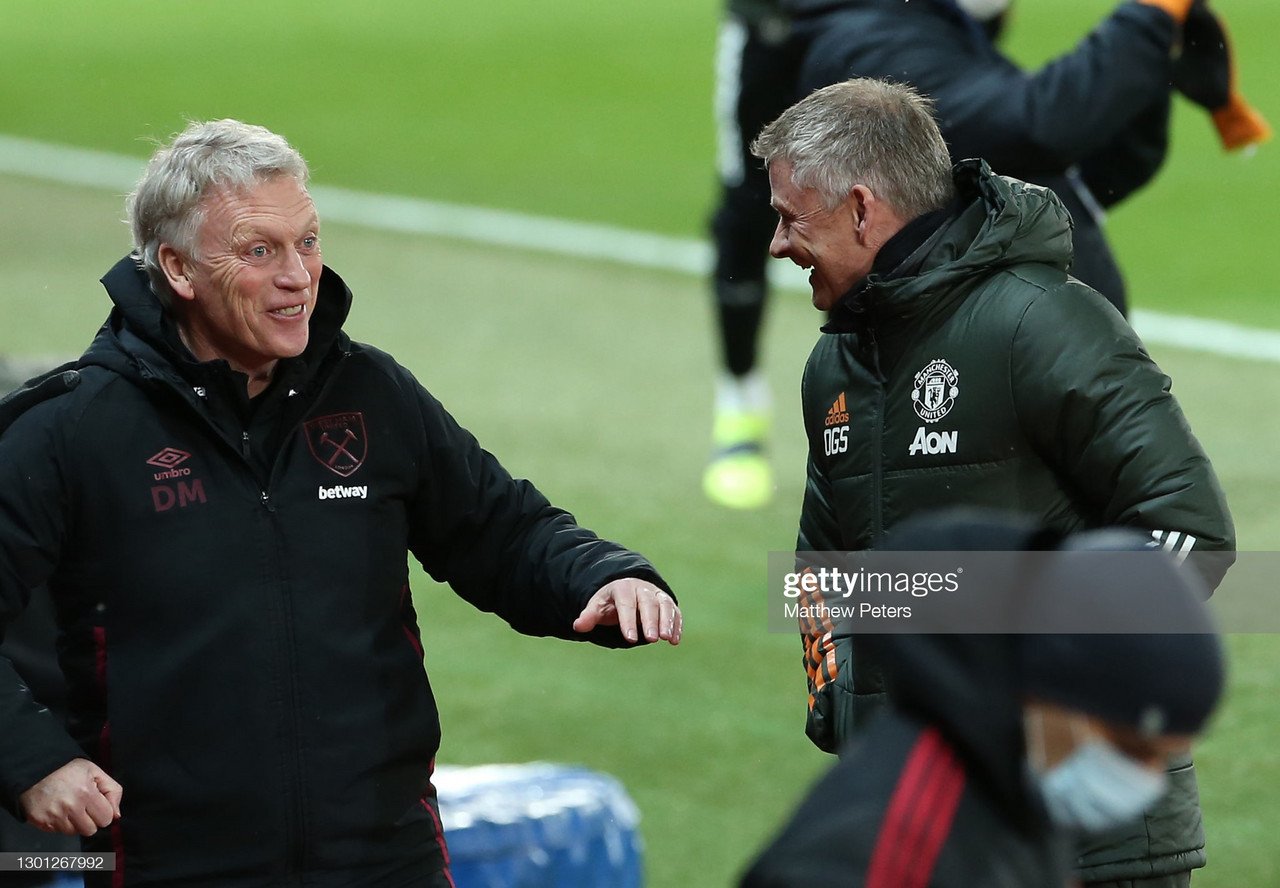 After a disappointing draw in the UEFA Europa League Round of 16 tie with AC Milan, Manchester United return to Old Trafford this weekend to host West Ham United.
The Red Devils excelled in their last Premier League outing, with a 2-0 victory over local rivals Manchester City, ending the runaway leaders' 21-game winning run at the Etihad Stadium. The Reds will be buoyed after a victory that ended a rather patchy spell in form, where Ole Gunnar Solskjaer's side had won just one in their last five league games.
The Hammers are in fine form, sitting just outside the UEFA Champions League places, with manager David Moyes finding his stride with the London club, his outfit winning three of their last five league games.
Ahead of this weekend's fixture, United manager Solskjaer faced the press to discuss the injury issues at the club, the performance from new signing Amad Diallo against Milan, as well as the talks of a new contract for one of United's defenders.
On the injuries that have condemned Juan Mata, Donny van de Beek and Paul Pogba to the treatment table:
"No, I don't think any of those will be available. We hope maybe before the International break. Maybe, but I'm not sure.
"It is taking a little bit longer than we expected but we have three games now and then the international break and after that they will all be available for us."
Manchester United have been without the trio for a few weeks now, and the dwindling creativity in midfield has shown.
Pogba has been perhaps United's biggest miss, his quality on the ball being irreplaceable at times.
However, the United manager hopes to have all three men back in the squad after the upcoming international break.
On the excellent form Jesse Lingard has experienced since his loan move to the London Stadium:
"Yes, for Jesse it has really worked out. For David (Moyes) it has really worked out and for us as a club as well because we know that Jesse's position is a 10 and we have got Bruno there so for me it was a no-brainer to get Jesse a chance to prove himself and to play some football again and he has been really bright for them and he's finally back to himself."
Jesse Lingard's confidence last season was shot. His creativity and flair on the ball was non-existent and after the arrival of Bruno Fernandes, he couldn't quite nail down a place in the team on a regular basis.
However, the midfielder has four goals and an assist in his six games for the Hammers, and his form could see him fight for a place in United's squad next year, or give him the chance to be sold for a bigger fee than previously thought.
On a new contract for Eric Bailly, who recently made his 100th appearance for the club:
"Yes, we are talking to Eric and Eric's representatives. He is keeping fitter for longer and you can see his performances as well and I have been very happy with him.
"His playing style has sometimes made him lose too many games because 100 games that is not enough for the period he has been here. He is getting more and more robust so yes he is one we are talking to."
While Bailly has recently been out of the side in favour of Victor Lindelof, his quality alongside Harry Maguire is undoubtable, but a new contract for the Ivorian seems to be in the pipelines.
However, Solskjaer subtly warned the centre-half in his press conference that his recklessness on the ball may need to be cut down upon.
On the quality that United can expect from David Moyes' West Ham side, who are pushing for continental qualification:
"They have been brilliant. We played them in the FA Cup not long ago as well and we went to extra time. It was a tight even game. He has got players who score goals, creative, they defend really well and are really difficult on set plays.
"David has done a tremendous job that we know he is capable of. I'm very happy for him and we know this is a big game for us. Maybe it is too far ahead to [Manchester] City so we have to consolidate our place in the top two or three hopefully."
The former Manchester United manager has not looked himself since leaving the dugout at Old Trafford, having unsuccessful spells with Real Sociedad, Sunderland and West Ham. However, his most recent spell has seen the good times return for the Scotsman, and the man who guided Everton to so many good seasons is back to his old self.
On the quality that new signing Amad Diallo has shown since his arrival in January:
"It is a big change for him. He has come over here by himself but he is coming into training every day and he is working really hard. He know he has a lot to learn.
"He is an exciting talent but he'll have to get used to the tempo and the quality and the level he is playing at now. He didn't play too much for Atalanta either so we are gradually giving him more and more but he has been hungry to learn and his appetite in training has been spot on."
The phenomenal goal scored by Amad Diallo on Thursday night showed why United paid nearly £40m for his services, but Solskjaer has urged supporters not to get carried away, as his talents may be needed over the next few matches with the injuries growing at Old Trafford.
Diallo may be needed this weekend, with Marcus Rashford and Anthony Martial potentially out of action against the London club.