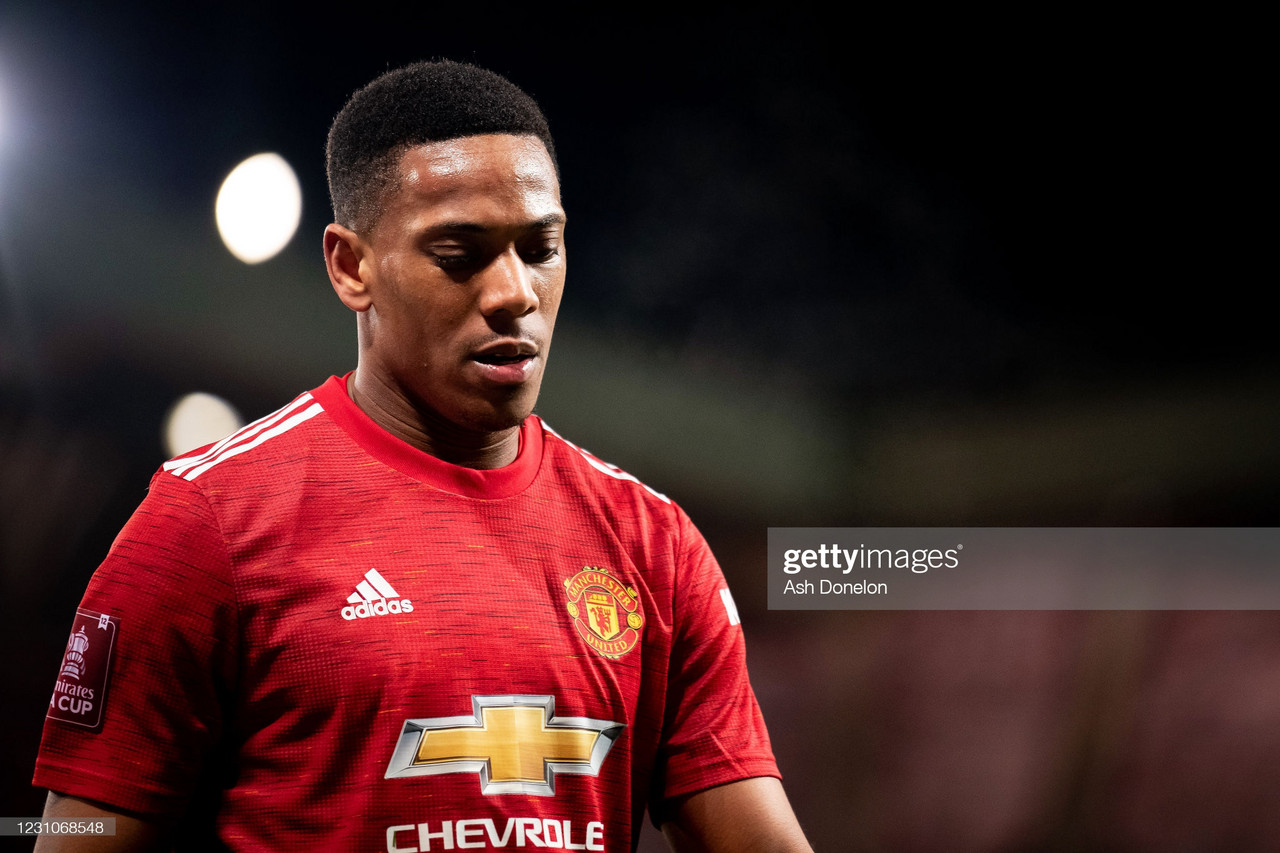 As Anthony Martial trudged off the field after seventy minutes in Manchester United's 3-1 victory over Newcastle United, it completed yet another outing for the Frenchman without a meaningful contribution on the field.
Replaced by Mason Greenwood, a teenager who epitomises everything that Martial does not: hard work, determination to succeed and a desire to win, the forward looked devoid of emotion, a complete U-turn from last season.
Jermaine Jenas, the running-mate to Darren Fletcher on BT Sport's live commentary of the match, attempted to justify Martial's wretched performance, suggesting that 'he just wants to be a centre-forward'. But the same excuse has been made repeatedly for the near-six years Martial has been one of United's first-choice forwards.
Despite his apparent determination to become the 'number nine' for the Reds, Martial spent the majority of Sunday's encounter despondently marauding in from the left wing, overloading the passing lanes for United and becoming the main point of frustration for when once-promising attacks faltered in the final third.
It just seems as though the drive to be the United's main outlet has faded in this former starlet, who has since become yet another passenger in Ole Gunnar Solskjaer's work-rate-orientated side.
What has happened to Martial?
Signing from AS Monaco in 2015 for a truly extortionate fee considering his age at the time, Martial burst onto the scene with a memorable finish against Liverpool in his debut. However, it is questionable whether Martial has hit a peak as high as that since his arrival nearly six years ago.
He enjoyed a fairly strong debut season under Louis van Gaal, as he demonstrated some passion and creativity in a line-up that often lacked both.
His relationship with Jose Mourinho was frosty at best, with a transfer elsewhere only extinguished because of Joel Glazer's apparent favouritism over the forward. And since Solskjaer has taken the wheel at Old Trafford, Martial has enjoyed some of his best form as a Manchester United player, netting on twenty-three occasions a year ago.
And while Martial's performances, towards the back end of last season, saw him show flashes of why Monaco put a 'Ballon D'Or future fee' in the deal with United – his hat-trick against Sheffield United post-lockdown probably being the highest of those highs – his form since the 2020-21 season has been utterly dreadful.
More quick maths for you… 🧮🔢

A hat-trick =

1...

2...

3 goals from our @AnthonyMartial right here 🤭🎤 pic.twitter.com/kGXbPGI3xr

— Manchester United (@ManUtd) June 25, 2020
He looks lost leading the line – which in itself is an overstatement to where Martial plays, considering he has been used on both wings and up-front, looking comfortable in none of those roles.
He embarrasses himself with regards to work-rate, when compared with the likes of Greenwood, Marcus Rashford, Daniel James and even Edinson Cavani, the new signing who was supposed to be the understudy but has since been thrust onto the stage in front of a Broadway audience. And more often than not, he does not look interested. Martial lives in the shadow of his own unrecognsied potential.
This season, more than any since Sir Alex Ferguson retired, looks like silverware is a genuine possibility, yet Martial does not look like he wants to win any trophies and is content with mediocrity.
There was an opportunity, against Newcastle, when United had triggered a counter-attack, from the back. James was taking it down the right-hand side and up to the byline, with a driven cross into the box likely to produce a goal from any proven centre-forward.
Where was Martial? About five yards outside the box, jogging towards the area because that's the loose definition of his job. Name any top-level striker in world football, and they would be breaking their necks to be in that position. Martial doesn't look like he wants to score goals.
Anthony Martial is a "talented footballer but not a centre forward", says @DionDublinsDube.#MOTD2 #MUFC pic.twitter.com/gQINahxZOs

— Match of the Day (@BBCMOTD) February 21, 2021
Indeed, for all the criticism received by Daniel James, he would have had at least half a dozen assists more last season if a striker had been in those same positions, but again Martial couldn't get himself there last year.
The striker looks to be desolate when United are forced to bring in names like Cavani, Romelu Lukaku and Zlatan Ibrahimovic, but frankly, you can see why they have had to. Martial just isn't a centre-forward and isn't good enough to become one.
If the rumours are true about Solskjaer's attraction to Erling Haaland from Borussia Dortmund, Martial could kiss goodbye the centre-forward position he has been craving.
The solution
Is there even a solution? When a player doesn't want to be at the club it is difficult to adjust their mind-set. But take Paul Pogba as an example. His inconsistency over his time at the club has frustrated many supporters, but Solskjaer's man-management has made him look like he wants to be at the club.
Solskjaer realised Pogba was still recovering from Covid-19, and he took an extended leave of absence from the first-team on match-days. He returned prior to Christmas, and has been on top-form, and it is visible how much the Red Devils miss him now he has been injured.
Martial isn't a lost cause, but he's on his last chance with supporters. There are plenty who see and know his talent. If he can't recognise and live up to it, he'll be next casualty of United's clearing of the dead-wood.