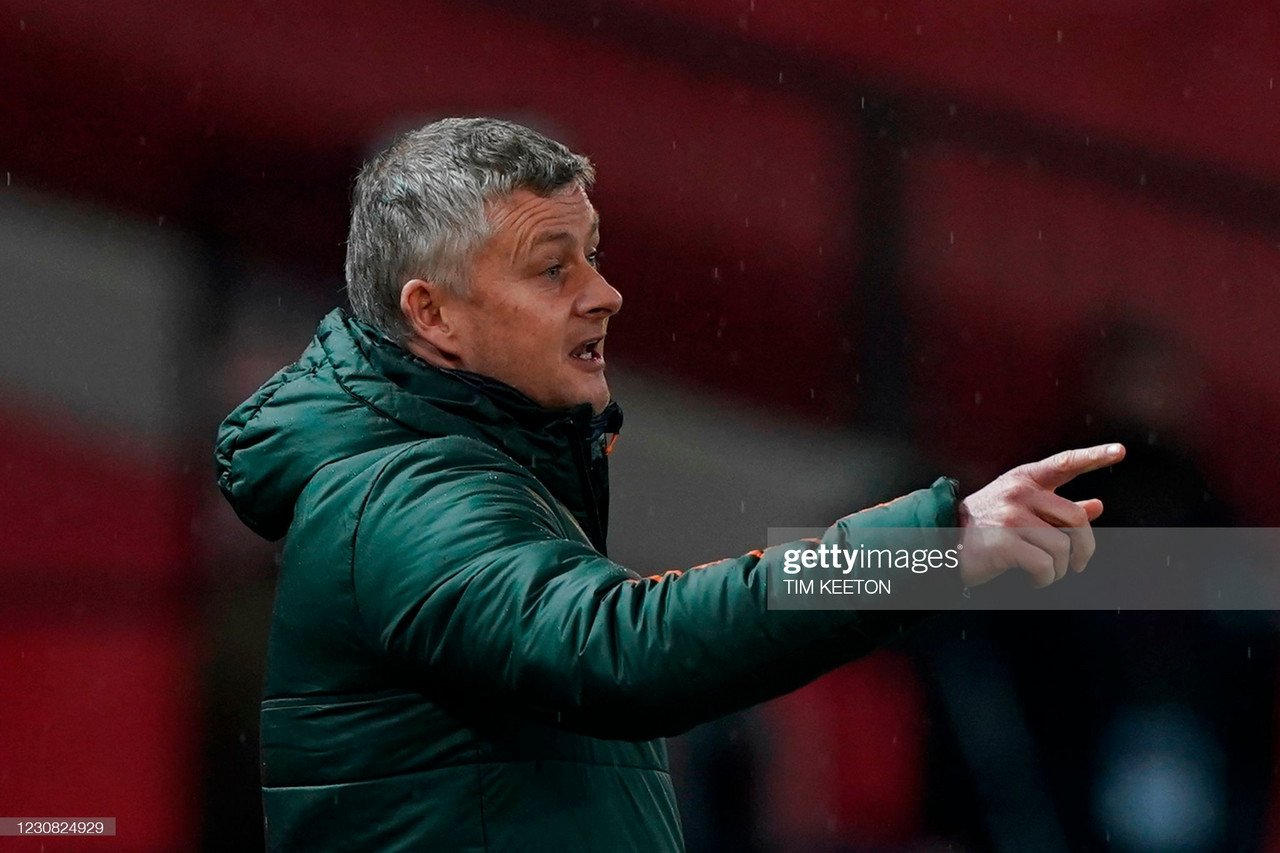 After falling to a disappointing 2-1 defeat at home to Sheffield United in midweek, Ole Gunnar Solskjaer leads his team to North London knowing that coming away from Saturday's grudge match with all three points is vital. The Norweigan spoke to the press on Friday afternoon.
Racial abuse aimed at Alex Tuanzebe and Athony Martial
Solskjaer has been speaking about the racist abuse on social media directed at Tuanzebe and Martial.
"It's just incredible we have these scenes still, this abuse in 2021," he said.
"We've been campaigning for a long time now with the Premier League and I think it's working, but there are still some people that haven't got it. They hide behind social media, be anonymous and it's unacceptable and it's disgusting.
"They're not Man United fans when this happens. We're all standing behind every single one of our players."
Asked about how the targeted players felt, he added: "Axel is fine. I've spoken to him and, of course, it's not nice but he's a strong boy, strong character, got support from his family.
"We're a family in the club and his team-mates are family. It's not something you expect to see now but we're not surprised. You have to feel sorry for these individuals."
Jesse Lingard's loan move to West Ham
United's attacking midfielder is set to link up with his former boss David Moyes at West Ham.
Solskjaer stated: "It's likely that Jesse's loan deal with West Ham is going to go through.
"We want Jesse to come back here revitalised and having shown at West Ham how good a player he is. He's just been unfortunate with a couple of issues. Some periods he had to stay away from us with COVID-19 isolation and close contact."
United's boss also said that defender Marcos Rojo is expected to return to Argentina with ex-Red Devils Carlos Tevez's Boca Juniors, whilst goalkeeper Sergio Romero will see out the remainder of his contract.
Eric Bailly received a knock in training and missed the midweek game but should be available for the trip to the capital. Anthony Martial fell heavily on his shoulder in the opening stages of the clash with the Blades but has trained as normal.
"They're okay. They should both be travelling down," said Solskjaer.
"We're still a good group all working together. Once in a while, we just hit a low like we did on Wednesday, but we're good to go again."
There was no update on Brandon Williams, who remains sidelined, but Ole has various options for the battle with the Gunners.
"We defend as a team and we've got better and better over the last year. "Let's hope we can be a compact unit against Arsenal."
"They have been in pretty impressive form lately. "It's always great to play them and hopefully we can get a result."
"You never want to lose a game to learn from it, you want to learn from the games you win. "I expect everyone to perform well and let's hope the result comes thereafter."
Supporters will get a first look at Amad Diallo in a Manchester United shirt when the teenager makes his club debut in the Premier League 2 match against Liverpool on Saturday as Neil Wood's Under-23s are in action on Merseyside.
Diallo is set to play for the first time after training with the first-team squad following his move from Italian club Atalanta earlier this month.
The Ivorian youngster will hope to make a positive first impression for his new club after already catching the eye of Solskjaer in training.
"Yes, Amad will play in the game against Liverpool in the Under-23s.
"He's been training really well and settling in, so he's ready to get some game time and match exposure.
"I'm looking forward to seeing him. Liverpool? There you go. Welcome to English football!"