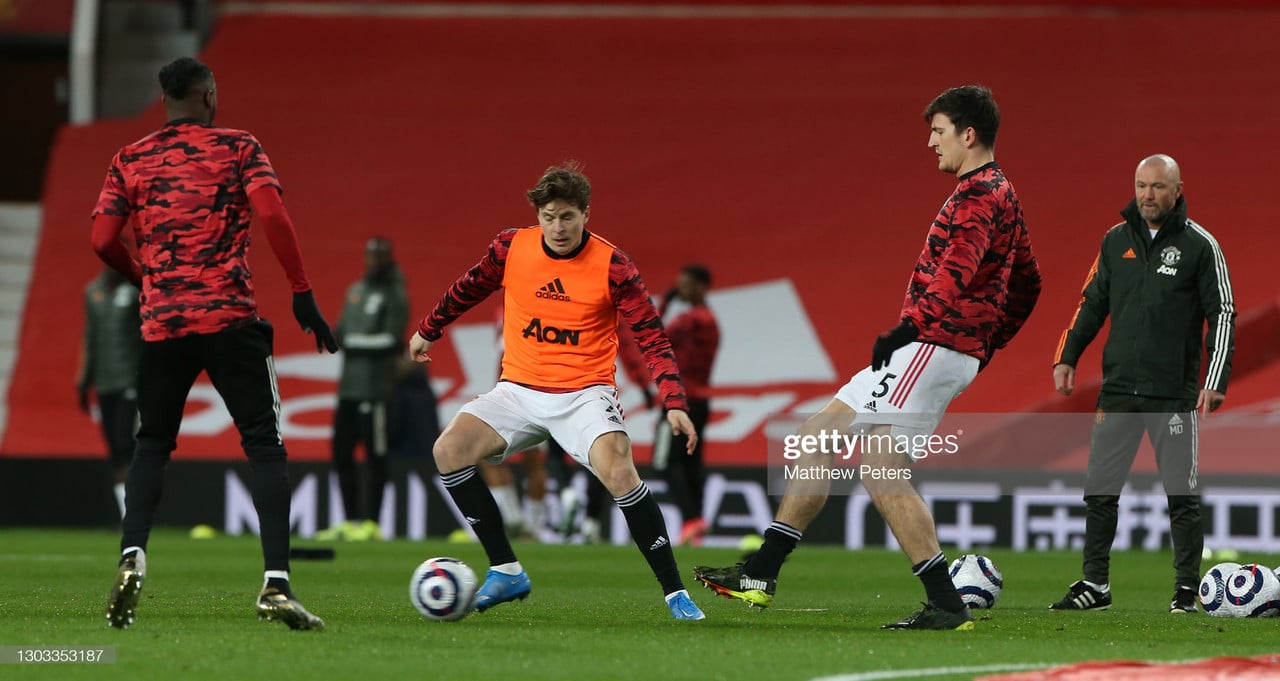 Victor Lindelof and Harry Maguire have been a centre back pairing for one and a half seasons at Manchester United. The central defensive partnership has already featured together in 55 games over two seasons. They have both have their strengths and weaknesses. In recent weeks, however, problems have begun to arise.
Looking at the 2019/2020 season, United conceded just 36 Premier League goals and had the third-best defensive record in the league, behind Manchester City (35) and Liverpool (33). This may look like big progress however, there were a lot of goals conceded which could have been avoided well almost certainly should have been prevented.
The Steven Bergwijn for Tottenham last season should have been avoided, a quicker defender would have prevented that goal, the Junior Stanislas goal for Bournemouth after nutmegging Harry Maguire should have been avoided too. These mistakes thankfully for United and Ole Gunnar Solskjaer were few and far between.
Lindelof has obvious strengths his passing accuracy is a big one, particularly for the way Solskjaer wants to play, he is also good under pressure from opponents. Maguire is superb in the air and using FBREF, his interception win number per 90 (1.63) is the seventh-best in Europe's top 5 leagues and his aerial win rate is the fourth-best at 4.37.
As individuals they do have their strengths, if these two want to be remembered as one of the best in the league they need to be judged as a pairing, one defender can't be described as the man of the match and the other described as having a poor game.
Central defensive partnerships are crucial to winning trophies. Rio Ferdinand and Nemanja Vidic spring to mind, Steve Bruce and Gary Pallister is another name. To win a title the two defenders need to complement each other and need to be consistent.
Looking at this season, the mistakes have been more and more regular. Lindelof being outmuscled by Mbaye Diagne for the opening West Brom goal a couple of weeks ago was a big example of the Swedes poor aerial ability. West Brom really should have taken all three points, Diagne outmuscled Maguire fairly and if it wasn't for David De Gea in goal, then the points would be going to the side from the black country.
Newcastle United's equalising goal on the weekend through Allan Saint-Maximin, although it was a brilliant finish the defending was poor. Maguire's header from Joe Willock's cross was poor, he should have got more power into his header, considering that is one of Maguire's biggest strengths, he was poor in this situation.
Going further back, the calamitous 3-3 draw against Everton could have easily been prevented, the first goal, Dominic Calvert-Lewin was released into the channel a quicker centre back closes down the striker and blocks the cross, its Maguire though and Calvert Lewin gets the cross off, and De Gea's mistake is made. The third goal too is a defensive disaster, Maguire keeping Calvert Lewin onside, when his teammates are trying to play offside as captain, Maguire needs to improve and eradicate these mistakes.
The problem is clear, the two defenders no matter how good they are individually do not work well together as a partnership. For Solskjaer there is a problem that is a big one. Sir Alex Ferguson once said: "Attack wins you games, defence wins you titles." This is a huge issue that needs to be addressed so how could United address it.
The first option which I feel is a must is the purchase of a new centre back, this is simply imperative. There are many options out there, Sevilla centre back Jules Kounde, Nikola Milenkovic of Fiorentina, Real Madrid duo Raphael Varane and Sergio Ramos also seem to be options for United. Tyrone Mings has also been mentioned as has Dayot Upamecano, although the Frenchman is a name United will have to forget as the defender has joined Bayern Munich.
The budget could be an issue for United if their long-standing interest in Borussia Dortmund winger Jadon Sancho finally materialises after two summers pursuing the Englishman. The priority for United needs to be the centre back. The qualities needed for the centre back is very specific. The defender needs to be quick, to cover for Harry Maguire who isn't the quickest.
He needs to be good on the ball, he needs to be able to read the game well. Kounde who seems to be the top target is very good in the air with 3.87 aerial duels won per 90, which isn't a quality particularly needed due to Maguire's obvious aerial strength. Kounde also is very quick this would help Maguire massively. The fee from Sevilla may be the big issue, it won't be a cheap deal for United to pull off.
The second option is to trust another centre back from the squad. Eric Bailly, Axel Tuanzebe and Phil Jones are the three options currently in the squad. Phil Jones celebrates 10 years at Manchester United this year, despite winning a Premier League title, FA Cup, League Cup and the UEFA Europa League. It's been a rough few years for the English defender.
Jones has had injury issues throughout his United career, picking up small injuries throughout the season. His rotten luck with injuries has meant his playing time has been limited. Despite this, a move for Phil Jones in the summer looks increasingly likely after the defender's lack of appearances. Could he be a stop-gap option for United? You would think not given his irrational and poor decision making when it counts.
Axel Tuanzebe is the next option on the list, at the age of 23, the English centre back has made 6 appearances in the Premier League this season, albeit 5 of those have been from the bench. He has also featured in 5 Champions League games but again started just 2, the fantastic away win in Paris and the dismal away loss in Istanbul.
Tuanzebe was fantastic in Paris, dealing with Kylian Mbappe and Neymar superbly certainly added to his reputation. However, a poor performance against Sheffield United, which led to vile racial abuse from so-called United fans hasn't helped Tuanzebe gain his confidence back.
Eric Bailly could be another option however this seems unlikely. The Ivorian has been very good this season, a game-saving block against Aston Villa, a fantastic performance against Burnley, the list goes on. As a partnership, Bailly and Maguire have conceded 13 goals in 9 games, this should be caveated because Tottenham beat United 6-1 with Bailly and Maguire as a partnership.
Bailly also seems to improve Maguire's overall game and I feel this is because of his pace, whereas Lindelof's lack of pace seems to cause issues. A moment in the Real Sociedad game last Thursday highlighted why Bailly's pace is crucial. When Swedish striker Alexander Isak, ran through the centre of the pitch, he seemed too quick. However, Bailly was able to keep up with the striker, shepherding him towards Maguire who won the ball superbly with a brilliant slide tackle.
The obvious and most well-known problem for the Ivorian international is his injury problems. This season alone, the defender has suffered a muscle injury and three knocks, which has forced Bailly to miss 63 days of this season. A good defensive partnership needs to be reliable not just in performances but in minutes on the pitch. Credit to Maguire who hasn't missed a Premier League game for United since he's joined, which is the consistency United need.
The options are there, not just in the transfer market but also in their squad. Maguire and Lindelof individually are good players. However, as a partnership, they do not work at all. If United are to become genuine title challengers, the defensive triangle needs to be perfect.
The issues with the goalkeeper are well known, the problems with the defensive partnership are bigger and more important for United and Solskjaer this summer.