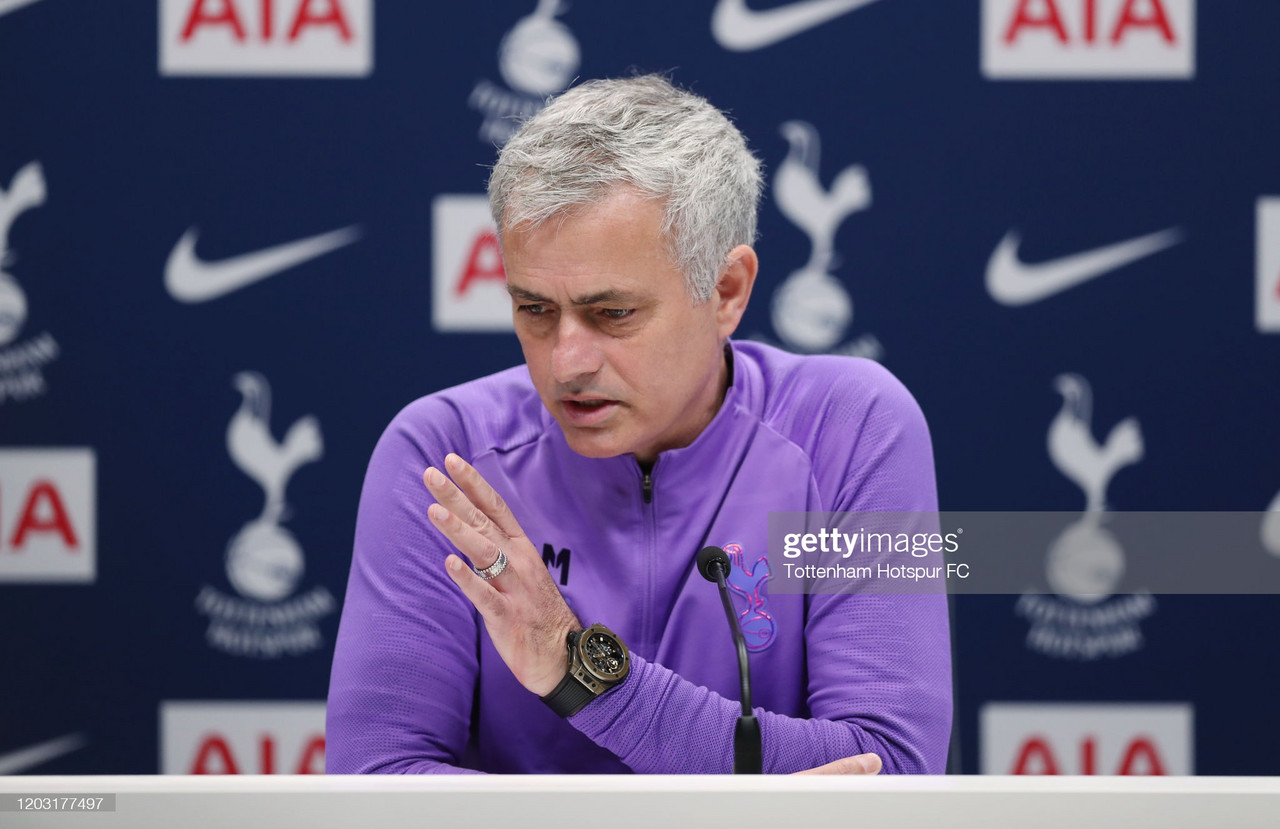 Tottenham Hotspur face Dynamo Zagreb in the second leg of their round of 16 Europa League tie tomorrow evening.
Spurs are 2-0 up from the first leg after a Harry Kane brace so any potential slip up would be a true disaster for Jose Mourinho.
Mourinho addressed the media Wednesday afternoon.
Here are the key quotes from the pre-match press conference:
Mourinho was asked on the fitness and availability of his squad ahead of the clash in Croatia.
"So Hojbjerg is suspended, Rodon not in the Europa list, Sonny is injured. Apart from that everyone back. Lo Celso back in training."
He was then asked about Son-Heung Min, who came off in the first-half against Arsenal due to an injury.
"I don't know [when he will be back]. Definitely out for tomorrow."
Mourinho then confirmed that Kane will start tomorrow.
"Kane is going to play. The game is open and it's an important game so he plays for us."
Arsenal and Micheal Oliver
Tottenham's last game was the hugely disappointing loss to Arsenal. When asked for a review of the game, Mourinho was very cautious:
"I'm not ready to discuss this with you because this is about analysing the game and the performance and the reasons and it's something I'm not ready to discuss with you media 2-3 days after and 24 hours ahead of another important game.
"Easy to say what I said after the game that we didn't play very well and I think that's fair to say. The performance from minute one was poor"
Arsenal's winner, a penalty that Davinson Sanchez gave away, was the topic of some controversy.
Mourinho gave his comment on Micheal Oliver - the referee - after he hugely criticised the decision straight after the match.
"Then what happened in the second half with a poor refereeing decision, but let me make it clear, Michael is a very good referee.
"Despite me being very unlucky with him, I have no problem with him being my referee for the next game.
"He's a good referee and just unlucky in his decisions with me. He's one of the best referees in the league and Europe."
After the weekends action, the international break is looming large.
Mourinho first of all gave his say on whether Kane can be rested for the World Cup qualifiers:
"I believe [Southgate] has a good relation with Harry. Good relation means normally good communication.
"I hope that in between them, without me being in the middle saying something, they can find some compromise to protect the player a little bit."
And the same for Son, who despite being injured has been called up to the South Korea.
"If a player's injured and can't play, friendly or official, it doesn't matter. If we arrive next week and Sonny is injured and we can prove to the South Korean FA, what's he going to do there?
"Nothing. So if a player can't play for club, can't play for country."