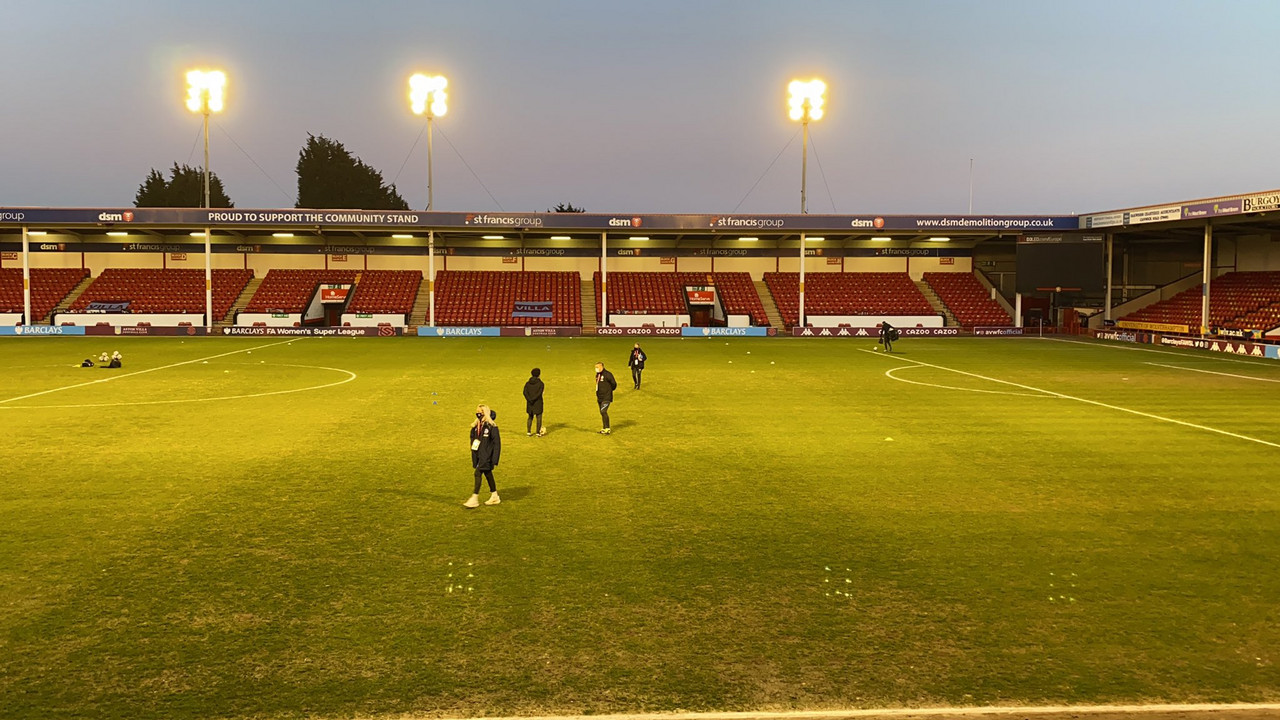 Brighton & Hove Albion Women stretched their winning run to four games with a simple win over a limp Aston Villa in the Women's Super League.
A late penalty from Inessa Kaagman secured the win, with the Dutch midfielder sending Lisa Weiss the wrong way after the German shot-stopper gave away spot kick. It was an easy win for the in-form Seagulls, with Villa yet again being found lacking in front of goal despite a series of second half chances.
Villa were on the back foot before the game even began. Their squad has been took down to the bare bones following a string of injuries. Winger Sophie Haywood is seemingly out for the season after she underwent surgery her knee while defender Nat Haigh and striker Stine Larsen were also missing. This left Villa playing their usual system of three centre backs with no natural centre backs in the backline.
This limited defence showed in the early stages, with Lisa Weiss being called into action within seven minutes. Maya Le Tissier picked up the ball in midfield and struck a beautiful dipping effort from range, forcing the backpedalling 'keeper to tip it over in spectacular fashion. From here, Villa looked panicky in defence and they struggled to get on the ball for long enough to fire long crosses for Shania Hayles to chase. The visitors took advantage of these insecurities and spent much of the next 20 minutes camped outside Villa's penalty area.
The opening goal came on 21 minutes and it was a particularly hard one for Villa to take. Just a minute earlier, they had penalty claims waved away after Emma Follis fell down in the area and Brighton were able to break. Megan Connolly fired her shot off from range, but her tame effort was spilled by Weiss to allow Aileen Whelan to stab in the rebound.
To compound Villa's misery, their 'keeper took a nasty blow to the head and spent several minutes receiving treatment. Thankfully Weiss was able to play on but there was no foul to give so the goal stood.
Marcus Bignot's side finished the half the stronger side, ending the first period with a string of corners to keep Brighton under pressure. However, the only real chance towards the end fell to Anita Asante and went out for a corner. It was a professional first half from Hope Powell's team who soaked up the pressure well when they had to and never gave the haphazard Villa defence a minute to breathe.
Villa started the second half at a breakneck tempo, with both Hayles and Follis having early chances. Hayles came the closest, with her effort going just wide of the post as she slipped on the ragged pitch while shooting. While there was plenty of quick, sharp transitions from the defence to the forwards, the opening periods of the second half were symbolic of Villa's problem. They haven't got a finisher.
Since the addition of Mana Iwabuchi, Villa have been far more expansive and creative going forward, yet the relegation-threatened Villans have scored just 11 goals all season. They lack a striker with the finishing instincts of Bristol City's Ebony Salmon or Birmingham City's Claudia Walker and time is running out for one of them to step up.
With West Ham's draw with Birmingham, Villa are just one point above the drop with a game in hand on bottom placed Bristol City. The Villans do still have to play both teams, with the Bristol City tie being sandwiched between two games against West Ham. Their destiny is still in their own hands, so those forwards have to start firing and fast if they want to stay up.
Takeaways from the match
Villa's squad is versatile but not good enough
It was an admirable effort from Villa's makeshift defence to hold out for so long. In fact, they looked more assured then some games they played with a fully fit defence. However, the base quality just isn't there to push on. Villa's defence has let them down time after time this season and not one player has shown the quality to step up and lead by example.
The issues in front of goal are even more apparent. Not one Villa player has scored more than two goals all season long and Villa just seem to crumble in front of goal lately. Iwabuchi cannot do it all on her own, so her teammates must step up to help out.
Brighton could be dark horses next season
Say it quietly, but Brighton could be set for a very good season next time out. They have won four on the spin now and since beating Chelsea at the start of their run, they look nigh on unstoppable. If they can carry this momentum through the rest of this season and into the 2021/22 campaign, they could easily make a charge for the coveted title of 'best of the rest'.
Stars of the match
From a Villa perspective, the star was Asmita Ale. The makeshift centre back put in a calm and assured display at the back and showed her class yet again. Her fellow defender Jodie Hutton did the same and both deserve credit and both were let down by a dismal goalkeeping performance from Weiss.
As for the visitors, it would be Victoria Williams. The Seagulls skipper led her backline with professionalism and class throughout the game and her flawless performance pulled her side through the second half pressure from Villa.