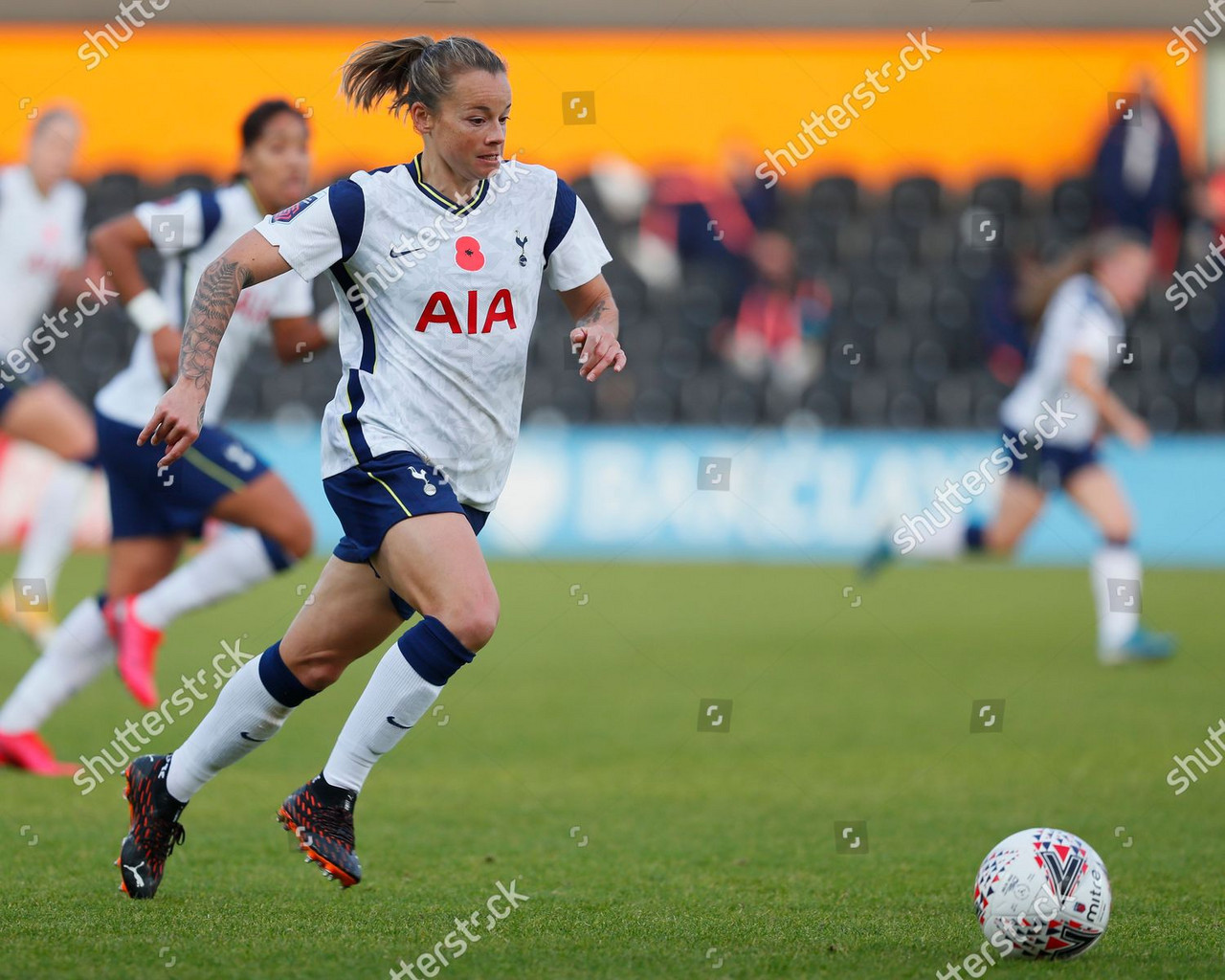 Rehanne Skinner's positive impact since becoming manager of Tottenham Hotspur in November 2020 is undeniable. Taking over a winless side, seven matches into the WSL season, Skinner has secured nine points from a possible 15. This run includes impressive back to back 3-1 home wins over Brighton & Hove Albion and Aston Villa.
However, after losing two in a row away from The Hive Stadium, the duality of Spurs attack this season is clear to see. On their travels, Spurs have just one win in seven matches, averaging 0.57 goals per game. At home, they have won two of their five matches, averaging 1.6 goals per game.
Spurs' stop start forward line will face off Wednesday evening against a newly buoyed Bristol City side. Belief is coursing through the veins of the Robins at the moment. The Robins' interim manager, Matt Beard, has not strayed from the tactics that his predecessor, Tanya Oxtoby, had imposed on her Bristol City side, but instead rallied the players to fulfill their elected duties with added verve.
This past fortnight, in the WSL, Bristol City have gone from unfortunate favourites to obtrusive outsiders in the race to avoid relegation. Even though Bristol City continue to reside at the bottom of the WSL table, Matt Beard's side are now just two points off West Ham United in 11th and four points off Aston Villa in 10th.
Anything could happen.
Spurs' first choice keeper Becky Spencer is expected to be out for the third match in a row with an unnamed injury. Her deputy, Aurora Mikalsen, has struggled in her first taste of WSL football. On her debut the Norwegian was caught in possession in her own six yard box for Chelsea's fourth goal; last weekend, against Aston Villa, she was extremely fortunate to escape with just a yellow card, after she upended a through on goal Diana Silva on the edge of her own box.

Full backs Ashleigh Neville and Siri Worm have struggled to be available recently for Spurs, so there could be some additional rotation across the back line.
Beard made only one change to his Bristol side between the 3-0 win over Brighton and the 1-1 draw with West Ham last time out. So there is no reason to believe Beard would tinker too much for his latest away trip. However, academy graduate and West Country native, Jazz Matthews, has started the last two matches after an extended absence from an injury she picked up in November last year. Perhaps a rotation at centre-back could be on the cards, with either Laura Rafferty or Aimee Rose Palmer coming in as a replacement.
Tottenham: Mikalsen (GK), Percival, Zadorksy, McManus, Harrop, Cho, Kennedy, Addison, Graham, Naz, Ayane
Bristol City: Baggaley (GK), Purfield, Evans, Rafferty, Skeels, Allen, Pike, Daniels, Humphrey, Wellings, Salmon
New Zealand international Ria Percival has been the heartbeat of Tottenham's identity since their promotion into the WSL in 2019. For the second season in a row, the dogged hybrid defender/midfielder has played every minute for Spurs in the WSL.
Percival currently leads the WSL in total tackles won, with 38. Recently her defensive performance levels have steadily surged. Since Skinner took over as Spurs boss in November 2020, Percival's tackles per 90 minutes have increased from 3.1 to 4.6 and her interceptions per 90 minutes have increased from 1.25 to 2. Keep an eye on how Percival turns the ball over in key areas, perhaps then exposing how the opposition can cope in transition.
Look, we can't write about Ebony Salmon every week. Yes, the Bristol forward is a very valid reason to warrant booting up the FA Player on a Wednesday night in February; but Bristol also have some other talents that are worth a closer look.

With the margins for victory getting smaller and smaller, as the season goes on, Bristol keeper Sophie Baggaley will be under extra scrutiny from here on out. No stranger to being peppered with shots throughout a match, Baggaley, for the second consecutive season, leads the WSL in total saves with 56 (4.67 per 90 minutes). Her resolve defending the Bristol goal, on Wednesday night, will be key to their potential success.
It was an incandescent affair the last time these two sides met on Women's Football Weekend, back in November 2020. After Bristol threw away an early 1-0 lead, Spurs pulled ahead 2-1 before a scintillating strike from Ebony Salmon finally made it 2-2 in the dying moments. The draw gave the Robins their first point of the WSL season.
That match would become Karen Hills' and Juan Amoros' final game in charge of Tottenham Hotspur.

The only other meeting between these two sides in the WSL was back in the 2019/20 season. It ended 1-2 to Spurs. Two goals in two minutes from midfielder Kit Graham completely turned the game on its head, after Abi Harrison had initially given the Robins a 1-0 first half advantage.
The match kicks off Wednesday 10th February at The Hive Stadium at 19:30 GMT.
This match will be broadcasted on the FA Player worldwide.