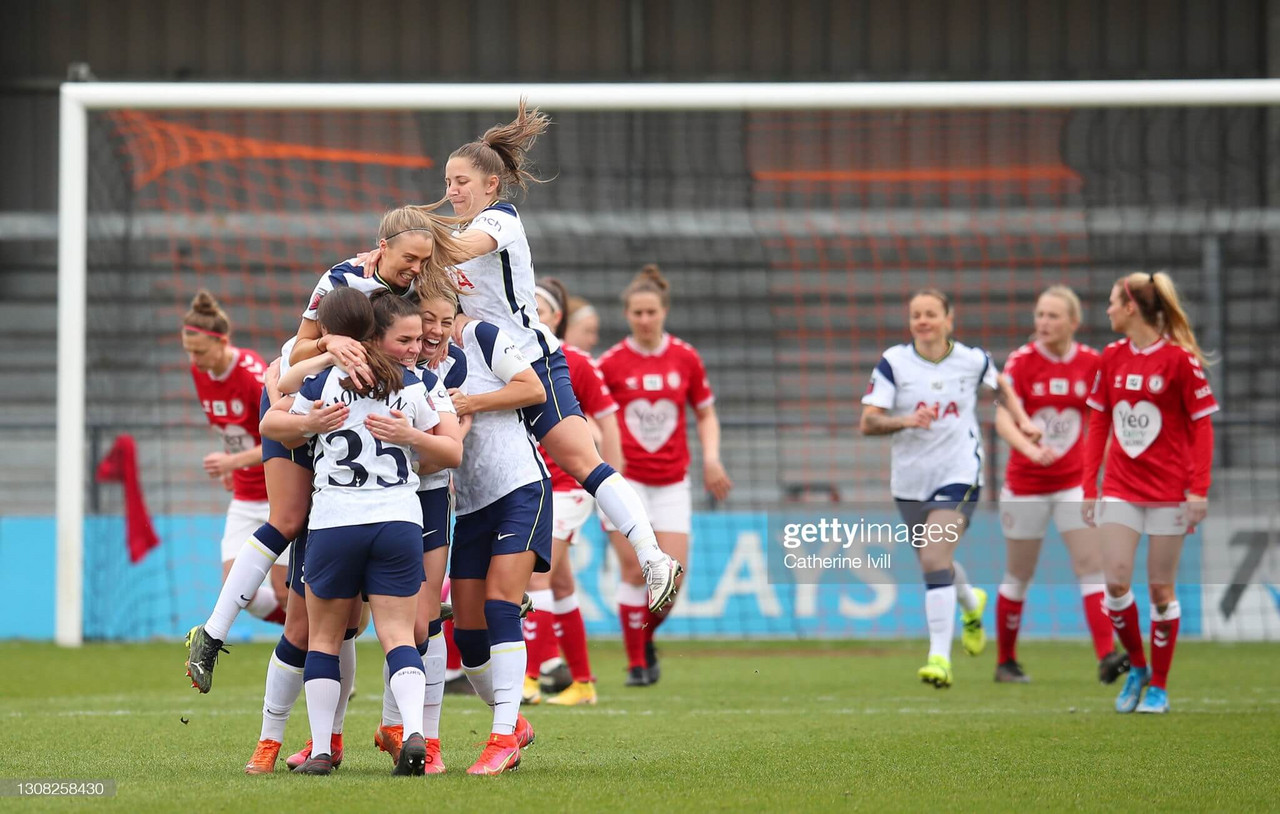 Gemma Evans's second-half header rescued a valuable point for Bristol City as they climbed out of the relegation places.
Tottenham's Siri Worm scored from the free-kick to give the home side the lead.
The home side failed to convert their goalscoring opportunities which proved costly and dropped further points. Tottenham remain in eighth position, with 17 points.
The point was not enough for Bristol to move up in the FA Women's Super League, but they fought hard in the second half to try and win the game.
Bristol City forward Ebony Salmon could have opened the scoring after meeting Molly Pike's long pass, but Abbie McManus denied Salmon in the early stages.
Tottenham immediately broke the deadlock in the third minute through Worm as she curled a wonderful left-footed effort past Sophie Baggaley to give the home side the lead.
Spurs forward Kit Graham executed a fine cross which was palmed away by Baggaley, and Rianna Dean failed to convert the rebound.
Rehanne Skinner's side built some great build-up play down the left when Rosella Ayane squared the ball to Graham, who fired a powerful strike that went narrowly wide.
The former Charlton striker almost doubled Tottenham's lead as she did brilliantly to burst past the Bristol defence and fired a low strike that hit the frame of the post.
Minutes before half-time, Tottenham defender Ria Percival executed a fine cross that found Graham, who tapped her effort into the far post, but it was cleared off the line by Yana Daniels.
At the start of the second half, Salmon thumped a fierce strike that bounced off the far post, and they continued their search for an equaliser.
In the 52nd minute, the visitors equalised through club captain Evans, after she met the resulting corner from Ella Mastrantonio and firing a powerful header into the top corner.
Bristol started to gather momentum, Salmon had another goalscoring opportunity and was through on goal which forced Esther Morgan to produce a vital challenge to keep the game level.
Midway through the second half, substitute Gemma Davison struck a curling effort that forced Baggaley to produce an acrobatic save.
It proved to be a strong end to the game for Matt Beard's side as they maintained their defensive shape and tried to find ways to break Tottenham's passage of play.
In the closing stages, Tottenham continued to chase for the winning goal, but Rachel Williams's close-range header was cleared away by Daniels.
England striker Salmon failed to score the winning goal as she fired a long-range effort that flew over the bar.
Beard's side displayed a solid performance after bouncing back from last week's Continental Cup defeat to Chelsea at Vicarage Road. Bristol remain in the relegation places, with five games remaining in the Women's Super League.
Game of two halves
In the first half, Tottenham were the dominant side and played some of their best football all season. They created numerous chances and could have scored a few more goals before half-time. In particular, Kit Graham was the key attacking player that made Spurs ticked and had one effort that hit the crossbar. Also, Rianna Dean failed to convert the rebound, followed by Graham's effort on goal.
Spurs continued to press higher up the pitch but failed to convert their chances. They were not clinical enough which has happened all season. It's an area of concern that hasn't been fully addressed. Meanwhile, Siri Worm scored a sensational free-kick in the early stages and was solid defensively.
This game proved to be a perfect opportunity for Spurs to end their winless run and failed to do so. They remain winless in six games and haven't found their way to win games. However, Spurs are still in the relegation battle and got to pick up points quickly. Tottenham must pick up points in their next four games against Arsenal, Manchester City, Manchester United, and Chelsea if they were to stay up. It does present a huge challenge for a side that haven't won a WSL match since January 17th when they beat West Ham 1-0 at the Chigwell Construction Stadium.
As for Bristol, they came into this game short of confidence after being thrashed 6-0 to Chelsea in the Continental Cup Final last Sunday. Matt Beard's side was lucky not to concede further before half-time. Their fortunes changed in the second-half when Ebony Salmon's fierce effort bounced off the post that restored confidence and belief within the team.
Skipper Gemma Evans equalised with a thumping header that helped Bristol to earn an important point. Beard's side bossed the second half and stopped Tottenham playing by putting under a lot of pressure. They have demonstrated their capabilities of beating good teams, but failed to produce and replicate those good performances consistently. Bristol sticks to their game plan at half-time and earn their rewards, but they could have won it in the end.
Gemma Evans – Gemma produced a 'captains' performance, both on and off the pitch. She was solid and led the team as an example despite going a goal down at half-time. Tottenham failed to find their way past Evans on multiple occasions and couldn't find the winning goal.
The biggest highlight of the game was her thumping header that proved vital for Bristol to earn a valuable point and changed the complexity of the game.