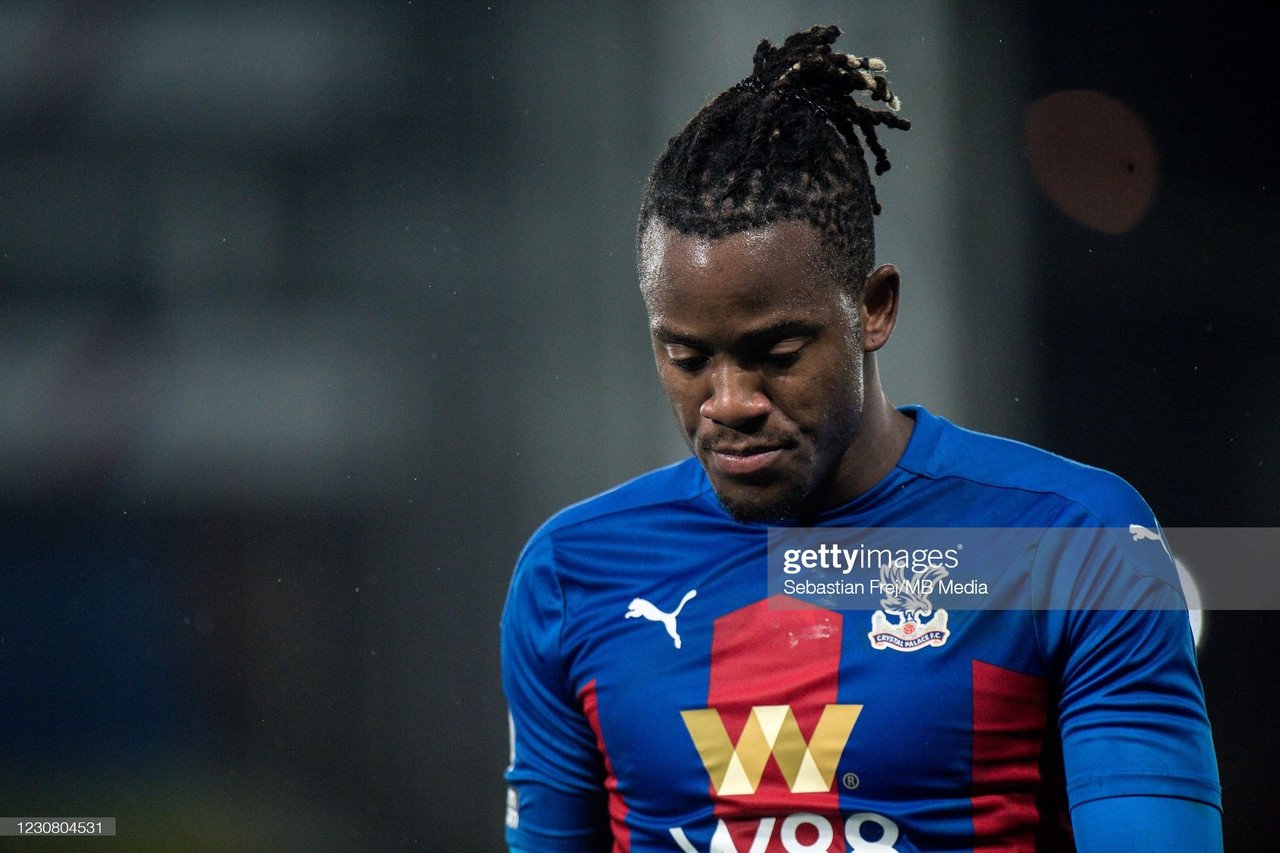 Batshuayi's arrival in 2019 saw him fit seamlessly into a side that attacked with a free-flowing style. It was a squad of players who were in their prime, with Palace's counter-attacking pace a frightening sight for any opposition. It was a system well suited for a player of Batshuayi's ilk.
From wide positions, Wilfried Zaha, who would put any full-back to the sword that season, drove towards goal from the left-hand side, and Andros Townsend would cut in from the right, adding an extra dimension to the attack.
Hodgson also preferred a midfield trio, with James McArthur's engine galivanting up and down the pitch, Jeffrey Schlupp pushing forward in ascendance and Luka Milivojevic battling valiantly in the heart of the side.
There was even a threat from defence, with the balanced side having a menace from both full-backs, thanks to Patrick van Aanholt's attacking verve and Aaron Wan-Bissaka's natural winger's instinct to venture forward. The Eagles' attacking threat would swoop forward from every angle.

The desired component, during the first half of the season, was a forward who had the natural intuition to put away the abundance of chances created by Palace's creative sparks. When Batshuayi arrived, he instantly hit the ground running.
Batshuayi's six goals in 13 games was a remarkable return, and following the conclusion of the campaign, there was a clamour to regain his services, whether that be on another season-long loan or a permanent deal.
However, with Frank Lampard's arrival to the managerial hot seat of Stamford Bridge, added to Marina Granovskaia's ability to secure a king's ransom for Chelsea's fringe players, any negotiations were over before they even began.
The return
In the summer, when Palace favoured a loan move for Batshuayi over fellow Chelsea teammate, Conor Gallagher, it was hoped that the returning loanee could eclipse his performances from the first spell at Selhurst Park, considering he was familiar with the Hodgson regime; the move made sense.
However, despite claiming the starting spot alongside Zaha against Brighton, Fulham and Wolves - where he contributed to two assists in the process - Batshuayi failed to score, placing the ball in the back of the net twice, but being flagged offside on multiple occasions.
During the 5-1 demolition of West Bromwich Albion, Christian Benteke rediscovered a smattering of his dwindling goalscoring form, condemning Batshuayi to a footballing void on the bench, having failed to complete 90 minutes of football since the 1-0 loss to Burnley in November.
The Crystal Palace squad that Batshuayi has returned to, fails to satisfy the needs of a striker who has a fundamental purpose of scoring goals; a striker in the Crystal Palace squad must commit to rigorous and arduous defensive duties.
Since the tinker with the formation to a 4-4-2, Hodgson has been very open about the fact that Palace cannot afford to have multiple luxury players who saunter around the pitch and neglect the strict defensive rules set by the ex-England manager.
"Defending isn't a question of how good your goalkeeper or centre backs are, it's really a question of what your two front players are doing in the first instance, to really protect the midfield, who then protect the back four, who protect the goalkeeper," said Hodgson following the 0-0 draw against Manchester United.
Wilfried Zaha's move from the left to a central position has diminished the need for a forward of a similar style. Zaha's free role leaves him at times as the lone striker, while Benteke hunts down the ball or uses his aerial presence to bring Zaha and Eberechi Eze into play.
Andros Townsend and Jordan Ayew can feature in wide positions, and due to their desire, determination and discipline to defend, the pair are favoured over Batshuayi; Hodgson has even gone on record to praise the pair for helping the south Londoners change their defensive fortunes.
The emerging excellence of Eberechi Eze has been a joy to behold, with him becoming one of the shining lights of an indifferent season. His arrival has also in turn hampered Batshuayi's playing time, as the England Under-21 international has adapted quickly to the ferocious, fast-paced Premier League.
While he may have only five goals to his name, Benteke's influence this season has been a large part of the Eagles all but securing Premier League safety by mid-March, once again leaving his Belgian counterpart, Batshuayi, restricted to the bench.
Unfortunately for Batshuayi, Hodgson has a number of bodies in that position and considers their influence much greater than that of the loanee.
Benteke's unexpected turn of form, which could see the 30-year-old earn a new extension on reduced terms, has shocked everyone associated with the club.
And the winter arrival of Jean-Philippe Mateta, who scored his first goal with a sublime back-heeled flick against Brighton, is an early sign that the 23-year-old is the future of Crystal Palace's forward line.
Will Palace make the deal permanent?
While having the option of Batshuayi off the bench is a shrewd tool in any Premier League side's artillery, the now 27-year-old has grown frustrated by the lack of game time he has been trusted with by Roy Hodgson.
Batshuayi has been caught in the swirling Chelsea loan cycle and will need to break free this summer to finally establish himself as a consistent goalscoring threat.
Batshuayi, who has been sentenced to the bench for the past five games prior to the international break, and suffocated from any game time, chose to vent his frustration about the situation after scoring the opening goal for Belgium in their 8-0 win over Belarus.
"I get a breath of renewed energy when I come into the national team, because it's very hard for me at my club," said Batshuayi.
"The club and the national team are different. The coach, the team members and the system are different from that at Palace.
"With the Red Devils, I feel a lot of trust from the coach; trust that I do not get there [at Palace]. With Martinez, we talk to each other a lot, even when I'm back at my club. I give 200% not to disappoint him."
Hodgson was asked whether Batshuayi's comments would lead to any friction between their relationship. The 73-year-old responded, "As a forward, these things do happen. It's all to do with competition."
He added, "Unfortunately for Michy, at the moment, that is one of the areas where we do have actually have a fair amount of players who can play. He got in at the beginning but didn't have the fortune he might have needed - he was unlucky not to score a few goals then – someone else comes in and takes your place, and if that goes okay, you find yourself a bit pushed out.
"I don't think he has to do anything in particular more than he does. His training has been fine. He is a certain type of player and we know how good he can be as that certain type of player, and there will be games coming up where we will need him to come on and be the player he is. It isn't much more complicated than that.
"It's always nice when they go away and get game time, which both he and Christian got on this occasion. Albeit of course, that it was fairly limited game time, and it has been fairly limited game time during the past season for those two when they go away with Belgium; they haven't played very much at all.
"And of course, it's against a team like Belarus, which without willing to denigrate them in any way, the quality of a Belgium team against a Belarusian team is not like two Premiership teams playing together. We face a bit tougher opposition than perhaps a very good Belgium do when they meet a team that isn't expected to beat them."
There will be no desire for the Palace hierarchy to pay the asking price north of £30 million that Chelsea require to let Batshuayi leave. Although this spell at Palace has not proved fruitful for the forward - scoring a solitary goal in the 2-3 defeat to West Ham - his footballing stock is still incredibly high.
While a managerial change at Selhurst Park could be in the offing, Batshuayi will not be a part of the summer rebuild.