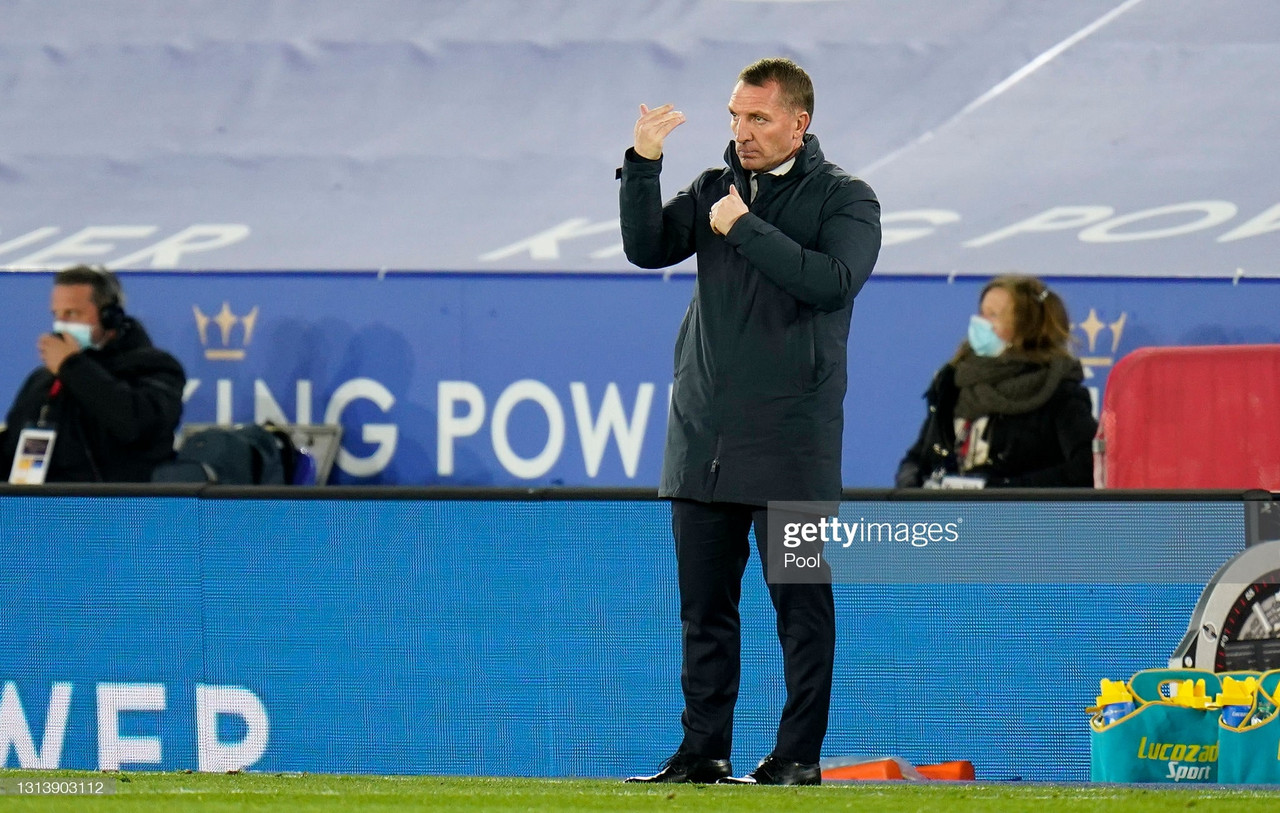 Crystal Palace will be Leicester City's next guests at the King Power Stadium.
The Foxes will look to maintain the momentum of their two-match winning streak – after two consecutive losses against Manchester City & West Ham United. City last dispatched Sam Allardyce's West Bromwich Albion in a comfortable 3-0 victory, thanks to goals from Jamie Vardy, Jonny Evans & Kelechi Iheanacho.
The Eagles arrive in East Midlands after a comprehensive 4-1 drubbing at the hands of Chelsea. They sit in 13th position and have a realistic chance of making it to the top half of the Premier League table, for the first time since the 2014/15 season.
Brendan Rodgers' spoke to the press ahead of the crucial end-of-the-season encounter and gave his thoughts on few topics.
Wesley Fofana is fasting in light of the holy month of Ramadan.
Speaking of which, Rodgers said: "He's a young player in the middle of Ramadan so he's obviously not eating during the day. I think it's absolutely remarkable, especially If you think of his performance at the weekend in an FA Cup Semi-Final [against Southampton]."
The French U21 international defender was substituted due to his fasting reasons in the 61st minute against the Baggies and Rodgers said: "It was just one where I thought if I could get him off then he could get some food into him on the bench, and just protect him a little bit."
The Northern Irishman voiced his support for his players who maintain such devotion.
"I work with lots of players who have similar devotion to their faith, and I think, for a lot of the guys, it gives them strength. He's found incredible strength to play continuously and to train while in Ramadan. He's a special talent and a big player for us," he said.
On Ricardo Pereira's return
Full-back Ricardo Pereira was touted to return to the starting lineup after picking a slight knock against Southampton, but he was nowhere to be seen near the pitch as Leicester won 3-0 at home against West Brom.
Pereira was at the end of an ACL injury sustained last season, which turned out to be a long term setback for the Portuguese.
On his return to the team, Rodgers commented: "I've got to manage Ricardo. He can't play many games at this stage when he's just back from a long-term injury.
We've seen it before. He's going to pick up other knocks along the way having been out for so long, so it's great he's back for this season. He's going to be available for some of the games."
On academy graduate Luke Thomas
Academy youth product Luke Thomas has been making the news so far this season for breaking into the first team and making an impact on the left hand side of the field.
Continuing further on Pereira's absence, who takes up the left wing-back role, the manager spoke in reference to Thomas' presence in the team sheet: "If he doesn't play, I know I've got the players to come in who can perform very, very well."
Luke Thomas started on the left wing for the Foxes midweek against West Brom.
"It's just balance. Firstly, he's left-sided, he's always played really well for me. He's been outstanding since he played this time last year. Every time he's played, he's been very, very good. He's got great temperament for a young guy - strong and aggressive," said Rodgers.
Roy Hodgson's men sit in 13th place having won just one of their last five matches.
Brendan Rodgers sees no room for complacency with just few matchdays left to play in the top flight.
He said: "It's going to be a really tough game. It doesn't matter where we are in the league. They have top players who are very dangerous that can hurt you. We have to be at the top of our game, the players look forward to it."
Rodgers was in particular praise of Hodgson's 'super organized' teams who are tough to play against.
"They are super organized, Roy's teams are always difficult to play against. We have to defend well, deny them the space and when you have the ball be patient and penetrate the lines. It's always a tough game."