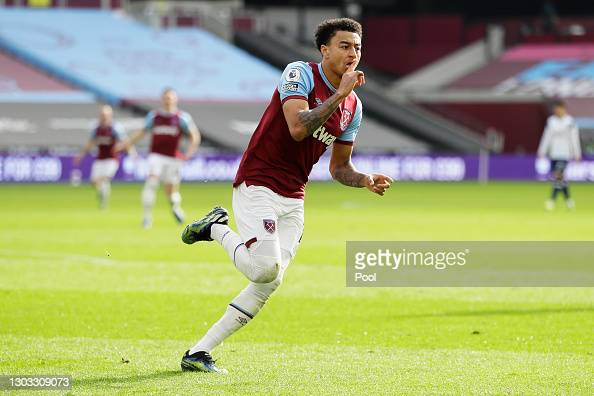 Jesse Lingard has been absolutely brilliant for West Ham since joining them on loan from Manchester United at the end of last January.
He has been a big player for the Hammers in their surprising push for a Champions League spot. It is safe to say he has been one of the best players in the Premier League for the last couple of weeks.
Lingard did not get many chances at Man United this season but does he still have a future at the club?
The stats behind the form
Lingard has mostly played as an attacking midfielder for West Ham. He has played 11 games in the league so far. During those 11 games, he has scored nine goals and made three assists.
This form has got him back into the England conversation and last March he was in the squad that played the first games in the World Cup Qualifying.
If he is compared to other players that are fighting to get into this summer's Euro squad it is clear to see that he deserves to be in contention.
According to FBRef Lingard has higher Goals & Assists per 90 minutes than Phil Foden, Jack Grealish, James Maddison, Raheem Sterling and Mason Mount. It is given that he has starred in way fewer matches, but still, it is very impressive.
In terms of those six players, Lingard is also second when it comes to Goal-Creating actions per 90 minutes, behind Grealish.

The reason he left on loan
Well, on the 29th of January Lingard signed a loan deal with West Ham after only making three appearances for Man Utd this season; none of them in the league.
Lingard's finest season with United game in 2017-18 under Jose Mourinho. Then he played a big role in a memorable summer for England fans as the Three Lions went to the semi-finals of the World Cup. He started five out of the six games.
After that World Cup, he didn't manage to find his footing. His highlight of the 2018-19 season was moonwalking at the Emirates Stadium in a FA Cup win over Arsenal.
He struggled with injuries and the 2019-20 season did not get off to a good start after he posted a foul-mouthed video online during his summer holiday, and he was heavily criticised for that. Man United boss, Ole Gunnar Solskjær, reportedly did not take too kindly to the video.
Lingard struggled to get game time and when he did, he did not make the most of it. His only league goal came in the dying minutes of the final game of the season against Leicester.
During the 2019-20 season, he opened up about personal difficulties in an interview with Daily Mail. Then recently, he told the entertainment show Presenting that he considered taking a break from football. He said: "I felt like the game was just passing me by like I just didn't want to be there. So, I opened up to United and told them what I was going through, what my mum was going through and they're always there to help."
After finding his first-team chances limited at Old Trafford again this season it was thought to best to loan him out so he could recapture his form and his confidence on the football pitch, and he has certainly done that.
Solskjaer: 'He deserves a chance to play'
Man United manager, Solskjær, has been very impressed with Lingard's form.
Earlier this month the Norwegian said: "Selfishly, we could have kept him because he's always got a part to play, he's a fantastic lad around the place, Man United through and through, never once did he moan or cause me a problem, he just worked really hard.
"He deserved a chance to play for more football - that's why we let him go to West Ham because he deserves a chance for what he's done throughout his life for Man United.
"Of course, we [will] welcome him back."
Will he get a role at Man United next season?
That is the big question. Lingard's favourite position is that number ten role - behind the striker. Bruno Fernandes is of course the main man there and it is a near-impossible task to win his place in the team.
The 28-year-old Lingard can also act as a winger but United have options there as well. Marcus Rashford is a key player from the left and on the right Mason Greenwood has been marvellous of late. The Jadon Sancho will also probably be in full swing this summer. Sancho can play the same positions as Lingard.
Lingard - in his West Ham form - could be a brilliant role player for United but is that what he really wants at this stage of his career? He has shown that he got what it takes to be a key player for a club like West Ham.
His contract runs out in 2022 and United will have to make a decision this summer; to sell or to keep. If the decision is to sell, then the time is now because his stock will be very high after a fantastic loan spell.