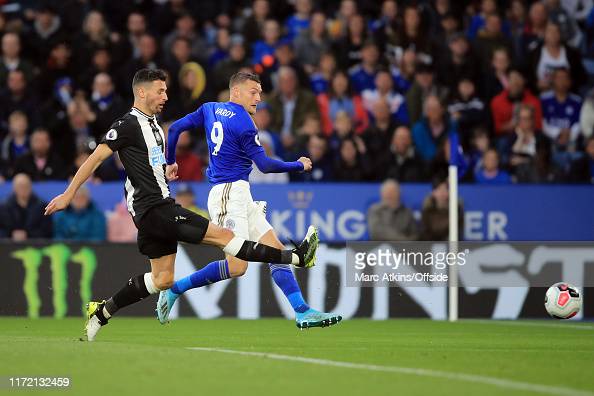 The Foxes once again play on a Friday night after drawing away at St Mary's last time out.
Brendan Rodgers was frustrated at the full time whistle after playing against 10 men for 80 minutes, however, he did admit that it could prove to be a vitally important point in the hunt for a top-four finish.
Rodgers to BBC Sport: "It's a point towards where we want to go. The speed of our game wasn't at the level until we went behind in the game."
Newcastle suffered a 2-0 defeat to Arsenal in what was a very disappointing performance after a good run of results. Safety looks to be all but secured but Steve Bruce still remains cautious.
Bruce to BBC Sport: "We've never thought (we're safe). We have four games left and we still have a lot to play for."
Leicester wing-backs key
Leicester City are likely again to play a back five which allows the fullbacks to push higher up the field.
Timothy Castagne and Luke Thomas have played in this role lately with Ricardo Pereira managing a minor injury. Castagne has impressed playing on the right in what seems to be his more comfortable position as opposed to playing left wing-back.
His running ability is something Rodgers has praised in the past and he has the ability to pop up and score goals as demonstrated with his superb finish against West Bromwich Albion at the King Power Stadium.
Thomas has also demonstrated his potential in recent weeks and at just 19 years of age he is certainly showing promise to one day play for the England senior team.
His engine is remarkable for a young player and his all round game is improving every week. There is no better manager to work under than Rodgers who has a brilliant résumé of developing young players.
If Castagne and Thomas can pin back the full backs it will allow for the likes of James Maddison and Youri Tielemans to create openings for Jamie Vardy and Kelechi Iheanacho.
The width that Leicester's wingbacks can provide will stretch the game which will be the thinking for Rodgers.
Saint-Maximin on song
Since Allan Saint-Maximin has returned from injury he has been the key catalyst for Newcastle's revival which has saw the magpies pick up 8 points in April including a 1-1 draw away at Anfield.
His dazzling performance at Burnley in which he scored a superb solo-goal in was Newcastle's first win in almost 2 months.
His recent performances have sparked a lot of interest in the young frenchmen with a whole host of clubs looking to sign him this summer. Newcastle fans will be hoping he honours his contract that has him tied to the club until 2026.
Very few players in the Premier League have the ability to glide past players with ease but Saint-Maximin is certainly one of them. This will of course be a threat for Leicester city to think about and it may mean Castagne has to sit slightly deeper in his position rather than pushing high up the pitch.
Verdict
After Newcastle's poor display last weekend against Arsenal it does have you questioning whether the magpies are already 'on the beach' after near enough achieving safety.
Leicester however know that if they can win on Friday evening it will be a huge step towards a top 4 finish thus qualifying for a champions league spot next season.
Newcastle will be without Fabian Schär who is suspended and that will be a huge miss for Steve Bruce.
Leicester should have too much for the men in black and white but they will need to perform at a much higher level than they did on the south coast last week.
Score prediction: 2-1