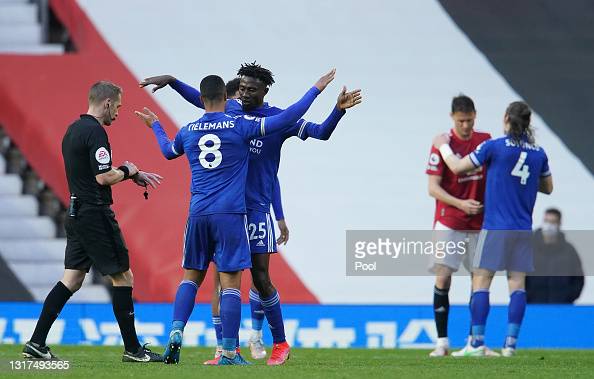 Leicester City secured a huge three points away at Old Trafford in a 2-1 victory.
Luke Thomas scored the opener with a superb volley in the 10th minute after Youri Tielemans picked him out at the back post.
Mason Greenwood quickly equalised in the 15th with a tidy finish on his right foot. Then up stepped Turkish international, Çağlar Söyüncü, in the 66th minute to score a bullet header from a Marc Albrighton corner.
Foxes step closer to Champions League
This victory puts Leicester back up to third place in the Premier League with 66 points.
Crucially, it means the Foxes move eight points clear of West Ham in fifth but more importantly nine points clear of champions, Liverpool, who have two games in hand.
However, Jurgen Klopp's men have to travel to Old Trafford on Thursday evening and if they lose, it will surely end their top-four hopes.
The Foxes then would only need one more point to all but secure a place in the Champions League next season.
The illustrious competition is something that the club have only been in once back in the 2016/17 season after their famous Premier League title win.
Brendan Rodgers admits there is still work yet to be done but the Champions league dream looks ever closer.
City's MOTM?
There were a few candidates for man of the match in this one. Most notably the midfield pair of Wilfred Ndidi and Tielemans, who both displayed their quality in the second half, completely dominating the midfield. Söyüncü also deserves a mention with his winner.
But, one man shone brighter than any other and that was Wesley Fofana.
He won every individual battle and cleared every ball thrown into the box in the last 10 minutes. But most crucially, he stopped a dangerous counter-attack with a thumping tackle on Marcus Rashford which potentially saved the Foxes from conceding.
At 20 years of age, Fofana played like a veteran as he displayed his leadership in the absence of Jonny Evans.
Not many as young as Fofana have the mentality to command the back four in the manner that he did, but the Frenchman has an appetite to win.
Anthony Loupy, the coach of Fofana at under-15 level in Marseille, told Saint-Etienne's website: "At training, he used to drive me mad! He would nearly cry when he lost. He was too hungry, he was a lion. He had to put his frustration to one side and learn to lose"
His hunger and winner's mentality was certainly on show at Old Trafford as he played through 90 minutes of gruelling Premier League action without a drop of water or anything to eat due to fasting for Ramadan. Extraordinary...
Morale boost
This victory was not just important for the Foxes' Champions League dreams, but it was vital that they reacted well after their disappointing defeat to Newcastle last Friday ahead of the FA Cup final this weekend.
The win will certainly boost the morale ahead of their biggest game of the season against Chelsea this Saturday.
Rodgers speaking to BBC Radio Leicester: "We've done some great work to get to this stage. Now, we can get back in tomorrow, off the back of a fantastic result, to get ready to take on the Champions League finalists."
Leicester will have a few days preparation in good spirits knowing their league position is strong before they make the journey to Wembley in what will be the club's fifth FA Cup final. A trophy the club have never won...