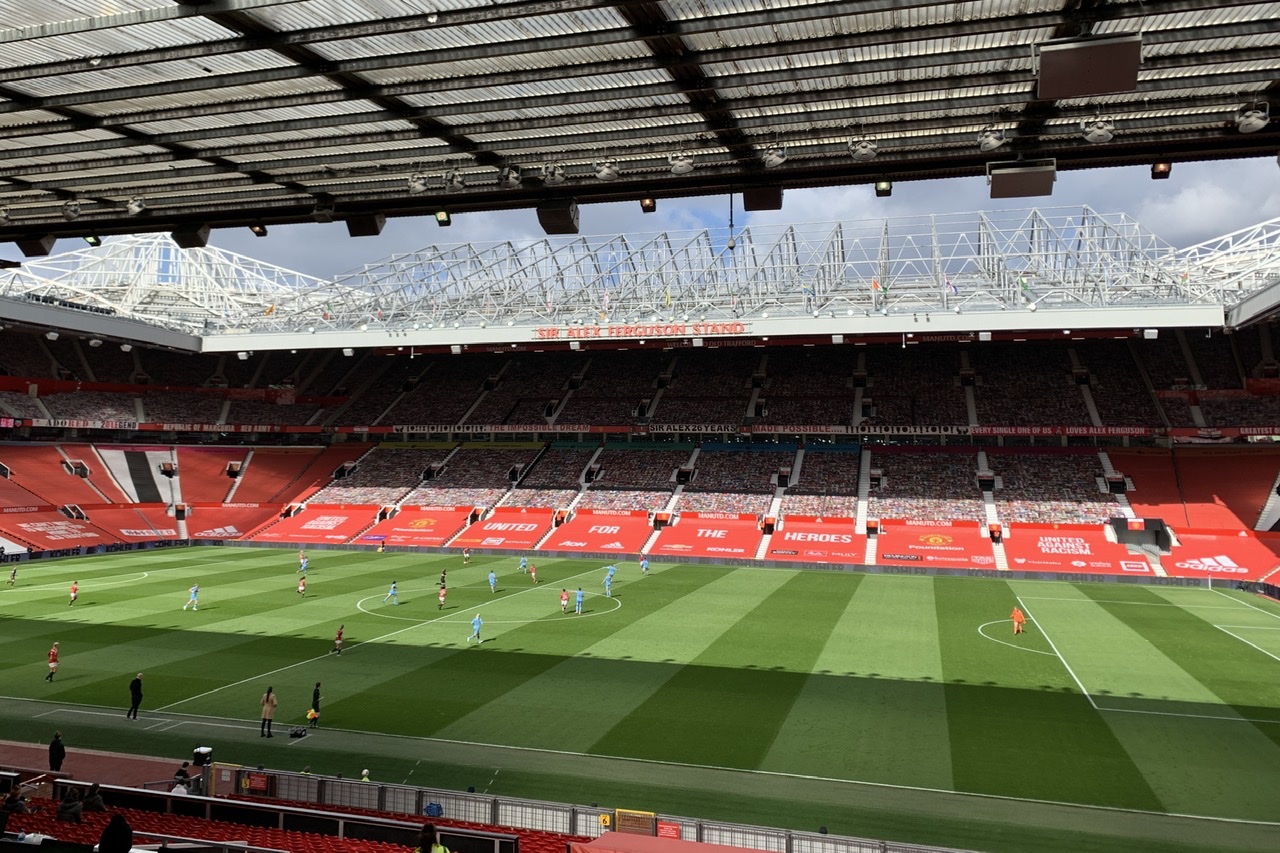 The Stone Roses' 'This is the One' has long been a Mancunian - and Manchester United - anthem; the chimes of John Squires' guitar will forever hold a place in reds' folklore.
When Katie Zelem led her team out of the Old Trafford tunnel on Saturday morning, it signalled a monumental occasion for the club.
If you had told somebody a mere five years ago that United's women would play at the theatre of dreams, they would be just as puzzled as if you had told them that it would take place behind closed doors after a pandemic ravaged its way across Europe.
This was the first time that Casey Stoney's side had been afforded the luxury of using the largest club ground in England, having previously only used their normal home of Leigh Sports Village.
In the past, Stoney has been clear about her desire to fill that ground before looking towards the showcase games, but the pandemic has brought about a special opportunity that her side grasped well.
For Ella Toone, who played for the youth team before having to move to Manchester City due to the reds' lack of a senior side, it is a moment that she could never have envisaged.
"I think that when I was younger and when I was at the club and there was no women's team, you never really thought that there would be a women's team or that you would be playing at Old Trafford," she said.
"Today was really special. A special moment being a lifelong United fan and obviously growing up at the club. Today was a big occasion and it was special to play at such an amazing stadium; I enjoyed it today."
Despite the nature of the match, and the over-arching storyline regarding it being United's first at the theatre of dreams, the performance of one player was likely the biggest talking point of the game.
That player was Lauren James; she may only be 19-years-old, but immaturity is not in her makeup.
She danced through the defenders and continued in the image of the style of player that she has shown herself to be so often this season – the perfect attacking midfielder.
Aim your focus towards James and you will quickly find yourself becoming transfixed. She has an air of nonchalance as she fluidly moves around the pitch, while her work off the ball is just as impressive as that on it.
"I think it's really pleasing for me to see because it's something we've been working on and that we've been having conversations about for three years and I think she's now showing that side of her game," said Casey Stoney when asked about James' improvements in her work off the ball.
"She's coming back from injury so she can do it in fits and starts but it's a mentality to want to do it now which I think she's really showing, showing that side for the team. Because we know what she can do when she's got the ball, so now she's added that to her game off the ball.
"It's really pleasing that people are talking about her work rate because then she's got the whole piece to her game which is important"
It is of little surprise that she was the player who scored the first-ever WSL goal at the historic ground. She was already the first player to score for United in the FA Women's Championship, Women's Super League and Women's FA Cup: she now has another special moment to add to her list.
James provided United's largest threat, and it is no surprise that it was something which West Ham United planned to negate, although that was something they did to little avail.
"It's one-on-one situations [where she's at her most potent]. In most cases, as long as those situations don't occur, she doesn't affect the game as positively as she possibly could," said West Ham head coach Olli Harder after the match.
"We try to negate that and make sure that she's not getting as many one-v-one situations and obviously that's difficult, but I felt we handled her pretty well. Obviously, she's a good player and she did make problems but she makes problems for anybody."
Just as her footballing prowess is impressive, so is her resilience off the pitch. Only a short time ago, she was subject to abhorrent racist abuse via social media, but she has – at least outwardly – appeared to be unphased.
It is a sorry state of affairs that this is as normalised as it is for a teenager, but she has battled through that hate and channelled her work towards better performances on the pitch.
"I think I've seen a huge maturity and I've learnt an awful lot from her I have to say," Stoney added. "I'm 38 years of age and I've learnt a lot from her, from what she's experienced and she's educated me in terms of what she has to face day-in, day-out.
"Like I said at the time, I think it's sad that it's just water off a duck's back for her, I think it's really sad. But at the same time to be able to focus on her football, to flip that switch and say 'you know what, I'm here to play football, I'm here to enjoy myself and have fun', and it looked like she had fun out there today.
"I'm really pleased for her as an individual; we needed to keep making sure we're supporting her and not forgetting that she's been through some horrendous stuff in the last month."
For her teammates, the youngster is somebody who is a joy to play alongside and who makes it easier for them.
"She's a class young player with a lot of talent. We link up really well, me and [Lauren James], so to play alongside her is great," said Ella Toone after the match.
"You give her the ball and you know that she'll beat any defender so then you've just got to make sure you're in the box ready for the cross but we know that she's a great player and a young talent and she's got a bright future ahead of her.
"It's great to have someone like that on the team."