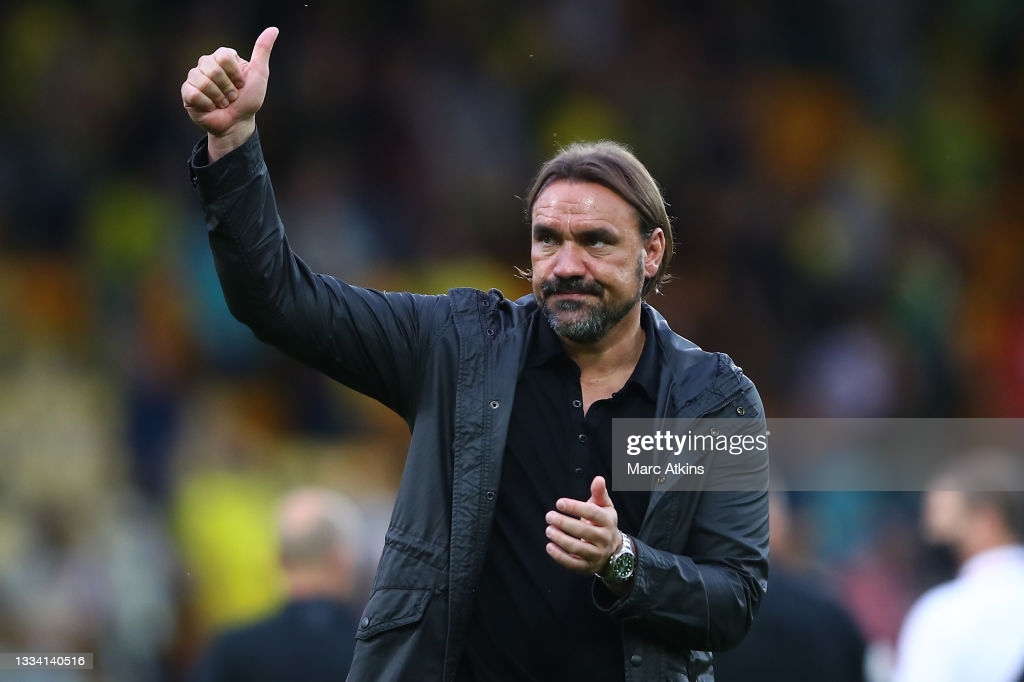 After beginning the new campaign with a 3-0 defeat to Liverpool at Carrow Road last Saturday, newly-promoted Norwich City will face reigning Premier League champions Manchester City this weekend as they search for their first points of the season.
Canaries head coach Daniel Farke faced the media – albeit virtually – on Friday afternoon ahead of the match and discussed a number of noteworthy topics.
Facing the title holders
The Premier League fixture computer presented Norwich with a very difficult start to the season back in June, but Farke insists that his players are relishing the games against the strongest sides in the division.
"We have worked hard to be competitive against these teams. Liverpool and Manchester City is a tough start and we had problems with our pre-season. So it is probably the two toughest games you have in world football, but we don't complain because we want to have these games.
"We are looking forward to this game and we want to grind out a result. We know it is one of the biggest tasks in world football if you face a Pep Guardiola side in the first home game back in front of their fans.
"It will be a difficult task, but we know we have our skills and our strengths and if we are at our best we can hurt these best teams but we will have to be at our best."
Injury update
Farke was happy to provide an update on the fitness levels of certain players in his pre-match press conference. He revealed that centre-back Andrew Omobamidele is likely to be included in the squad at the Etihad Stadium, after missing the game against Liverpool with tonsillitis.
"[Przemysław] Płacheta is still not available because of his effects from Covid-19 infection. Andrew Omobamidele is back in training and is available.
"There is a question mark over Christoph Zimmermann. Apart from this everybody else is available.
"He [Sam Byram] won't be involved. He does some bits and pieces on the pitch. We have to be careful, but sadly he is a bit too far away from being involved [with the under-23s] tonight."
Oliver Skipp's performance against Man City
Young midfielder Oliver Skipp – who played a key role for the Canaries as they won the Championship last season – was part of the Tottenham Hotspur side who beat Man City 1-0 on the opening weekend.
Farke was asked to give his take on the former Norwich loanee's performance in Spurs' impressive victory.
"I was proud of him, not so much of me. We worked with him for 12 months, but I think he deserves all the praise. All my fingers are crossed for him.
"He is a fantastic football player, and a fantastic human being but it is all testament to his character and his hard work on the training pitch. Oliver was always the mindset of an older player.
"I think Tottenham and England should be very, very happy to have him."
The club's transfer business
With 11 days to go until the end of the summer transfer window, the Norwich head coach wanted to praise the work of the club's sporting director, while also admitting that they are on the lookout for three more players.
"I have to praise the club and I have to praise the work of Stuart Webber because I think the work he has done is fantastic. Every signing is spot on. It is not easy with a self-financing club, we have to be creative.
"I think with our opportunities Stuart has done fantastic. We need to do something at full-back and the central defensive area and the central midfield area. I am quite confident we will do some business.
"We definitely want a left full-back because we need to have two options for each and every position, but it is not our style to talk on rumours or names. We will confirm it once the business is done."
The potential atmosphere at the Etihad
Finally, Farke recognised the fact that Saturday will be a big day for Man City's supporters but reiterated that his players should relish the occasion.
"95 percent of the stadium will be against us, but we need to enjoy this. I am sure our fans will be unbelievably noisy and it will be great to have them back as well.
"It will be Manchester City's first home game, when they present their silverware to their supporters, so I am sure they will be noisy as well. We want to be playing in these atmospheres and we want to be successful in these moments."