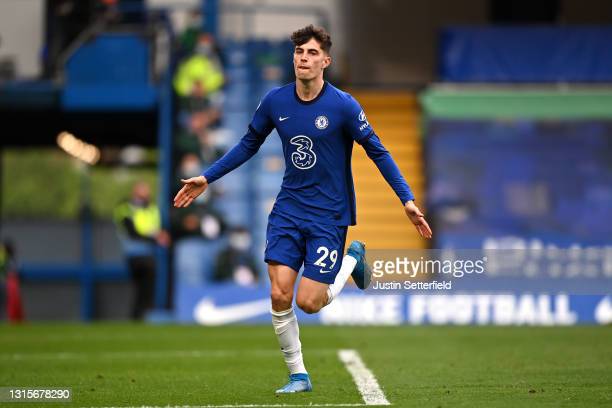 Following his brilliant pre-season, Kai Havertz has started the premier league season like a house on fire playing a crucial role in Chelsea's second goal vs Arsenal, as well as scoring a week later against Liverpool before the international break.
His stellar performances so far this season have led some fans and critics alike to say that he has the potential to become the next Michael Ballack for Chelsea.

Early Career
Havertz like Michael Ballack was exposed to football from a young age when at the age of four he joined amateur team Alemannia Mariadorf where his grandfather Richard was the Chairman. After playing there for five years in 2009 he was scouted and signed by 2. Bundesliga team Alemannia Aachen.
Bayer Leverkusen
However, after spending only a year at the Aachen academy, Bayer Leverkusen saw his potential and swooped in to sign him. From then on his career went into overdrive but not without its difficulties the main one being his growth spurts.
In an interview done with Bundesliga.com Havertz reflected on his difficulties, "At 14 or 15, I was still one of the smallest players in the team, then I went through a pretty dramatic growth spurt.
I had to get used to my legs being longer - it affects the whole way you play football. There was definitely a bit of a struggle, especially at U15/16 level. I wasn't starting as many games - spending more time on the bench."
Despite these difficulties Havertz eventually overcame them and in 2016 he helped the Leverkusen u17's win the title. On top of this, he scored 18 goals in 26 matches for them, which resulted in him being awarded the silver- u17 Fritz Walter medal.
His performances were so good that a few months later on the 15th of October he made his professional debut for the senior side aged just 17 coming on as a sub for Charles Aranguiz in a two goals to one defeat against Werder Bremen in the Bundesliga.
Then on the 21st February 2017 four days after providing an assist for Karim Bellarabi to score the Bundesliga 50,000th goal, Havertz made his champions league debut as Leverkusen lost Athletico Madrid in the round of 16 first leg and he couldn't play the second leg because it clashed with his school exams.
Havertz ended the 2016-17 season with 28 appearances across all competitions scoring 4 goals. He continued to build his reputation the following season playing 30 matches and scoring four goals to help Leverkusen achieve a 5th place finish.
During the 2018-19 season Leverkusen were struggling, however despite their struggles by the midway point Havertz had started all of their games and scored six goals, including his first two goals in European competitions.
Havertz continued his form through the second part of the season to finish up with 20 goals in 40 games, he was also named runner-up in the German footballer of the year awards, with Marco Reus pipping him to first place by a mere 34 votes.
Chelsea
After his stellar performances for several seasons at Leverkusen, in the 2020 summer transfer window, Chelsea decided to sign him for a massive £71 million including add ons.
He had a very quiet first season without showing really what he was capable of however he wasn't helped by certain factors like when he caught covid. But he did score the winning goal for Chelsea in the champions league final.
This season he has already helped Chelsea won the super cup and scored his first goal this season against Liverpool just before the international break.
International career
Like so many other German national players Havertz worked his way through the various youth teams. Havertz played for the German u16's in 2014 making six appearances but not scoring any goals.
His performances were so good that he got called up for the Germany squad for the u17 European championships in 2016, playing 16 matches and scoring two goals in total.
Havertz having not been picked for any of the youth teams for 15 months, he was selected to represent the Germany u19's. In what was his best season so far at youth international level, he scored a brilliant seven goals in eight matches.
After Germany's shock exit from the 2018 world cup and under pressure to pick younger players, Joachim Löw decided to select Havertz in their squad for their nations league match against France and they're friendly with Peru.
Having been part of the national team for a while he was selected to play for Germany at Euro 2020 where despite them getting knocked out by England, he scored Germany's third goal against Portugal and scored against Hungary to help ensure Germany got out of their group.
Similarities to Michael Ballack
If you had to pick one footballer that Havertz's was similar to the number one answer would be Ballack. The first obvious similarity between the two is their physical appearance.
Both of them stand at an impressive six foot two inches but compared to other tall strikers such as Chris Wood, Havertz and Ballack don't appear as physical as them, instead, they look much slimmer.
Another reason why these two footballers are similar is the club pathway they've taken. Both of them got their first contracts playing for second division clubs and were then snapped up by Bayer Leverkusen although Havertz worked his way through the academy while Ballack was signed outright.
In addition, they have both signed for Chelsea with the only difference being that Ballack was signed from Bayern Munich and not from Leverkusen.
Like Ballack, Havertz made a name for himself playing as a number ten or false nine. During his first season at Chelsea with Frank Lampard in charge Havertz was forced to play primarily on the right-hand side, however since Thomas Tuchel has replaced Lampard Havertz has played as false nine and is starting to flourish.
One more key attribute that Ballack and Havertz share is their brilliant ability with their head to score goals but also help from a defensive point of view.
During his time time at Chelsea, Ballack scored a total of 17 goals in the premier league with 50% coming from headers, he managed this not just of because his technique but also his ability to make runs from deep and get on the end of crosses.
This is a trait that Havertz shares and although he has not scored that many goals from headers yet as he develops as a footballer this ability will become more natural and who knows in four years he might have even surpassed Ballack in terms of goals scored in the premier league.