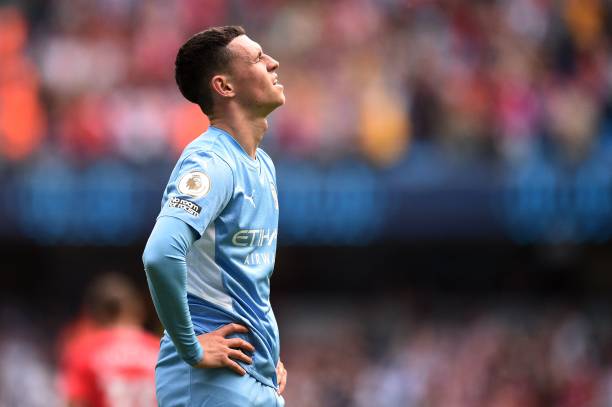 The first 45 minutes was full of half-chances for both sides. It took until the hour-mark for either set of fans to really work up a sweat as Jonathon Moss blew the whistle for a Southampton penalty.
To add insult to injury, Kyle Walker was dismissed for his attempted tackle on Adam Armstrong. When it seemed like all was against Pep Guardiola's Manchester City, VAR came to the rescue and reversed the decision. Phew!
And then, here came the cavalry. Kevin De Bruyne - on. Riyad Mahrez - on. Phil Foden - on.
The Saints were holding on, and holding on well. But just as the clock ticked over the 90, Raheem Sterling finally poked a shot home after a host of missed opportunities.
Once again, the game saw another escape as the winger was adjudged to be offside as Foden's effort on goal was rebounded out. And that, was that. A stalemate at the Etihad.
Important landmarks and stats
1) Sterling's start on Saturday afternoon marked his 200th Premier League appearance in a City shirt.
It is safe to say that the winger has been off the boil recently, with Guardiola favouring Ferran Torres through the middle and Mahrez out on the right.
However, with a tough midweek game against RB Leipzig, Sterling needed to step up. Although it was a 0-0 draw, Sterling looked as sharp as ever.
Sterling in numbers:
200 Appearances
79 Goals
51 Assists
Due to his recent drop in form, many fans have started to doubt him. Here is why you should not.
Sterling is three goals away from joining the Premier League 100 club (Man City & Liverpool goals).
He is eight goals away from becoming the highest scoring English player in the history of the Champions League.
He is 12 goals away from becoming the highest scoring winger in Premier League history.
All at the age of 26. Think again before you insult him.
2) Man City directed just one shot on target against Southampton - their lowest tally since 2017.
This, of course, has sparked a feud on Twitter about City needing a striker. It is true, the home side were begging for someone in the box to finish the crosses being fired in, which is why Torres not coming on as a substitute came as a big surprise to many.
3) Ederson made his 150th Premier League appearance for City, while Joao Cancelo made his 50th.
A tired outing at the Etihad
To quote Guardiola, "I'd like more people to come on Saturday. We will be tired. Southampton are so dangerous. I invite all our people to come 3pm to watch our game."
And honestly, City really did look tired. Very lethargic, misplaced passes, lack of concentration. The fans deserved to see a better performance.
After a 6-3 win against RB Leipzig midweek, it was not surprising to see a less-than-energetic performance on Saturday. A 0-0 draw against Southampton will still have been disappointing, though.
The effort will have to be a lot better against Chelsea next weekend.