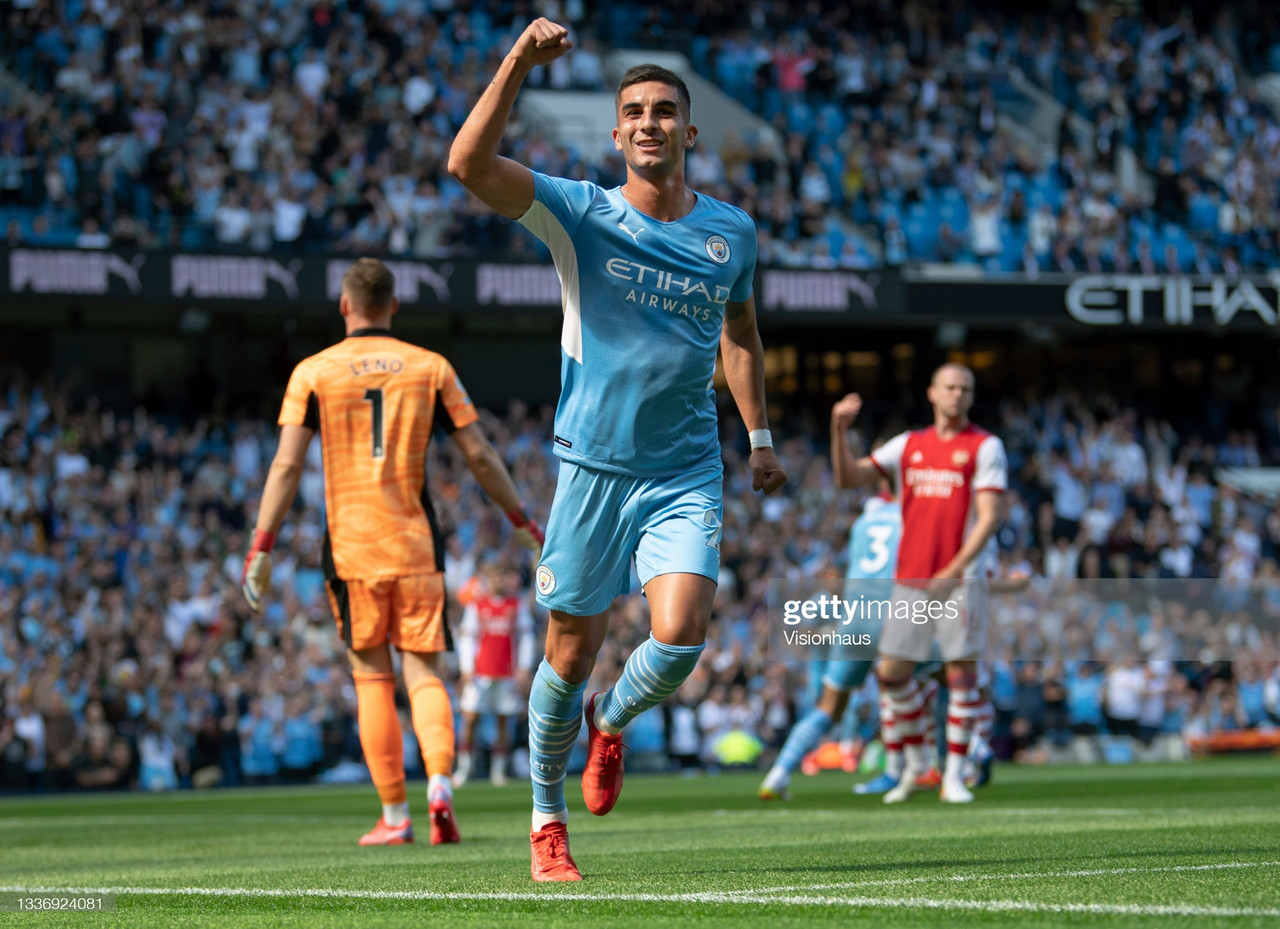 The mantra at the beginning of Manchester City's transfer window was simple, replace Sergio Aguero.
The term replace is used loosely. One cannot simply 'replace' their all-time leading goal scorer, no matter how much money they spend in doing so.
Yet ironically for a club of City's wealth, it was their lack of willingness to spend money that has led them to the situation they find themselves in today. One by where they are likely to spend at least half of their season without a senior striker per ce.
Despite lacking a recognised goal scorer to lead the line, the Citizens have found the back of the net ten times in their opening three games, with eight different players getting their name on the scoresheet.
It seems improbable, but could they sustain a title charge without a recognised striker? Let's break it down.
Versatility
Gabriel Jesus was expected to front City's attacking line this season, although the young Brazilian has since shown his expertise as a wide forward, picking up three assists and a goal in two appearances on the right side of their front three so far this campaign.
But despite his impressive showings out wide, it seems unlikely to think that Pep won't deploy Jesus in the number 9 role again this season. But if not, the Citizens have a host of players who can slot into the central role when required.
Riyad Mahrez, Raheem Sterling and Ferran Torres have all been utilised as a centre forward in recent months, whilst Bernardo Silva and Kevin De Bruyne have featured in the deep laying number 9 role too, primarily in European competition.
And let's not forget about Jack Grealish. City's £100,000,000 man has openly admitted that he would welcome the challenge of playing anywhere across their front three.
Versatility is undoubtedly one of the key traits that Pep and his scouting team look out for when drawing up their list of potential transfer targets, and that trait will be more prominent than ever this season.
Unpredictability
With versatility comes unpredictability, and there are few managers more unpredictable when it comes to name a starting eleven than Pep Guardiola.
Pep Roulette is a game adorned by City fans across the world, but one that not many are very good at. In his five years at Manchester City, it took the Spaniard three years to name the same starting eleven in consecutive Premier League matches.
And it's not just Pep's team selection that leaves the opposition guessing. We often see City's front three interchange throughout the course of the game itself, which can leave opposition defenders bamboozled as to who they are expected to mark and who they should be picking up from set pieces.
As highlighted in City's dour defeat to Spurs on the opening weekend, it doesn't always work. But it certainly works more often than not.
Liam Delap
Cristiano Ronaldo. Harry Kane. Romelu Lukaku. Erling Haaland.
Four world class strikers that have been linked with Manchester City throughout the course of this summer's transfer window, four that Pep Guardiola would undoubtedly have loved to have had in his squad if the price was right.
But it isn't all doom and gloom on the striker front, as the Citizens have the most prolific forward of any Premier League academy waiting in the wings.
Liam Delap, son of former Stoke City midfielder Rory, was the star of the Premier League 2 last year, scoring a record breaking 24 goals as City's under 21's cruised to the title in impressive fashion.
Despite rumoured interest from Championship clubs Stoke City and Bournemouth, Pep has confirmed that the youngster will be a member of the senior setup this season. The 18-year-old will be given chances to prove his worth in the first team, could he be the answer to City's striker problems?