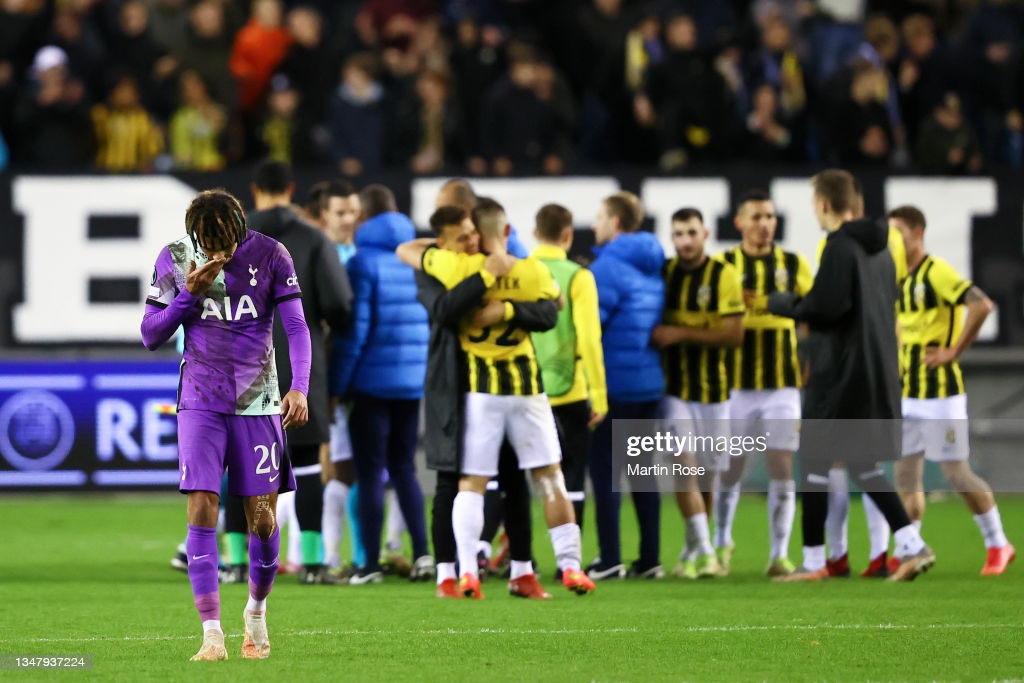 For the first time in seven years, Eredivisie's side Vitesse had their stadium sold out, which is proof enough of how big of a game they were expecting against Tottenham Hotspur.
In matchweek 3 of the UEFA Europa Conference League, Vitesse defeated Spurs 1-0 at the Gelredome, and now sit second in Group G with six points, one point behind Ligue 1's Rennes and two ahead of Spurs.
Full-time in Arnhem. pic.twitter.com/SehtBgUjbw

— Tottenham Hotspur (@SpursOfficial) October 21, 2021
Experienced side
Tottenham travelled to Holland without the 11 players that started in their most recent Premier League win against Newcastle United, therefore it was a great opportunity for many to earn Nuno Espírito Santo's trust.
Despite having many experienced players in the starting line-up, including Dele Alli, Ben Davies, Harry Winks, Steven Bergwijn and Davinson Sánchez, Tottenham was never able to play their style of football.
It should be noted that these five players have racked up a total of 240 appearances between them in UEFA European club competition.
Statement
Espírito Santo was highly criticized by many for not including any of the most recent Premier League starters in the trip to Holland, but he clarified that this decision was made thinking on the future as well.
''It's about having minutes, compete, improve because like you know we have a tough, tough schedule ahead of us and we will need all the players in the best condition as possible,'' he added.
''You have to discuss the options, the decision was made. We took a little moment to decide and we decided to bring the players that started with the Under-23s to give us support.''
✨ 𝐓𝐇𝐈𝐒 𝐈𝐒 𝐎𝐔𝐑 𝐍𝐈𝐆𝐇𝐓#Vitesse #UECL #VITtot pic.twitter.com/fcQN0eMWZd

— Vitesse (@MijnVitesse) October 21, 2021
The Portuguese manager also opted to start 17-year-old striker Dane Scarlett in the front line for Spurs alongside Bergwijn and Bryan Gil, but the youngster struggled to execute plays throughout the 75 minutes he was on the pitch.
''Dane (Scarlett) is 17-years-old,'' Nuno said after the game. ''It is tough for him but many of our players, when they were 17, were not involved in first-team football.
He is full of talent, of course, details that comes with experience and experience is when he competes against tough oppositions.''
On the positive end for Spurs, this was a great way for Espírito Santo to keep developing players and give them some first-team experience. Against Vitesse, the 20-year-old striker Dillan Markanday made his first-team debut and became the first British-Asian to play for the Tottenham first team.