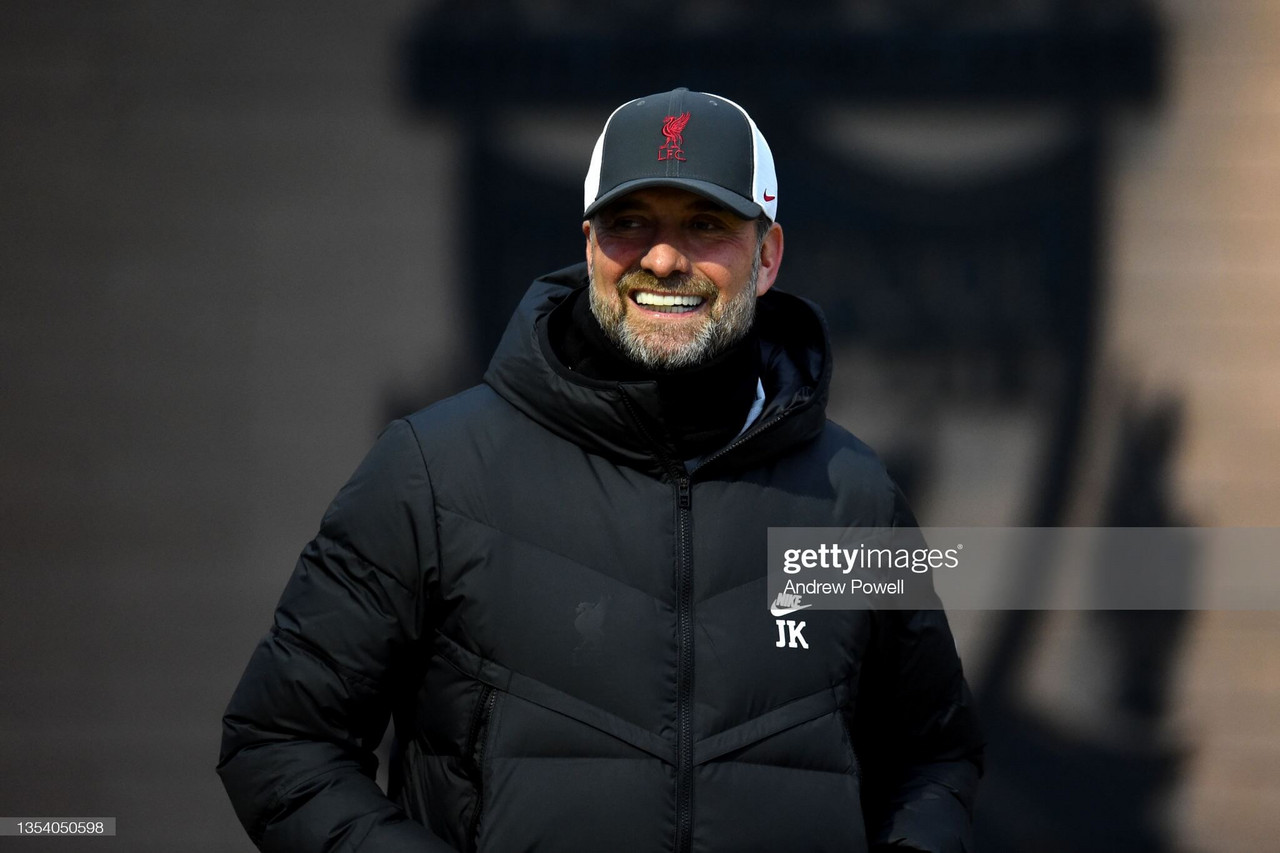 Reds boss Jürgen Klopp was quizzed on a range of topics as the Premier League returns after the November international break.
As well as offering fitness updates on several members of his squad, he discussed Arsenal's progression in recent weeks – which means Mikel Arteta's side would leapfrog their hosts with a win on Saturday, his long-term future and the value in mixing up build-up play.
Fitness update
Klopp spoke on how Jordan Henderson, Andy Robertson, Sadio Mané and Fabinho are progressing following their respective stints with their countries.
Henderson, Robertson and Mané each picked up knocks while Fabinho – who isn't thought to have sustained any injury while with Brazil – was seemingly absent from Thursday evening's team training session.
"Hendo and Robbo didn't train with the team yet. They did their recovery stuff, rehab stuff and, yeah, didn't train with the team yet. It's pretty close. Will be a late, late, late, late decision about that. Sadio's good and Fab only came back lately abd he did recovery. So I hope he can train today, that's the plan. Didn't hear yet anything different but, in the end, we all have to wait until tomorrow."
There was also an update on the Merseysiders' longer-term absentees – James Milner, Naby Keïta, Curtis Jones, Harvey Elliott, Joe Gomez and Roberto Firmino. Klopp began by clarifying that none would be available for the Arsenal match.
"For the weekend? No. The closest are probably Milly [Milner] and Naby. I think we explained already with Curtis, we have to [take it], I would not say day-by-day but, probably week-by-week until anybody gives us the green light – or him the green light. Harvey is doing really well but there is still some time in between now and the moment when he can start again for us. Joe, doing well but needs time. Bobby [Firmino], doing well, needs time. I hope I didn't forget anybody, but that's it."
Arsenal's improvement
After losing their first three Premier League matches and being bottom of the table at the start of September, the North Londoners have picked up 20, points out of a possible 24 in their eight matches since – with six wins and two draws.
They now sit fifth, just two points behind fourth-placed Liverpool and Klopp expressed his admiration for the recent form of Arteta's team.
"Great – I'm not surprised. Look, a season starts, the winner of the first matchday – if you win the first match 4-0 you get asked questions about 'Can you win the league?' stuff like this. You think 'Oh my god, it's really early.' If you lose the first, then you are directly in the relegation battle. Obviously with the quality of Arsenal, there was never a chance that they would stay where they were at the beginning of the season and so it was always clear they will come back. The way they came back is not normal because they, since then, have had an incredible run of results – and they are good. They know they were lucky in one or two games where it could have been different. Crystal Palace played an incredible game against Arsenal, for example, and I think Arsenal equalised late, if I remember it right. But these kind of things you need to get results together, and it's what they did. They won a lot of games and that's where they are but we are not surprised that Arsenal is a really good football team. But we have to make sure that nobody forgets that we are a really good football team as well. And we lost the last game – yes, that's true – but that is long ago, if you want, two weeks ago. So, now we have a chance to do better and that's what we will try."
Future contract
After Steven Gerrard said in his first press conference as Aston Villa manager on Thursday that he would be happy for Klopp and for Liverpool if he was given a lifetime contract, the former Borussia Dortmund boss was asked if he would accept such an offer.
Understandably, the 54-year-old remained coy on that front.
"Wow! I thought Stevie said a lot of nice things and really smart things. I watched the press conference – he was incredibly good. Made sure, 'Let's talked about Aston Villa and Steven Gerrard, and not Liverpool and Steven Gerrard?' I don't have to think about these kind of things in the moment, thank God, because we are in the middle of this season and it's all that we are focused on. And I really I spoke often enough – no other manager gets asked that often about things that happen in two-and-a-half years, or three years, or four years, at least I don't know [that they do]. I didn't think about it, until you asked me now. I don't want to think now about it. So, it's all fine how it is and it's over when it's over, but it's far away from being over so let's focus on that."
Mixing up build-up play
Another question came in relation to a comment Mikel Arteta had previously made about playing Liverpool, where he stated that, even with a perfect press, Virgil van Dijk could still play a long pass over it to Mohamed Salah.
Klopp responded by emphasising the importance of variety.
"To mix up our build-up, is very important. He's not the only one can play these balls but he can play these balls – that's good. I think our centre-halves improved, in the last few years, a lot in all the build-up situations. They, very often, are the first ones who get the ball from the goalkeeper it means that's an important role. They don't have to play the final pass but they can play the second-last, the third-last or whatever, so that's how it is. The main thing about these kind of things is, if you mix it up – we feel that very often ourselves – it makes it just more difficult for the opposition team to adapt to it because you think you have an idea for this pass, you think you have an idea for that pass, you can close the centre, you close the gaps, all these kind of things, and then they play over your head. Many teams do that with us constantly, and so we thought, a few years ago, we should try that as well. And yes, Virgil is a really good player and I'm really happy that we have him. And yes, he has plenty of strengths and hopefully he can show them all on Saturday."