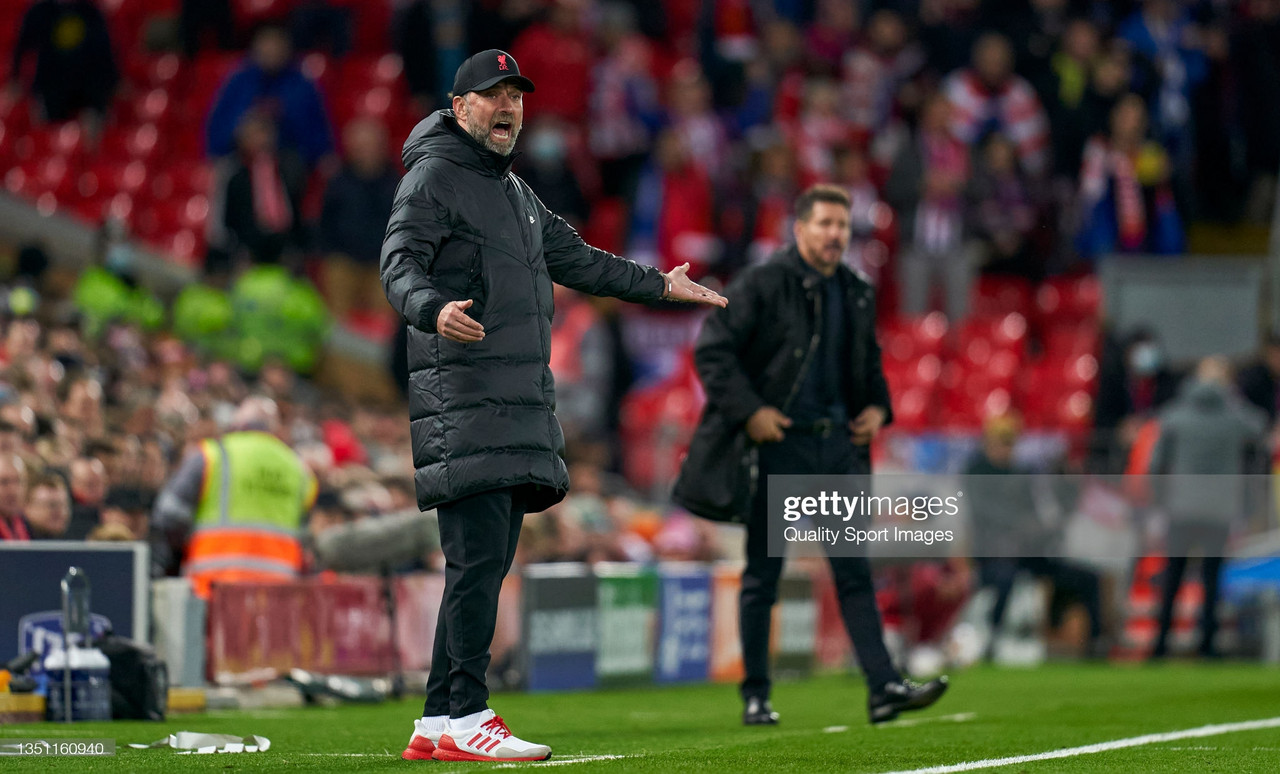 After being drafted the group of death in the Champions League this season, Jurgen Klopp's side has made it look like a Europa Conference League group cruising to the top with ease.
Last night they faced up against a tactically apt Atletico Madrid who looked to make it difficult for Liverpool.
The Reds controlled the game and were helped by a sending off for Felipe in the 36th minute. Two brilliant balls from Trent Alexander-Arnold set up the brace of first half goals which were enough to see Liverpool through with all three points.
A perfectly whipped first time cross set up Diogo Jota for a header for the first goal before a drilled low pass into the path of Sadio Mane left the Senegalese a simple tap in for the second.
After the match, Klopp spoke to the media about the 2-0 win, as per liverpoolfc.com.
The perfect run in the group of death
Liverpool have made life look easy in their Champions League group. With former winners Porto and AC Milan in the group alongside 2014 finalists Atletico Madrid, it looked a tricky path to escape the group. However, Klopp's men have been flawless winning their opening four games scoring 13 and only conceding five.
Klopp spoke on if this start could've been any better, he said: "If Bobby Firmino wouldn't have gone off with a hamstring injury that would have been much better. But from pretty much all other points of view, it was a good performance, it's an incredible group stage so far. I wouldn't have expected that obviously when I saw the draw – nobody would have expected that. Doing that is pretty special.
"But for tonight, job done but we all know there are two games to go and we will try everything to win them as well. That's how it is."
Felipe's sending off
After the Reds gained a 2-0 lead the major turning point came when Brazilian defender Felipe was sent off. The centre back chased Mane from a counter attack and seemed to trip him up denying the winger a chance to storm up the pitch. The referee blew his whistle and the player, seemingly knowing what was coming, walked off as if to accept the booking. However, the referee, Danny Makkelie, gave the defender a red card, sending him off. Like most people the Liverpool boss wasn't convinced with the booking.
"So, I didn't see in the first place that it was a red card. For me, it was a yellow card. And I saw it back and then you see that the foot is high and hits his Achilles, so it's a decision [of] the referee. I think of the law it's a red card. So do I want the other team going one man down? No, not at all. I think we were the better side already against 11 but with an intense schedule we have, I think it is very important that you control the game after that a lot, and we did that.
"We scored still a goal, a wonderful goal, we had massive chances. So the goal we scored is an incredible situation – what a pass by Joel Matip, dribbling and stuff like this – and then it's for an inch offside, but good football. Then I think with Kostas with at least two crosses which we could've, should've finished off. At the second post we had another chance after Mo dribbling, all these kind of things. I don't think it changed too much but, of course, it's a different game. In November, we try to get through games pretty mature and still it didn't work out – Bobby got injured and that's not good."
On the line ups for the remaining two matches
With this win Liverpool have secured first place in the group with two games to spare. With this luxury in mind Klopp was asked if he will rest certain players and play a 'weaker' squad in his remaining two matches. He replied: "The team we line up depends on the situation we are in around the game. Who was how in the game before, who is the next opponent. That was always [the case], it's not now just for these games, that's how it is. We changed five times tonight because we don't consider the Madrid game more important than the West Ham game, for example, so you have to make changes even when players might not like it in a specific moment.
"The Porto game, there is only one difference: we are already qualified. Forget that because we already qualified but all the rest is exactly like it was before. It is a Champions League game, the next one is at home, the game after that is at the San Siro and I've never played there, so I'm really excited about that. We will play at home [against Porto] and play real football. Can you imagine we play Porto at home, the crowd is really coming from all over the world to watch the games and then you offer, I don't know, a half-cooked dish? That is pretty not much how it will be. We go for it, we want to win football games, that's all.
"Sometimes you can qualify for something, sometimes not, it is still the same thing – you play a game, you want to win it, show it. "