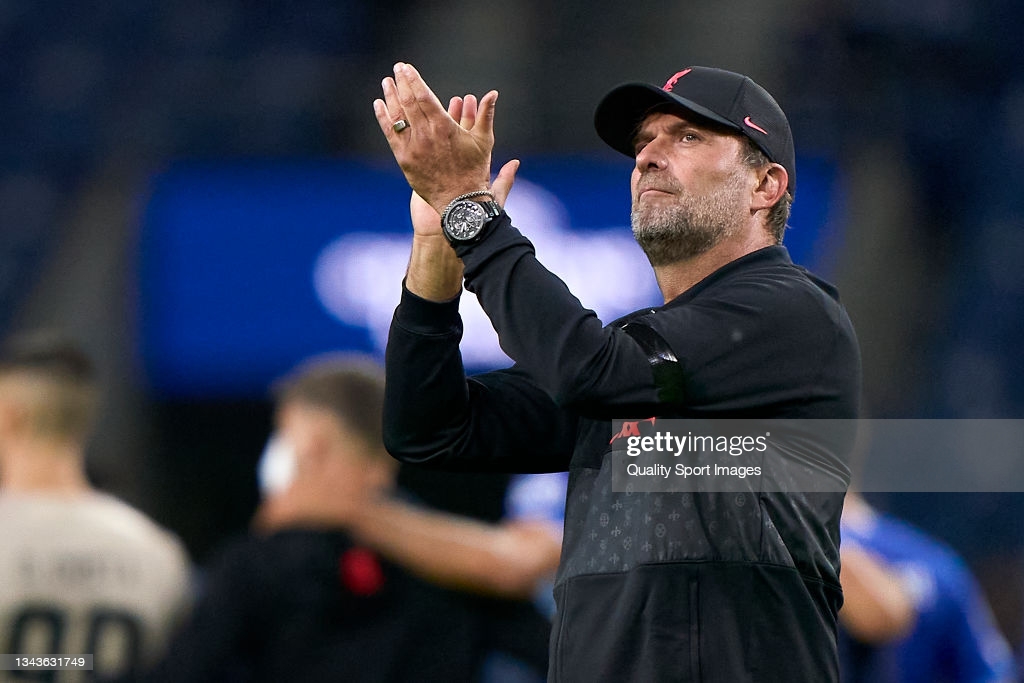 Liverpool manager Jurgen Klopp awarded high praise to Sunday's opponents in Manchester City, stating Pep Guardiola's side are "the best in Europe at the moment."
Guardiola and City make the trip across the M62 to Anfield this Sunday, currently a point adrift of the hosts who sit at the summit of the Premier League.
The German's bold declaration comes after the Citizens walked away from slated title contenders Chelsea with all three points in last weekend's early kickoff.
Klopp, who has recently been nominated alongside his Spanish counterpart for the Premier League 'Manager of the Month' award, also spoke on the absence of Trent Alexander-Arnold for the crunch match as well as his billed replacement, James Milner.
Here are the highlights of Klopp's press conference, with full quotes available from LiverpoolFC.com.
On the enormity of Sunday's matchup...
"Big, big. Man City is an outstanding football team. They lost now against PSG. After Porto, I only knew the result and I said they probably will strike back. But they don't have to actually. I saw now the game obviously and it was a really good football game."
The blockbuster nature of the fixture over the last decade has made for classic Premier League viewing, with the current league standings of both respective outfits making Sunday's game finely poised for more dramatic action.
City are, nonetheless, fresh off a defeat to Paris Saint Germain in the UEFA Champions League, with Liverpool's fortunes differing drastically after their 5-1 romp in Porto.
The Sky Blues travelled to Paris in midweek where they were beaten 2-0 by PSG, with goals from former Evertonian Idrissa Gana Gueye and none other than Lionel Messi, his first for his new team.
"We have to play a proper football game, I would say, to have a chance. But it's Anfield and we are really looking forward to it, I can say that."
On his side's recent exploits in front of goal...
"We scored some goals, that's true – but I know as well that we missed a lot of chances in that period, so it's clear. But I'm not sure if we should expect that now against City."
Liverpool's 20-goal haul throughout the previous month was their second biggest total in the month of September under Klopp, second only to last September's impressive 23 goals.
The feat has heavily contributed to the Reds' imperious standing of being top of both the Premier League and Group B of the Champions League, along with being in the round of 16 in the Carabao Cup.
Six of Mohammed Salah's incredible eight goals already this season came in the second month of the campaign, bagging his 100th Premier League career goal against Brentford.
The last 10 Premier League meetings between the clubs have averaged 3.3 goals per match, with Liverpool themselves averaging 1.2 goals in comparisons to 2.3 goals in their previous 10 meetings against the remaining four of the 'Big Six'.
"All we did in the last few weeks now is helpful because we are confident in that department. But we have to defend on our absolute highest level to stay in the game and to make sure that the goals we score make the difference."
"We have obviously James, we have Joe, we have Neco, we could change system – there are quite a few things. We have time to train this week, so there are a lot of things possible."
Before kick-off in Porto, Klopp confirmed fears that Trent Alexander-Arnold would indeed not be available for the visit of Manchester City.
The youngster played all 90 minutes in the thrilling 3-3 draw against Brentford but since picked up a groin strain that also ruled him out of Liverpool's midweek game in Portugal.
However seemingly unlikely, an almost unheard of change of system in the six year tenure under Klopp would possibly see three centre-backs for the first time since 2017/18, when Emre Can and Georginio Wijnaldum joined Dejan Lovren at the back in the 5-1 thrashing of Brighton.
Whilst declaring a decision hasn't been made on who starts in the right-back berth this weekend, Klopp spoke on the talents of Milner and how he adapts into the manager's system.
"I'm not sure James knows already all the positions he can play. He doesn't like the position, but he plays it really exceptionally well because he's a smart footballer and he likes to be involved in the game. That's why he always thought he had to play in the middle of the park, but with the way we play, the right-back is quite influential, has quite a lot of possession, opportunities to be influential in the game and stuff like this, so in the moment I think he thinks it's OK to play there."
On the recent passing of former Liverpool striker, Roger Hunt...
"Roger Hunt in his time was, for sure, one of the most influential players in the country and maybe in Europe. He was an exceptional striker, that's what I know."
Former Liverpool striker Roger Hunt tragically passed away this week aged 83 after a battle with illness.
Hunt is still Liverpool's second-highest goalscorer of all time with 285 goals in 492 appearances across an 11-and-a-half year stint on Merseyside.
He formed a deadly strike partnership with another recently passed legend in Ian St. John, that fired the Reds to the Second Division title in 1962, two First Division titles in 1964 and 1966 and Liverpool's first FA Cup in 1965.
Klopp jovially remarked earlier on this week that Hunt "certainly would have got into his team" upon hearing the news of Hunt's passing, and spoke of the famed culture of remembrance that surrounds Liverpool Football Club.
"Yesterday, when we had the ceremony at the stadium, I spent some time together with Kenny Dalglish, John Aldridge and a few other guys and they obviously know much more about that. What they like about the club is that this club is really good – really good – in remembering their legends. We like that."