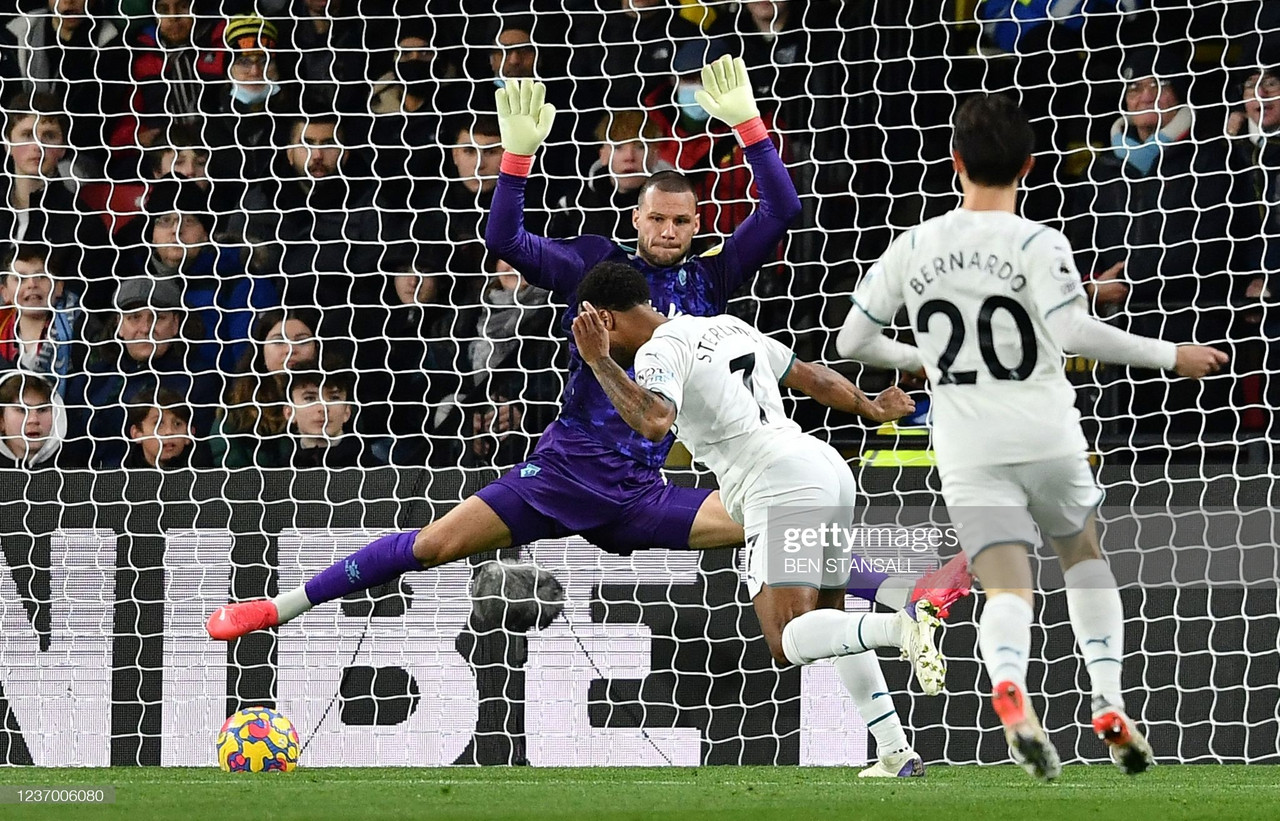 Watford's search for a clean sheet continues as they succumbed to defeat against top of the table Manchester City on Saturday night but the 3-1 loss could have been far more unfavourable for the Hornets had Austrian international Daniel Bachmann not made nine crucial saves.
With Raheem Sterling opening the scoring early in the first half, Bachmann made four further stops from Jack Grealish and Sterling in the opening 20 minutes as Manchester City piled on the pressure.
Bachmann's formidable display between the sticks kept the score respectable and even sparked hopes of a grandstand finish as Cucho Hernandez scored for Watford in the closing stages.
It wasn't to be for Watford, who remain rooted in a relegation battle but the Watford goalkeeper was full of positivity after the game when he spoke with VAVEL.
With Chelsea in midweek, Watford had little time to prepare for Pep Guardiola's eleven-man midfield and Bachmann acknowledged that Watford were aware of how big a challenge it would be,
"I don't think there's another footballing team like Man City in the world. Their movement, on and off the ball, it's incredible, it's a different kettle of fish. I think Man City only exist once, the way they play football and how good they are, certainly they are the toughest team to play against.

We knew it was going to be tough, playing against Man City is always hard, they're probably the best team in the world. When they scored after four minutes you fear the worst, 'cause we've seen it so many times where they score early on they just demolish teams and we managed to keep the score respectable and got a couple of half chances ourselves and end up scoring.

When you score with 15 minutes to go, you never know what happens, you don't give up and try to get something out of the game which we probably didn't deserve to be brutally honest but we fought until the end and it was a very tough week for us with very tough fixtures."
Crunch time for the Hornets
After a run of games against Liverpool, Arsenal, Chelsea, Manchester United and Manchester City in recent weeks, Watford knew it was unlikely to be a season-defining period. However, with games leading up to Christmas against those around them in the Premier League table, Bachmann said that the season effectively starts now for the Hornets,
"Now are the games where it matters to pick up points.

These are not the games to define the season, the last five or six games. We had a bonus win against Man United and now is when it starts for us, now are the games that we need to start picking up points, playing teams around us and I think if we play like we did on Wednesday or even on Sunday against Leicester, we press very well and cause teams a lot of problems.

Chelsea are the champions of Europe and we definitely shouldn't have lost that game, so we will cause teams a lot of problems and like I said the most important ones are not the top teams in the Premier League and unfortunately that's what we had in a row. Now it's time to pick up points."
Blueprint for success
When asked what Watford have learned from recent fixtures and how they intend to play moving forward, Bachmann explained that the vision from Head Coach, Claudio Ranieri is clear,
"I think the blueprint is the Chelsea game

That's what we're about, that's what you look at and what the gaffer tries to get into us. If you want to say it a bit harshly, these games over the last couple of weeks, you can kind of see them as better training sessions.

We know we're going into the games trying to win them but we've just had a new manager, he's trying to implement his pressing style and like I said, these are not the games we're trying to win, these are the games that are trying to set us up for the rest of the season and I think we've done a very good job of that.

We were causing Leicester problems, causing Chelsea a lot of problems and we got some half decent chances against City and I think it was kind of a rehearsal of what's coming now and what matters now in the next two weeks."
In those next two weeks, Watford face two relegation rivals in Brentford and Burnley. It may be too early to call these 'Relegation six-pointers' but it is not too far from the reality and if the Hornets are to pick up points Bachmann will need to continue to be at his very best.