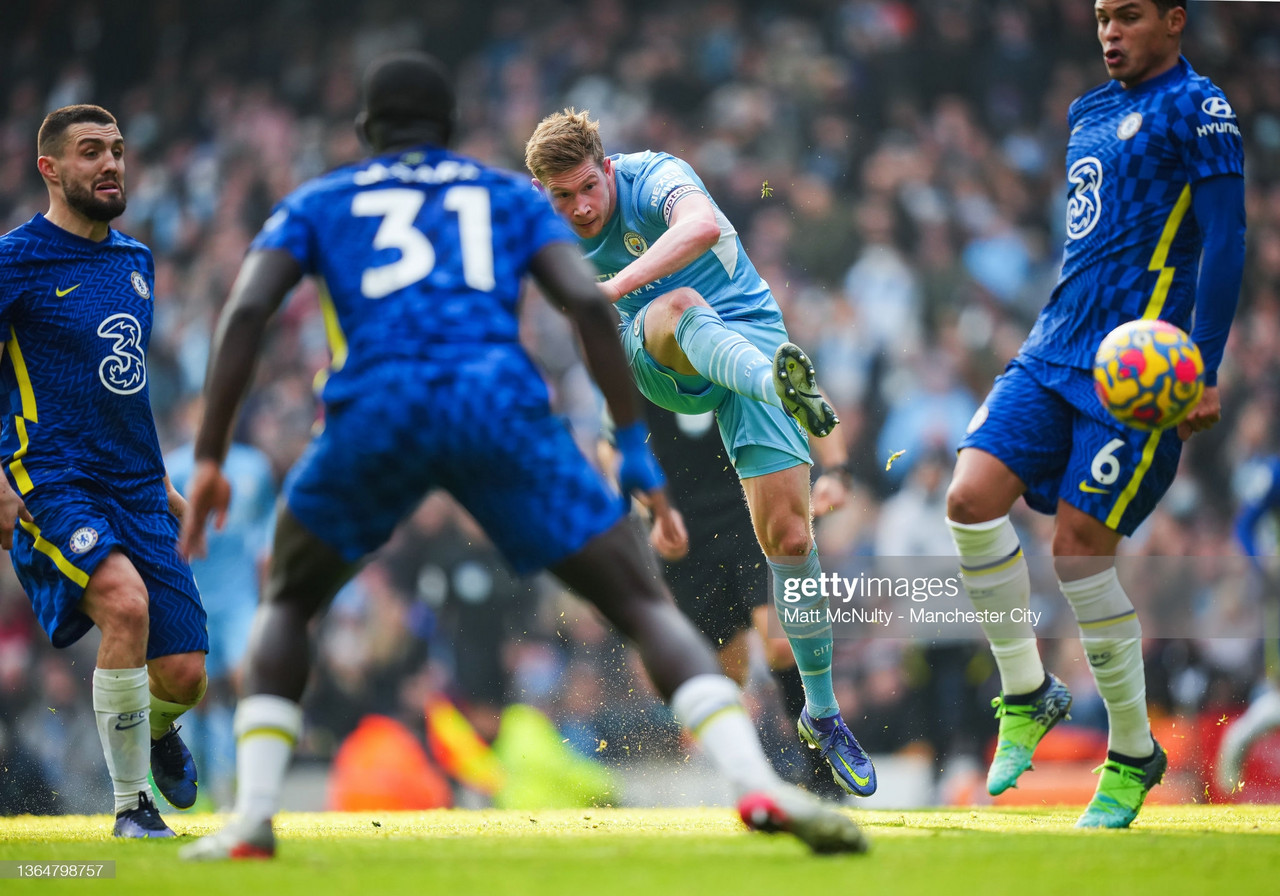 A classy Manchester City asserted their title dominance by beating Chelsea 1-0 to extend their lead at the top of the ­­­Premier League to 13 points. In a game where margins were fine and the odd goal looked to decide matters, the Cityzens took a big step towards what could be four titles in five years as they racked up their twelfth consecutive league win. For Chelsea, it was a day to forget as the chasm to the champions looked little narrower.
Tuchel's Team Choice
One thing that has plagued Chelsea over the last six weeks is team selection. Owing to a significant number of injury absentees and COVID-affected playing personnel, it was a similar story for the away trip to the champions. Andreas Christensen was forced to miss the away trip due to being diagnosed with coronavirus. Similarly, academy graduate Trevoh Chalobah was missing through a hamstring injury.
Add to those absences the long-term injuries of first choice wingbacks Reece James and Ben Chilwell and this was a Chelsea team devoid of some of its best players. Something head coach Thomas Tuchel pointed to in his pre-match press conference, it was notable that his back three choices on the day of Malang Sarr, Thiago Silva and Antonio Rudiger, in an unfamiliar right centre back role, represented the fourth different defensive combination used in the last five games. Only against Aston Villa and Liverpool in the last five has the same defense been used.
At wingback, the experienced Cesar Azpilicueta and Marcos Alonso were tasked with chaperoning City's nimble, quick Raheem Sterling and wily Jack Grealish. In midfield, Mateo Kovacic and N'Golo Kante operated in the double pivot behind a front three of Hakim Ziyech, Romelu Lukaku and Christian Pulisic.
An interesting team selection, particularly in the front three, yet with Pulisic and Ziyech such difference makers in the past against City, it was arguably no surprise. Similarly, Pulisic's ability in tight spaces and Ziyech's ability to play high percentage, quality passes from deep seemed on the surface to perfectly suit the mobile Lukaku up front.
A Class Apart
The tale of Chelsea's two contests against City in the league can be condensed down to one clear difference: class and experience. Pre-match, Tuchel spoke of the fact that his side were 'too passive' in the first game at Stamford Bridge. City ran away with the points on that day as the Blues invited a lot of pressure on themselves, spending large portions of it camped on the edge of their box.
At the Etihad, this was not so much the case as Chelsea looked defensively resolute and sought to pose a threat in counter attacking transition. A facet of the game where they excelled last season on the way to winning the UEFA Champions League, it was not necessarily a worry that City were clearly dominant in possession from the outset.
The neat, intricate passing and verticality of a Pep Guardiola team was evident as the nimble attackers Bernardo Silva, Phil Foden, Sterling and Grealish persistently pried for an opening, backed by the limitlessly talented Kevin De Bruyne, a constant menace against his former side. Predictably, City pressed and harried the Chelsea rear guard and tried to force a mistake. For the opening period, Chelsea looked relatively assured on the ball and didn't offer any clear-cut opportunities on goal.
It wasn't until the 38th minute when some overplay by Kovacic and De Bruyne's eagerness forced the former into a mistake. The loose ball fell to record City signing Grealish whose placed effort deflected wide off the leg of the onrushing Kepa Arrizabalaga. In a game of fine margins, it was Kepa's left thigh that was keeping Chelsea's faint hopes of a title charge alive.
Into half time, and the passage of play was clear. City were making it more of a contest, but Chelsea held firm to that point. Having failed to register a shot on target in the first half for the first time since 2018, it was clear for the Blues that more was needed upfront.
The second half presented such an opportunity very early on. A slide rule pass from Kovacic into Lukaku presented the Belgian with the perfect opportunity to nab an early sucker punch. Nevertheless, he failed to get his curled effort over a very high Ederson who saved expertly.
As close as that was for Chelsea, the goal for their opponents came as just reward for all City's endeavour. After substitute Timo Werner failed to win a header from a Kepa punt, City spread the ball to De Bruyne rapidly. A glorious runner in full flow, the City number 17 shrugged off the attentions of Kante before curling a wonderful shot past Kepa to ultimately settle the contest and probably the title for another year.
Okay, But Not Great
From a Chelsea perspective, there is no shame in losing a narrow contest to a Manchester City team that have won twelve games in a row. This is a Guardiola team that is years in the making and that will take some catching.
In his post-match comments, Tuchel alluded to the fact that he was 'okay with the performance.' Taking all the changes into account, the reality was clear that this was a Chelsea team not operating as smoothly as City. The level of squad disruption through injury is likely to affect the fortunes of even the finest teams.
The German tactician will know, though, that sustaining a title charge requires more than just a fully fit squad. Something that Manchester City do so well that leaves their rivals in their wake is call upon a seemingly endless roster of players who are able to consistently produce a standard of performance that precipitates a lengthy winning run.
That City have had four runs of twelve or more victories in a row under Guardiola provides the kind of template of consistency that Tuchel and his team need to learn to develop.
There are nonetheless encouraging signs for Chelsea. In 35 games this season, they have lost just four. The defensive and tactical solidity that Tuchel brings clearly gives the West London side the springboard to compete against anyone.
What they need to do now, as was evident against City with a floundering attack yet again, is find a way to turn that solidity and competitiveness into dominance and consistency, winning games well before their defense is put under pressure.
Chelsea are a very good football team who will give anyone a game in isolation. Manchester City are an excellent football team who dominate every team seemingly every week.
That is the difference between the two in blue. The onus is on Chelsea to continue to try and bridge this gap, to not just be good, but consistently great.