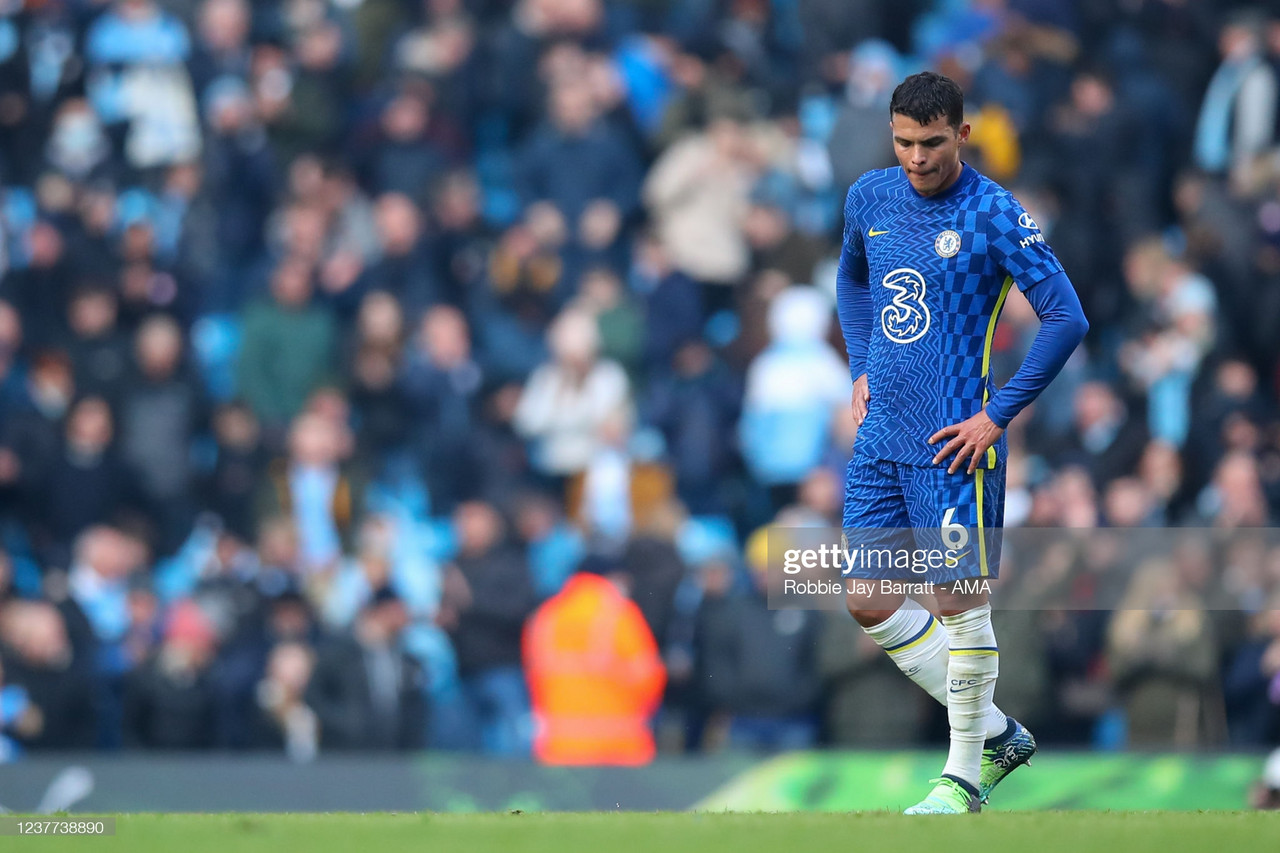 Chelsea suffered a 1-0 defeat at the hands of Pep Guardiola's Manchester City during the Saturday lunchtime kick-off in the Premier League, all but ending any hopes of competing for the title the Blues had.
It wasn't the most action-packed game, with neither side creating a huge number of chances, though if anything it was the away team who started the brighter during the first half.
They had a huge chance relatively early on in the match, with Romelu Lukaku being set free, effectively one-on-one with Ederson, but the Belgian chose to try and pass to Hakim Ziyech, which proved to be a misguided choice as the ball was intercepted.
Solid. 🧤#MciChe pic.twitter.com/wrtCUtuC4M

— Chelsea FC (@ChelseaFC) January 15, 2022
From that point onwards in the first 45 minutes, it was Man City who had control of the ball for the most part, with their best opportunity coming to Jack Grealish, who saw his effort saved by Kepa Arrizabalaga from close range.
As such, both sides went into their respective dressing rooms at half time in a fairly dull 0-0 stalemate, though it was undoubtedly the team in Sky Blue rather than Royal Blue who were dominating possession.
After the interval however, for a period of around 10 minutes or so, Chelsea came out with more threat up front, combining well to fashion a couple of chances, one of which again fell to Lukaku, but none ended up with a goal.
76. Curl it like Kevin! 💫

🔵 1-0 🦁 #ManCity pic.twitter.com/tW5q1aD2dj

— Manchester City (@ManCity) January 15, 2022
That period of tenacity wasn't long-lasting enough though, as once again City settled into the familiar pattern of almost toying with their opponents, just waiting for what feels like their inevitable goal to come.
It did exactly that in the 70th minute, when former Chelsea man Kevin De Bruyne made an excellent run up the pitch, before capping it off with a sublime finish into the bottom corner to give the home team the lead.
From then on, it was cruise control for Guardiola's men, as they professionally and expertly saw out the win to extend their lead at the top of the table to 13 points - a now close-to insurmountable gap for those teams below them.
Missing wing-backs create a big difference
One thing which has become apparent to anybody who has been watching Chelsea since around the beginning of December will have noticed a drop in form coinciding with injuries to Ben Chilwell, and, later on, Reece James.
The former left the pitch with a limp against Juventus back in November, in a 4-0 win for the Blues, and suffered a huge blow as it was announced he needed surgery as a result of the ACL injury he had suffered.
Add onto that the prolonged absence of Reece James since the turn of the year after he picked up a nasty injury against Brighton, and it is not hard to see the correlation between the matches the two miss and the level of performance dropping.
Missing these two, Blues? 💙 pic.twitter.com/q59NCS7qPw

— Absolute Chelsea (@AbsoluteChelsea) January 15, 2022
Both players had been in excellent form prior to their withdrawal from the team too, with James averaging a goal or an assist for every 179 minutes of football played and Chilwell one every 210 minutes - astonishing numbers for defenders.
Nowhere has their absence been more painfully obvious, particularly in an attacking sense, than at the Etihad Stadium on Saturday, leaving Chelsea with a lack of options when they did, on the rare occasion, push forwards.
With the two English wing-backs, as a result of their pace, they are able to both push high up the pitch, supporting the two wide wingers in working the ball in attack, while also tracking back to help out in defence.
The issue for Tuchel in the current setup in which Marcos Alonso and Cesar Azpiliceuta act as replacements, is that neither possess enough speed to be able to both pose a threat going forwards while also performing their defensive duties well.
Perhaps sensibly, the German coach opted to instruct the pair to remain further back, to ensure more defensive solidity, but that meant up front the two wingers had no overlaps to be able to pass into, resulting in multiple losses of possession, and a lack of potency in attack.
Lukaku looks disinterested
While the issue of the wing-backs is certainly a big factor that is playing into this drop in form which Chelsea have been going through over the past couple of months or so, there is certainly another factor at play too.
It is now no secret that Romelu Lukaku's bombshell interview, organised without the knowledge of anyone at the club, did not sit well with any of the higher-ups, nor was it well-received by Thomas Tuchel either.
Having served a one game ban as punishment, the striker returned to the side straight away in a new 4-2-2-2 formation, being named among the starting eleven for four games in a row, including against City.
"I think we deserved a draw. I think we defended very, very well."

"He [Lukaku] had many ball losses without any pressure."

Thomas Tuchel thought that Kevin De Bruyne's second-half strike was unfair on Chelsea's showing at the Etihad 🗣️

🎙️ @TheDesKelly pic.twitter.com/0APqdyk1WW

— Football on BT Sport (@btsportfootball) January 15, 2022
While he did score in one of those games - a 5-1 win over Chesterfield in the FA Cup - the 28-year-old hasn't appeared hugely involved, or indeed willing to be so, since the damaging PR began to circulate around him.
As mentioned, there was a alteration in the system for the past few games, giving Lukaku a strike partner up front to work with, but in order to try and shore up at the back, there was a reversion to the tried and tested 3-4-3.
Whether the player likes the system or not, it is not too demanding to expect him to put the same amount of effort in either way but, to the disappointment of many Chelsea fans, it was clear that Lukaku was not interested in doing so whatsoever.
He only touched the ball 20 times throughout the 90 minutes (the lowest of any player on the pitch who played the full game), and to many his body language when competing in 50-50 duels epitomised his indifference to the situation he finds himself in.
It would be an unfair and baseless conclusion to say that all of Chelsea's attacking problems were as a result of Romelu Lukaku - they clearly weren't - but if Tuchel is going to create a more threatening forward line, it's hard to see how the Belgian fits in if he continues in this current vein of form, and indeed attitude.