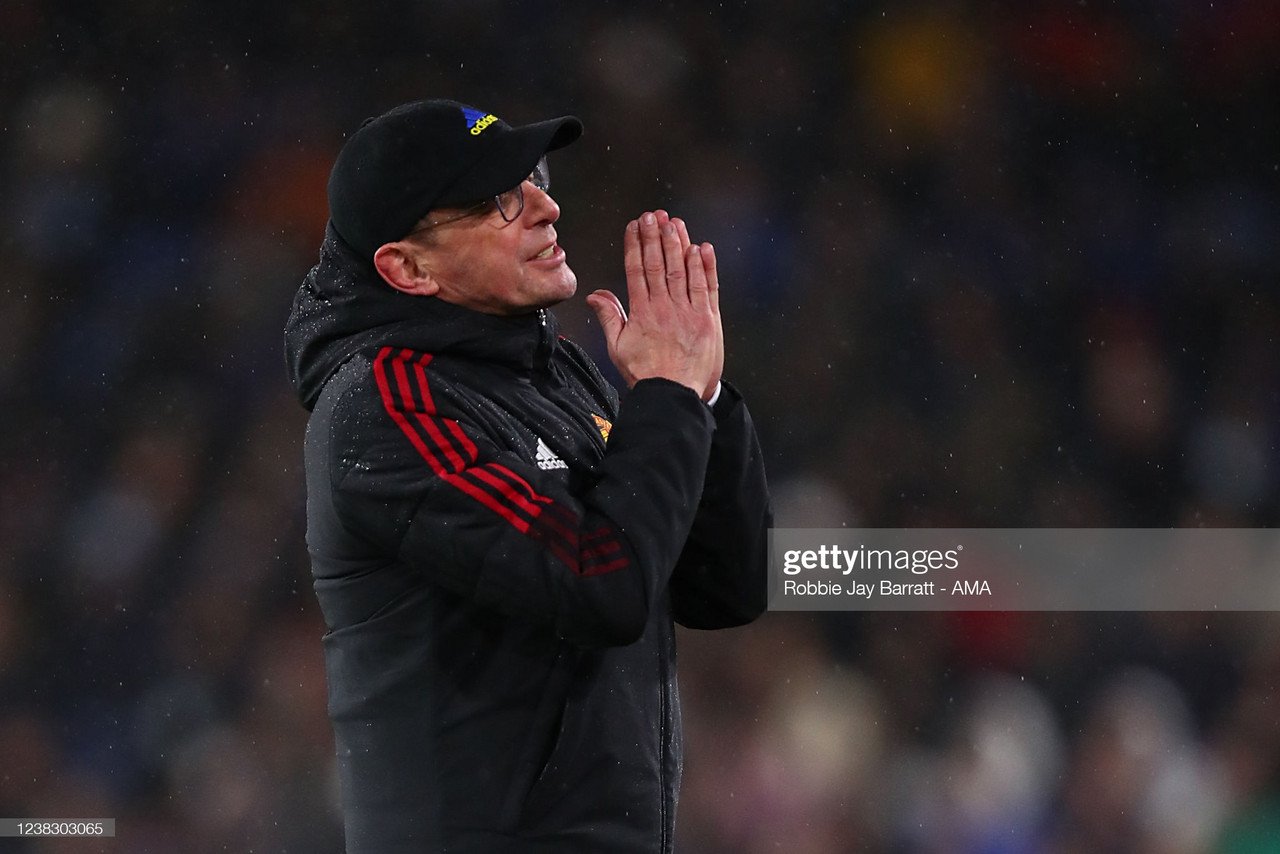 As Manchester United prepare to return to Premier Leage action on Saturday, Ralf Rangnick spoke to the press ahead of his side's match against Southampton.
This will be the 13th match that United will be playing under the German's guidance, and Rangnick believes that his side have been improving.
However, the recent loss to Middlesbrough in the FA Cup and a draw to bottom of the league Burnley mean that positive results have become a necessity.
Here's what the interim boss had to say during Friday's press conference:
United are very close to the gameplan
Although the last two result have been bitterly disappointing for the Old Trafford faithful, United have shown positive signs.
Rangnick believes that the hard work on the training ground is starting to pay off in matches, and The Reds are getting close to emulating his plans for a full 90 minutes:
"How we played in the first half or 70 minutes at Burnley was very, very close to the game-plan that we spoke about and now it's about rewarding ourselves and getting the results that we deserve," Rangnick said.
"I think the players have realised that there has been a good development in the last couple of weeks, both in and out of possession. They realised that we controlled the game but, then again, if we concede a goal, against Boro it was after 65-70 minutes, we should just stick to the game-plan. Not, all of a sudden, lose shape or lose composure."
The German continued by stressing that if his side were to keep up their performances for an entire 90 minutes, then the hard work and chances created should be rewarded.
"This was the most harmful part of it," he admitted. "We just didn't stick to that game-plan. All of a sudden, we didn't have the same positioning on the pitch, our two 8s were too far outside, this is what we spoke about yesterday and the day before, when we analysed the Burnley game.
"Hopefully, when we have the same amount of opportunities, we score more than one goal, this has to be more effective. But we have to be aware of why we were so dominant. We have to stick to that, all of a sudden, not lose structure, lose shape, it was obvious for some 15-20 minutes against Burnley. It got better at the end of the game, and we had more control, but in those 15 minutes, we lost that shape," he added.
United are improving on set pieces
It has become common knowledge that United have struggled with set pieces this season, both in an attacking and defending sense.
The Red Devils have failed to score from a corner this season, or a free-kick directly – yet Rangnick believes his side are improving on the art of set pieces:
"We haven't conceded that many goals as far as I in the last ten weeks. We haven't conceded a single goal from set pieces. I thought we had scored a goal from a set piece at Burnley but unfortunately it was disallowed from the VAR.
"Of course, we are always working on set pieces and hopefully we can score from them soon. When you mention [James] Ward-Prowse, you're referring to not conceding any goals. I think the way that we have defended the set pieces in the last weeks and months has been good," he added.
Southampton are a strong side
United have avoided defeat against Southampton since a 1-0 loss to The Saints back in January 2016, winning five matches and drawing six in the process.
On top of that, Southampton have been victorious in a mere two Premier League games at Old Trafford, drawing four times and losing on 16 occasions.
However, Rangnick has worked alongside Ralph Hasenhuttl before and recognises that his former colleague's side are playing well:
"We are fully aware this will be a difficult one. Obviously, I watched the game at Spurs during the week and they really deserved to win. They tactically played at a very high level and this will be a challenge for us, but I'm sure we'll be up for that challenge.
"We'll prepare the game today for tomorrow's game and we have to win the game, that's for sure. We did well in both first-halves against Middlesbrough and Burnley, but we need top performances from the whole game against Southampton and Brighton," he continued.