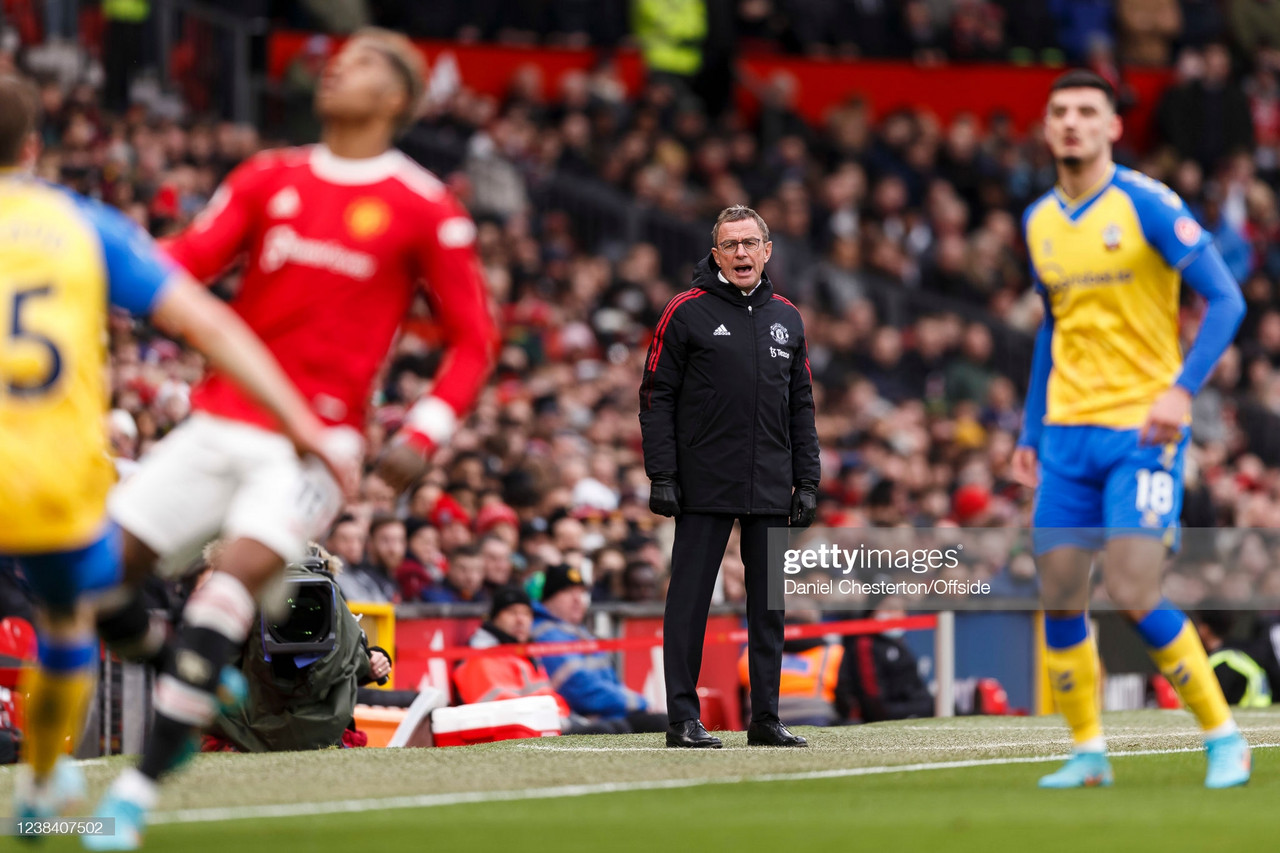 Manchester United once again were forced to settle for a draw despite taking the lead as Southampton clawed them back to a 1-1 draw at Old Trafford.
Jadon Sancho gave United the lead in a first-half display that was impressive on an individual and team level.
Ralf Rangnick's side threw away a lead at Turf Moor in the middle of the week and once again did it on Saturday.
Rangnick: We didn't do those things anymore
Rangnick addressed the issue and said they simply stopped doing the things they did well in the first half.
"Unfortunately, again, it was very similar to the last couple of games. Very good first half, very good first half-hour.
"We did all the things we intended to do with the counter-attacks, with the deep runs. [It was] exactly that way we created the goal and prepared the goal.
"It was a great goal, in all aspects of the goal. But then we stopped doing that. Even at the end of the first half, we didn't do those things anymore.
"And then in the second half, we also lost a bit of shape in the first 20 minutes. We were struggling to defend against them and exactly that happened in transition when they scored their goal.
"In the last 20 minutes, we had enough opportunities, big chances to score again. The expected-goals ratio was in our favour clearly but, in the end, we didn't get the result we wanted to," he added.
Rangnick: We have to become lethal
A lack of scoring has become an issue under Rangnick, especially since the turn of the year and Ronaldo has struggled the most from that.
The United interim understands it cannot become a reoccurring theme for United to slip up in matches: "Yes, in all of those games we were 1-0 or 2-0 up and we gave away six points in those three games.
"This can happen once but it shouldn't happen three times and, with four points more, we would speak in a different way right now. But, again, it's what we have to get better at and become more lethal, more decisive and more convinced that we shouldn't give away points like those today."