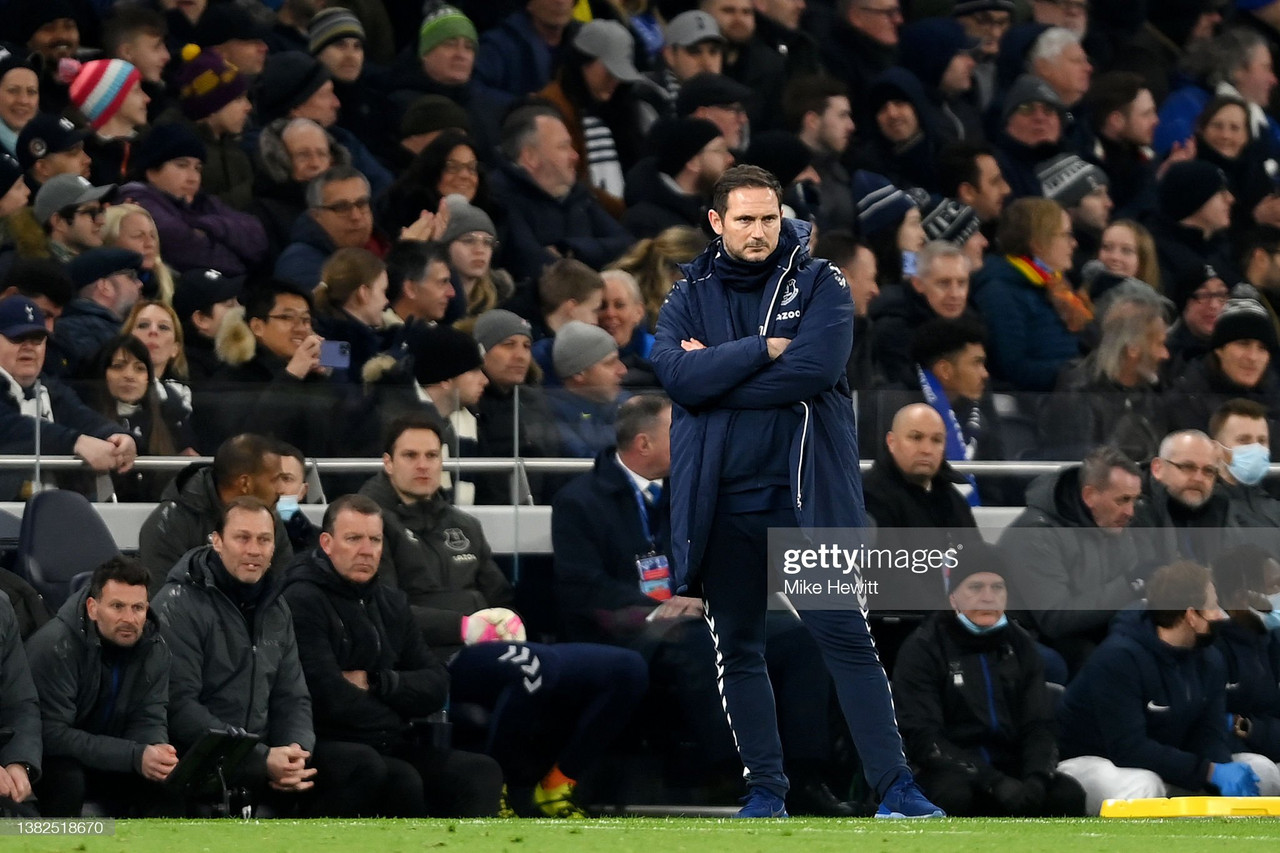 Times are getting pretty tense for Everton, particularly after their lacklustre performance which saw them lose 5-0 at the home of Tottenham Hotspur on Monday evening.
The visitors in north London got off to the worst possible start when Michael Keane prodded the ball into his own net just 14 minutes in, and the floodgates opened thereafter. Heung-min Son and Harry Kane scored before the break and Sergio Reguilon got a fourth just moments after the restart, before Kane completed the rout with a sumptuous volley to compound Everton's woes in the 55th minute.
Manager Frank Lampard addressed the media after the match — these were hist most noteworthy quotes.
On first-half capitulation
Not that it matters much now but, in the first 10 minutes, the Toffees went toe-to-toe with their hosts and got into some fairly good positions in the final third, the final ball letting them down on a handful of occasions. It made the subsequent capitulation all the more difficult to comprehend.
Keane's bizarre own goal set the tone as a haphazard Everton defence proved no match whatsoever for the sheer quality demonstrated by both Son and Kane for their respective goals and, as Lampard said, at 3-0 the damage was essentially done.
"We started alright and we controlled a bit of possession, as you can here. We had spoken about their counter-attack, a big strength of Tottenham. There were individual moments of bad mistakes and at 2-0 or 3-0 it's horrible for any team to try and get back into it because the momentum has gone."
On inconsistency
The first month or so of Lampard's reign has been a mixed bag. Everton's form at Goodison Park has been more than respectable under his stewardship, winning three out of four matches on home soil in all competitions and losing the other to title-chasers Manchester City. Their results — and performances — on the road, however, simply haven't been good enough, as Monday night once again demonstrated.
It's an inconsistency which the manager is plainly desperate to resolve — and he'll likely need to if the Toffees are to begin steering clear of the dreaded dotted line.
"We played against the best team in the country last week in City and we made it really difficult for them, creating things — we should have got a result from it. Then we come here and do that. That's what I don't like: the up and down nature of our performances, we need to put that right."
On confidence
Defeat of such a magnitude was demoralising, there can be absolutely no doubt about that. A large chunk of the visiting faithful who had made the arduous trip down to the capital for the evening fixture had left the ground before the final whistle and the players departed the field visibly hurt and frustrated.
Lampard, however, refused to be demoralised, and showed no let-up when asked if his faith in his ability to perform the task at hand is waning.
"I'm absolutely confident, that's why I'm here — I wouldn't have taken the job otherwise. The feeling in the club and the city was, 'we could be going down here.' It's up to me to change that. Tonight is a test of that but it doesn't give me any fear about what's coming up."