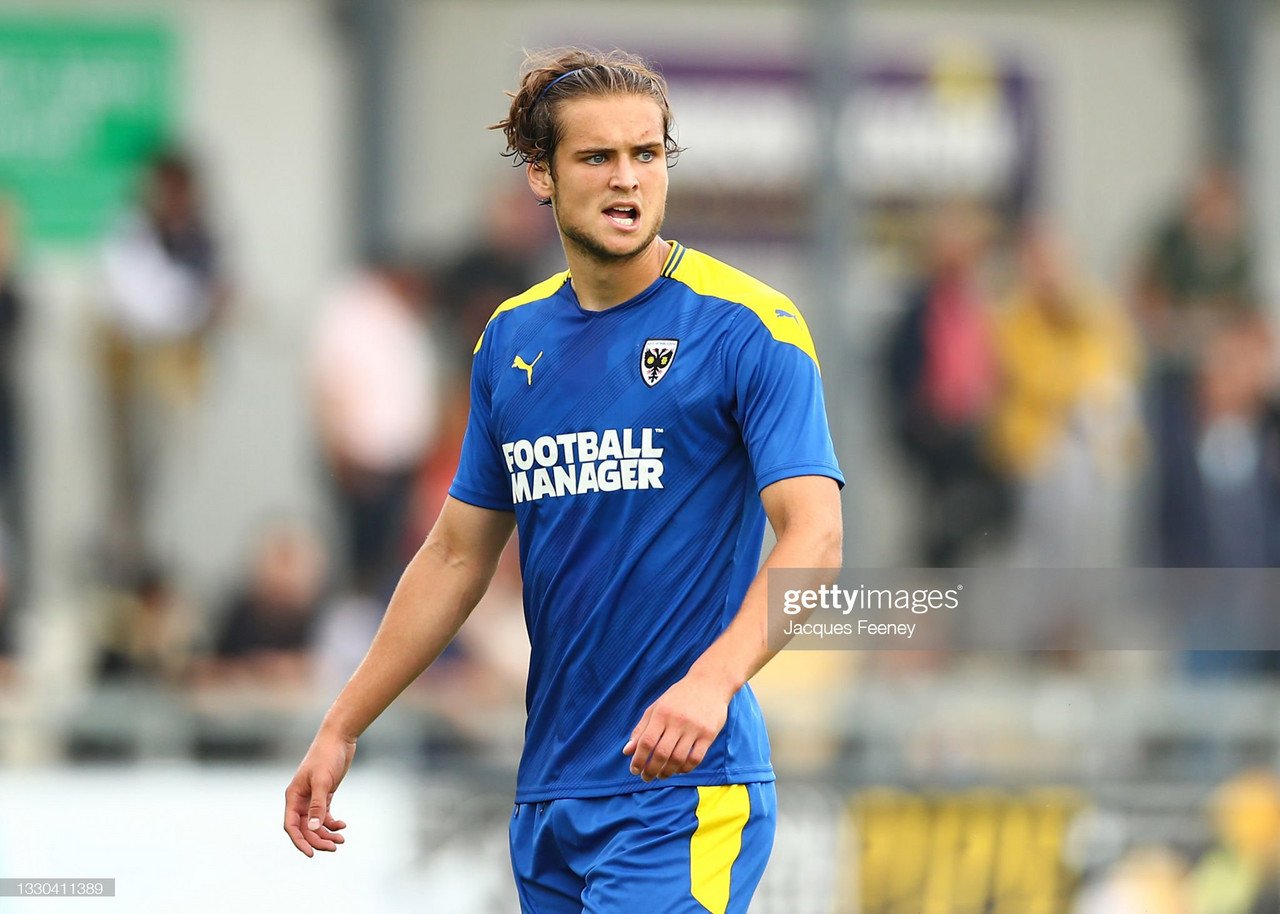 In what was his second appearance for AFC Wimbledon after a two month absence due to a hamstring injury, Aaron Pressley had come on as a 71st-minute substitute in a 2-2 draw against Doncaster Rovers in February.
The match was drawing to a close as the 20-year-old made a stoppage-time surge in an attempt to break the deadlock, "I done a knock and run in the last minute, I've taken it round the guy, then knocked it past the second guy, went to accelerate and I just felt it," Pressley told VAVEL.
His agent, who was sat amongst the crowd at Plough Lane, gestured a thumbs up or thumbs down towards his client. "Straight away I put my thumbs down because I knew it wasn't great."
It was a recurrence of a hamstring injury he sustained during an in-house match at Wimbledon's training ground in December, and the latest setback in what could have been a promising debut campaign in senior football.
As a result, he will miss the remainder of the season and has returned to Jersey Road to undergo his rehabilitation. With the Dons amid a fight for survival, currently four points off safety, Pressley expressed his annoyance at the timing of this injury.
"It's really frustrating for me, especially the time of it," he said.
"Looking at Wimbledon I would've been playing at the minute, and that's what frustrates me. I think I would've had a real run and I think that could change your career, that 10-12 games you could get and you score maybe 5 or 6 goals. I know it's easy looking at it like that, but I really believe I could've."
Despite the premature end to his campaign, the Scotland youth international spoke highly of his time in south west London, where he made 27 appearances across four competitions, including a 36-minute cameo against Arsenal at the Emirates Stadium, scoring four goals and getting an assist.
"I loved it. I thought there was a great culture there. I thought the fans were really good. I enjoyed my football.
"It's tough for a young player to go straight into a League One team, especially the type of player I am, you need to use your body, you need to learn to play against these experienced players. I dealt with that well when I went in and played my first games and from there I was learning so much from every game.
"The manager [Mark Robinson] helped me and the staff helped me, they gave me a lot of game time. Although I would've wanted more, I think I've learned a lot from that spell in the first half of the season. I can definitely take that into the next part of my career."
The time spent with Wimbledon was a learning curve for the centre-forward. The loan allowed him to step out of a comfortable environment at Jersey Road where players support one another into one in which players are fighting for their livelihoods at the bottom of the table.
He describe the squad as a "great bunch of lads" and one that warmly welcomed him, but insisted that there wasn't a particular player that took him under their wing, and it allowed him to learn in a different way.
"I wouldn't say that there is one person that really took me under their wing and done it that way, but they all had a certain way of teaching me.
"It's not every man for themselves, but what you forget is these guys have got to make a career as well, we've all got to make a career so it's not like the B team where it's different.
"I'd say as a team they really welcomed me, I'd say as staff they welcomed me greatly, and that's the most important thing. I couldn't talk more highly about the players and the staff there, and that's the most important thing."
Pressley added that former Wimbledon head coach, Robinson, and his coaching staff put a lot of trust in him and taught him a lot "in terms of different styles of management".
"The manager gave me a great platform and the staff did, and [gave] some good advice as well."
One of the challenges the 20-year-old spoke about encountering was the pressure from supporters. While he will have experienced small crowds in the past, performing in front of thousands of spectators adds a different kind of mental pressure.
"You've got fans, you've got [the] pressure from other people.
"It's not just about playing behind closed doors as you do with the B team, [with] some fans, but especially when we're down near relegation.
"When I went back, I really felt like there's a difference now because I've played in the B team games in Portugal in the Atlantic Cup, and I went back and played, I think it was straight into a relegation clash against Gillingham, and I came on, you sort of forget 'right, this is a bit more pressure now', and you've got to live up to that and you've got to deal with that.
"That's really important for young players to go play these games and really challenge themselves."
In a recent interview for Brentford's match programme against Crystal Palace in February, Pressley spoke of the difficulty he had facing Rotherham United's experienced centre-back, Richard Wood.
When I spoke with him about the biggest challenges he faced as a young centre-forward stepping into the third tier, he reflected on facing the 36-year-old, who has made over 500 appearances across his career in the Championship and League One, in their 3-0 defeat away at Rotherham in September.
"Playing against Richard with an experienced defender, he really taught me a lesson.
"I learnt so much from that game in terms of, like he was using his experienced tricks like he wouldn't let me jump, he would block my runs.
"The other centre-back next to him was really good - I think that's why they're doing so well this season. Them tests are what really make you a player as a big striker."
However, Pressley felt well-prepared to make the step up after learning what he has under the tutelage of Neil MacFarlane and Sam Saunders in Brentford's trend-setting B team set-up.
Since his arrival from Aston Villa's academy in January 2020, Pressley has been able to face a range of opposition, including experienced non-league defenders, Premier League academies, and the odd Premier League player trying to get match fitness.
Pressley spoke of how coming up against a variety of opponents has benefitted his development more than if he had remained within the Premier League's Elite Player Performance Plan.
"The demands of Neil [MacFarlane], Saunds [Sam Saunders], all the staff put on us is very good and that shows in the season I had last season.
"Obviously, there was COVID last season so it's different, the games have been different this season and just as good, but I think playing against the experienced players as we do in the B team, the non-league teams, playing against Arsenal last year, the Sokratis', the Saliba's, and seeing that I can actually do it, I can play against these players.
"Even the non-league players, I think you learn so much against them in terms of as a striker winning headers, that sort of thing. It does set you up better than the under-23s, for sure."
What makes the B team as successful as it is in terms of player development is the fact there is a synergy between the first team and the B team squads.
They train on nearby pitches at Jersey Road, they eat in the same dining area, and players are frequently given the chance to showcase their talent in first team training.
While the Scotsman was having a standout first full season in 2020/21, scoring 19 goals in 26 appearances, he was able to train alongside and learn off Ivan Toney, who himself was having an excellent campaign in the Championship as he scored 33 en route to the Bees securing promotion to the Premier League via the play-offs.
He conceded that, as a young player, he was coy on pulling Ivan to one side at training but would be a keen observant when he was on the first team bench.
"I didn't really pull him to the side," he said with a grin on his face, trying to find the right words to describe it, "I think it's a bit, not weird as a young player, but you feel unsure whether to do it."
"But he's a really approachable guy, such a nice guy, and also I learnt so much in terms of watching him because I was on the bench quite a lot last season, watching him in games.
"I used to enjoy watching the games because I'd learn so much from him in terms of the way he plays. Although we're a little bit different, the way he plays, the way he carries himself, his body language, the winning of his headers - how he does it - his movement in the box, and stuff like that I used to really enjoy watching that.
"Even the way he carries himself around the place and in training I think is a really good insight for me to that first hand, and yeah, I think if there was one player I looked up to at the minute in Brentford, it would be him."
In the meantime, while Toney helps push Brentford towards Premier League survival, Pressley's focus is on his rehabilitation. While he didn't want to put a timeframe on it this time, he feels he is in good hands as he makes his recovery at Jersey Road.
To have a succession of injuries at such an important period in a young player's career, it can be a difficult psychological battle to endure, but Aaron can rely on the guidance of his father, Steven, who was a renowned centre-back in his homeland that played for Hearts of Midlothian, Dundee United, Rangers, Celtic, and made 32 appearances for the Scotland national team in a two-decade career.
Steven also works for Brentford and has been the club's Head of Individual Development since July 2021. His son emphasised the importance of being able to count on his experience and his enjoyment of working alongside his dad.
"I think it's important. He's obviously at Brentford now so it helps. I actually enjoy working with him.
"He knows how it is. Although he didn't have many injuries when he was young, he knows how I'm feeling, what I'm thinking.
"You just got to keep strong and work hard, do everything in the gym and in the training ground. He keeps me on it, for sure," he added.
To round off what turned out to be a lengthy conversation, I brought up a quote from an interview he did last year: "I'd bully him to be fair".
This was in response to a question from the Scotsman about if he was to go head-to-head with his old man.
When I asked if a battle had ensued in the Pressley household garden since, his response: "No there hasn't. He's a bit old and frail" was accompanied by a huge grin on his face.
He concluded the interview with, "Give me a couple of years I will. I'm certainly quicker than him and stronger, but maybe he had that experience. Hopefully when I'm in my prime and I can compare to when he was his prime, I would've ran all over the top of him."