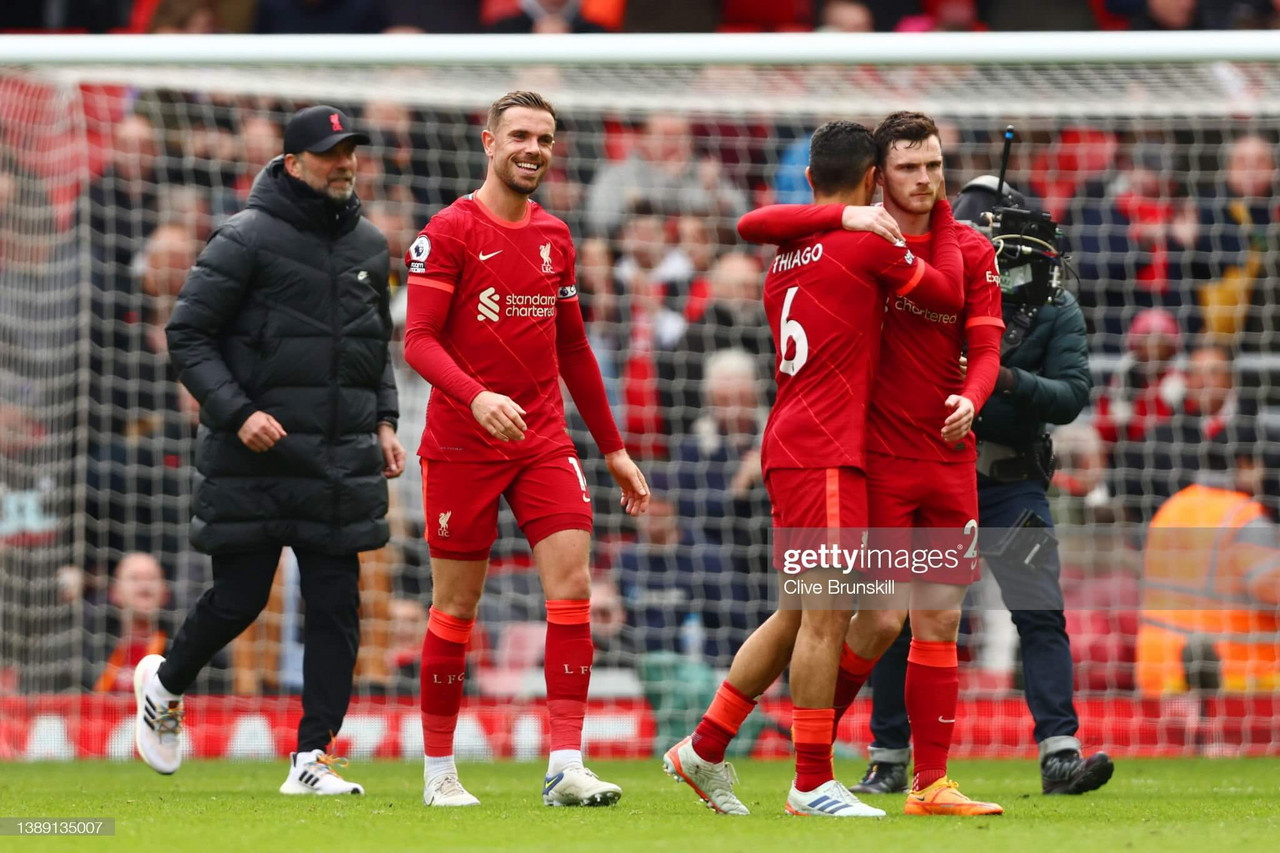 Even though Liverpool moved into top spot in the Premier League for the first time since September, Jurgen Klopp wasn't getting carried away. As the Kop was being packed away and the Liverpool manager, soon after performing his customary celebration in front of the famous stand, was undertaking his post-match media duties, Manchester City were already on their way to regaining first place.
By the time Klopp began his press conference, Kevin De Bruyne had already put Pep Guardiola's side in front against Burnley and Liverpool swiftly returned to being the chasers. "City killed one of your questions already, eh?", Klopp joked to the assembled reporters as he took his seat.
Despite the jokey nature, this victory over Watford — which Liverpool "had to work through" according to Klopp — was another significant step taken in Liverpool's high-wire act. This was their 10th consecutive Premier League victory and their 10th successive home league win too. The title race has long turned from a simmer into more of a boil and Klopp is aware that the next eight games will be psychological thrillers.
"I told the boys yesterday if someone had told us in the summer at the end of March/early April we were in the situation we are in, won one trophy, in three competitions, full squad available, we should all take it," Klopp said. "The only better situation would be to be 20 points ahead of City but that's not possible. I don't think we are favourites in one of the competitions we are in but who cares."
No formality as Liverpool struggle to find their stride
Even though the top two meet next weekend, and mouths are already watering, this lunchtime affair was far from a formality. Watford had the better chances in the first half, conceded from Liverpool's first proper attack and then allowed the home side to seal their victory by giving away a late penalty.
"We tried to prepare the players as best we could for what was coming their way," Roy Hodgson said. "Up until the goal we hadn't conceded many chances at all, but you need them [Juraj Kucka's and Joao Pedro's chances] to go in."
Liverpool may have always been in control but it was only once Diogo Jota flicked a header in after both poor goalkeeping by Ben Foster and equally dire marking by Kiko Femenia were the home side in any way recognisable to the usual showings from Klopp's team. After coming straight from securing Portugal's place in November's World Cup, Jota demonstrated his value for Liverpool too by scoring his 20th goal of the season and this was the sixth occasion that the Portuguese striker has scored Liverpool's opening goal.
He ghosted into the area from the left and once Liverpool had moved the ball across the pitch from Andy Robertson to Thiago Alcantara and on to Jordan Henderson it was tapped out wide to Joe Gomez. The defender was filling in at right back due to Trent Alexander-Arnold not quite being ready after his rapid recovery from a hamstring injury, and he channelled the full back's ability to deliver assists by sending in a peach of a cross. Foster came out fists first, Femenia was slow to anticipate the danger, and there was Jota to flick a header at the near post.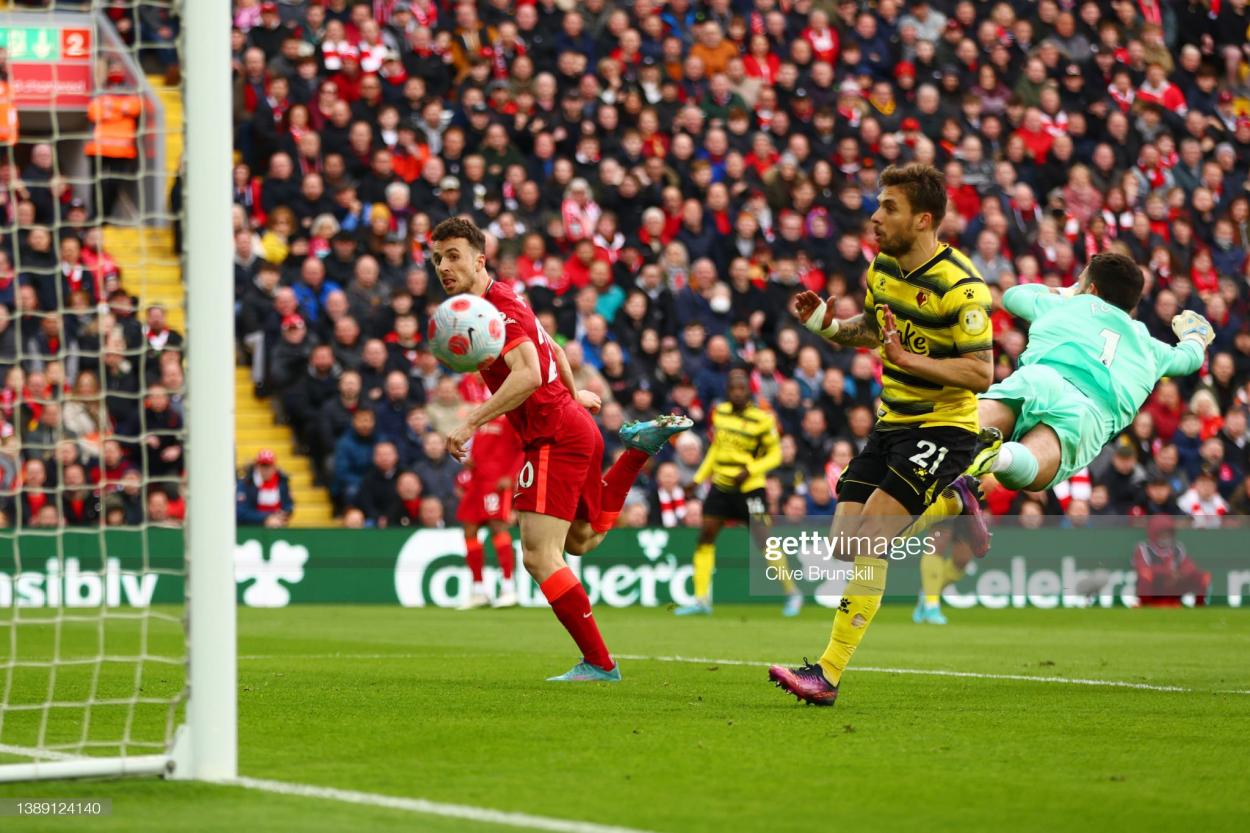 Liverpool's opener ended a game-changing sixty seconds. Watford had already gone close with Ismaila Sarr failing to get over a first-time shot after being located by Imran Louza's long ball and Cucho Hernandez misdirected a header. But nothing compared to when Kucka was released one-on-one with Alisson and the Slovenian midfielder struck straight into the Brazilian 'keeper's chest.
There was also another good opening on 57 minutes with Joao Pedro toe-poking wide after a clever set-up by Sarr. However, those chances apart, this was one-way traffic and began to resemble a training exercise. Jota, denied by Foster late in the first half, misplaced a header, as did Virgil van Dijk, but it was Robertson's square pass to Roberto Firmino when he should have gone alone that represented Liverpool's best opportunity to tie up the victory.
Still, 18th-placed Watford were offering encouragement as they attempt to stay in the division and this was in stark contrast to the 5-0 hammering Liverpool dished out when the teams met last October. "I think it's going to be very important for the players not to forget what they did well today," said Hodgson. "They must go out and do it again. It's quite difficult to [replicate performances] when you don't get anything from it."
The visitors were sent on their way, however, when VAR judged Kucka to have hauled down Jota as a corner was sent in on 89 minutes. "I find it hard to understand a situation where no-one sees anything and then the game is stopped," the Watford manager said. "[The players] aren't hopping around saying 'We were robbed', they are more bemused. It leaves a rather unpleasant taste in the mouth."
It was the type of grappling that occurs in a lot of penalty areas and goes unpunished but, nevertheless, substitute Fabinho fired the subsequent penalty high past Foster as chants of 'We're going to win the league' grew in volume. The visit to the Etihad Stadium next Sunday will provide a stronger signal of whether such confidence is misplaced. "The next Premier League game is a big one," said Klopp. "We can't hide from that."